The School of Music, Art, and Theatre launches a dynamic collaboration for learning, performance, and creativity
Dean Craig Johnson on a rich future for the arts at North Park
Music. Art. Theatre. Each has achieved distinction over the years on North Park's campus and throughout Chicago. The School of Music, accredited since 1940, is known and beloved by generations of North Parkers who have perfected singing voices and fine-tuned performances on brass to strings. Art and Theatre, as departments in the College of Arts and Sciences, have nurtured numerous artists, actors, photographers, and creative talent.
Starting with the 2016–2017 academic year, the three arts have come together into what is now the School of Music, Art, and Theatre. The school is led by Dean and Professor of Music Craig Johnson, with Professor of Art Nnenna Okore and Professor of Theatre Chad Eric Bergman leading their respective departments.
In addition, North Park's Hanson Hall, home to the study of music since 1948, will undergo a comprehensive renovation to modernize the facility, which is adjacent to Anderson Chapel.
In a recent interview with the North Parker, Dean Johnson talked about emerging opportunities for the arts at North Park and the impact of this new synergy on future students and loyal alumni.
North Parker: How did this collaboration of the arts finally come about?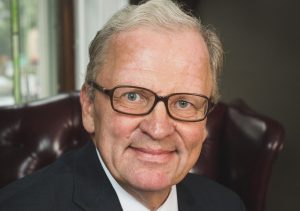 Craig Johnson: Bringing the arts together on campus is an idea that's been discussed for quite a while. Our programs each have unique strengths, so we've come together to build on our respective traditions and do even more. Music has been such a public face for North Park, and now we want Art and Theatre to have a greater presence, too.
The idea is not to make everything new but, through collaboration, do what we all do as well as possible. Now, when we all meet, our conversations are even more enriching. We get pulled out of our own disciplines to think more broadly. We are very excited about this collaboration.
Music, art, and theatre have a natural synergy that's also very appealing to many students who, in high school, are often involved in more than art, more than theatre, or more than music. Bringing everything together gives students opportunities to integrate their talents and skills to perform and create.
In many ways we've also been moving toward this on campus. For instance, in Wilson Hall, Art and Music are already together in the same space. In the past, we've done some joint publicity about our programs, but now we can find even more ways to talk more fully about the arts at North Park.
NP: What are some of the specific opportunities for collaboration that the new school is bringing about?
CJ: We're just in the early stages of identifying collaborations for future public performance. The other key area could be curricular. For instance, Art's curatorial studies concentration is very similar to arts administration in Music. And an additional focus on arts management for Theatre has been discussed. So, why not think about core classes that would bring these three areas together? This could be very valuable for some of our graduates who go on to be arts administrators in facilities that feature various arts—an art museum that also has a theatre, for instance.
Certainly, when we're teaching in our own disciplines, we reference other areas. When you talk about Bach, you talk about Baroque architecture. And the Renaissance quickly brings together art, music, and theatre.
We are also very pleased that Theatre, as part of our School, can now offer an independent major as a BA in Theatre. We have also been working on creating more resources for Theatre. For instance, a second full-time faculty member has just been approved to focus on technical theatre, so that Chad Eric can work more fully with students in acting and performance.
Looking for commonality is one of the exciting opportunities we all have.
NP: What advantages do students who are interested in studying the arts receive at North Park?
CJ: All three programs offer excellent training. Our students get maximum opportunities because we're a smaller school that offers immediate experiences for our students, whether they be musicians, actors, or artists. However, we have a reasonable number of majors so there is a critical mass of students, and we are nimble enough to do events that can encompass all students in our programs.
Our theatre program has a very unique and practical focus on storefront productions, which you can find all over Chicago. These are typically small houses for audiences of 60, 80, 100, and with minimal technical requirements. Everyone wants to go to Broadway, but if you live in Chicago, you know that storefront theatres can offer immediate opportunities to perform.
Our music students gain experience in positions with churches and other organizations available in a metropolitan area where they can sing, teach, play the piano, and so on. Our many alumni are also generous with their time and talent to meet with and help our students in the arts.
We have a small number of full-time faculty for the three areas, but we all make extensive use of part-time and adjunct faculty in various specialties. This means students have the opportunity to study with more and varied artists, musicians, performers, and other creative specialists.
We certainly are dedicated to our majors in art, music, or theatre, but it's important to note that all three programs welcome the participation of non-majors. Many schools of fine arts are not open to students who may just want to perform in the choir, while studying in other areas. All of our ensembles are open to all students who are still deciding on their academic plans; if they wish to continue their musical study through lessons and participation in a music ensemble, they may also audition for a music scholarship.
All of this enables us to be true to the concept of the liberal arts.
NP: What role does faith have in the arts at North Park?
CJ: All of our full-time faculty members are devout and committed Christians, as well as accomplished artists, who partner with our part-time faculty colleagues in providing the very best educational and artistic opportunities possible for our students. They are comfortable bringing their faith into their creative work; they bring together knowledge and faith in the best possible ways.
I recently spoke with a student who's struggling with the idea of being an artist and a Christian. She's trying to understand how to put herself first as an artist because she's always put Christ first. There's a creative tension. I shared that my philosophy is that God wants us to be successful as artists so we can be examples of Christian artists living out our faith and our talents. We can show the power of testimony through our art. And we can go beyond singing, acting, or painting beautifully when we know we are doing so in meaningful ways that can change peoples' lives.
NP: How important is Chicago to the School and to the arts at North Park?
CJ: Our School is intent on leveraging as many opportunities as possible for our students. We want to draw on the creative community here as much as possible. Programs in the arts are especially enhanced by being in Chicago
For instance, the course, Art 2000: Creative Guild, fosters student interaction with Chicago's rich artistic landscape. Activities include studio and museum visits, guest speakers, going to performances, and so on. Another course, Storefront Internship (THEA 4970), enables students to develop theatre skills, academic knowledge, and professional networking. Theatre students also learn how to prepare for auditions.
The Certificate in Music for Social Change and Human Values is offered in cooperation with The People's Music School, a Chicago organization dedicated to providing free music lessons to young people. Master classes bring in professional artists and musicians to work with our students. Our performance competitions use judges who are drawn from throughout the city—the Lyric Opera, Chicago Symphony Orchestra, and more. So, our students are critiqued by world-class artists.
In addition to drawing on Chicago for learning, students can begin to build contacts with professionals, including our own alumni, to help with future career work. Finally, internships are required for arts administration, graphic design, and other areas, which place our students throughout the city of Chicago to be mentored and to gain hands-on experience.
All of this can—and does—happen in Chicago. It's a lot tougher if you're not anywhere close to a major metropolitan area.
NP: Synergy is important but will Music, Art, and Theatre also retain their uniqueness?
CJ: We are all believers in change by addition, not subtraction. We've come together and none of our programs changed. Each one still offers, if you will, the "full meal deal."
Art students can pursue in-depth study in drawing, photography, painting, and more. Theatre is going full-bore with its productions. And music majors can count on all of our choirs, ensembles, and orchestra. Nothing feels diminished.
Hanson Hall Undergoes Extensive Renovation
In January 2018, Hanson Hall will reopen with new practice rooms and faculty studios, with state-of-the art acoustics and climate control, and a first-ever elevator.
Read more about Hanson Hall's renovation at npu.me/newhansonhall.
How Art and Faith Intersect
Professor of Art Nnenna Okore
"In my Drawing I and Sculpture classes, I point out to my students the magnificence of our cosmic and phenomenal existence, and how we are instruments of a divine force, endowed with the gift of creation. I try to impress upon them that the creative process is a form of spirituality, and our nature as artists likens us to our creator."
In Drawing I and Keystone, Professor of Art Kelly VanderBrug teaches students that attentive seeing is not the same thing as the practical seeing we use in daily life. Attentive seeing removes our assumptions and opens us up to what is other or what is not already known. This is a step toward God."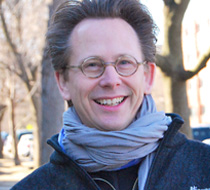 eProfessor of Theatre Chad Eric Bergman
"We have a three-step approach with integrating faith into our theatre program. First, in most of our classes, we examine either an element of theory or a dramatic text as it relates to our faith journeys. Second, in choosing the plays that we produce, we look for texts that are full of robust questions that hopefully point us toward a path of redemption. Finally, we work to mentor our students through their experience to be responsible storytellers understanding the awesome power of the word.
One of the cornerstones of theatre here at North Park is the concept of living truthfully within the given situation. We ask our students to meet each play openly—try not to judge the characters for the choices they make, but like Christ, sit and listen to what they are really trying to say. People are searching for answers, searching for hope."
Courses for the Creative
ART 3910: Topics in Art: Drawing Closer to God
A studio class in drawing, with the goal of exploring students' understanding of their gifts, interests, and aesthetic.
MUS 2155: Technology in Music
Enables undergraduate music students to focus on all the technological resources available to today's musicians.
THEA 1030: Chicago Theatre Experience
A unique opportunity to introduce students to theatre by seeing and studying six current productions throughout Chicago.
The School of Music, Art, and Theatre offers undergraduate and graduate degrees. Learn more at www.northpark.edu/academics.