February 2019 will forever be known as the month of triumph and inspiration for the entire North Park University community, as it ushered in a new era of academic leadership, engagement, and vision.
With energy and excitement palpable across campus, North Park celebrated the inauguration of its 10th President, Mary Karsten Surridge. And since that moment, the campus has been revitalized by the promise of new beginnings and the keeping of honored legacies that will be the hallmark of President Surridge's tenure.
Inauguration week was bursting with events, starting with Monday's 10k for $10k Run for the Fund. President Surridge, an avid runner, laced up her sneakers and jogged around the Helwig Recreation Center with 153 students, faculty, and staff. Together, they ran and walked their way toward raising $13,133 in scholarships for the North Park Fund.
On Wednesday, in a moving all-campus worship service, those gathered prayed for the physical, emotional, and spiritual protection of President Surridge. Speaker Rev. Dr. Donna Harris, President of Minnehaha Academy in Minneapolis, Minnesota, encouraged the North Park community to rally around President Surridge and each other.
"Spur one another toward love and good deeds," Dr. Harris said, quoting Scripture. She encouraged North Parkers to continue to generate passion for the school's city-centered mission, pushing them to carry the light of their Christian values into those urban spaces so often left to neglect and despair.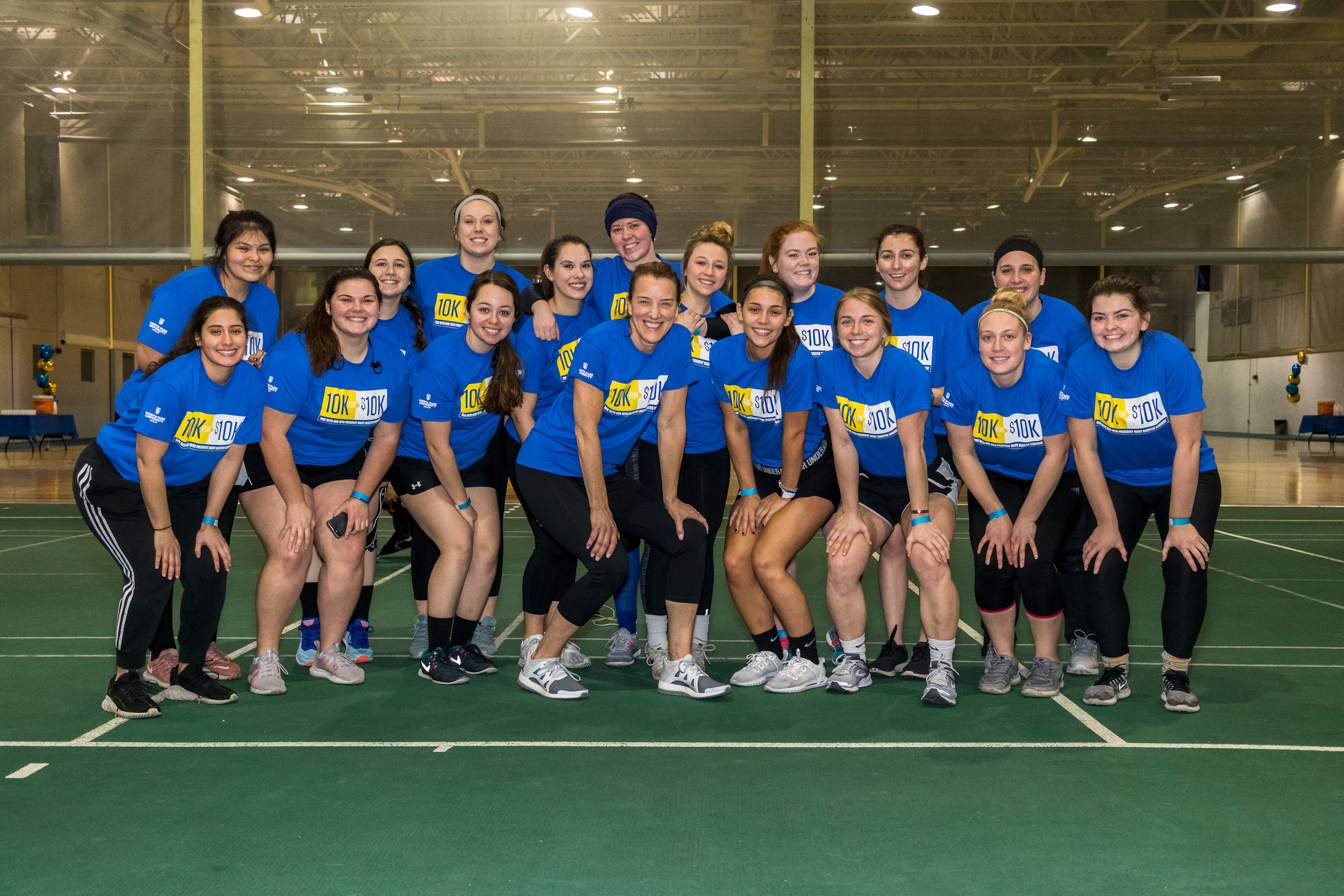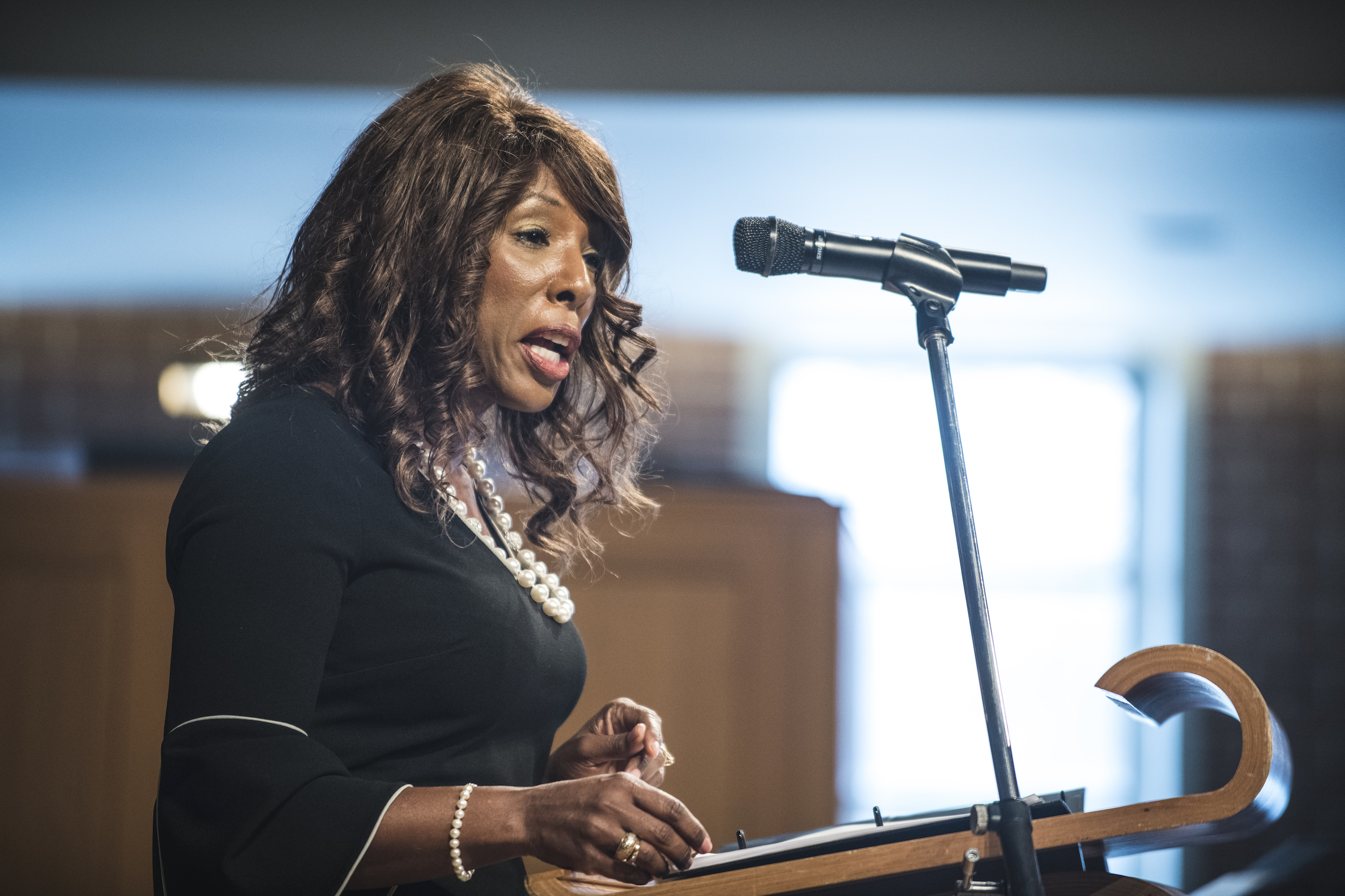 The campus then gathered in the gymnasium for a gala buffet lunch, featuring a "comfort foods" menu that was selected by students, including chicken tenders, macaroni and cheese, corn bread, and a sweets table. Guests enjoyed music by North Park's student Jazz Ensemble led by Joe Lill, a student-produced video honoring President Surridge, and a presentation of gifts by the Student Government Association.
After lunch, North Park University trustee Dr. Kathryn Edin C'84 presented an academic symposium: Enlightened Hearts, Warmed Intellects: City Challenges and Opportunities and North Park Possibilities. In her talk, Dr. Edin, Professor of Sociology and Public Affairs at Princeton University and one of the nation's leading poverty researchers, discussed the history of immigration and public housing in Chicago, and how history has set the stage for North Park's urban mission.
Following a panel discussion with North Park faculty members and questions from the audience, participants were invited to the Johnson Center for an up-close view of the archival exhibit Women of North Park, an interactive visual display that highlights the various contributions of women throughout the University's history.
The day concluded on a slam dunk with a women's basketball team win over CCIW opponent Elmhurst College. During halftime, President Surridge and Dr. Jack Surridge were honored for their shared ministry in Athletics at North Park University.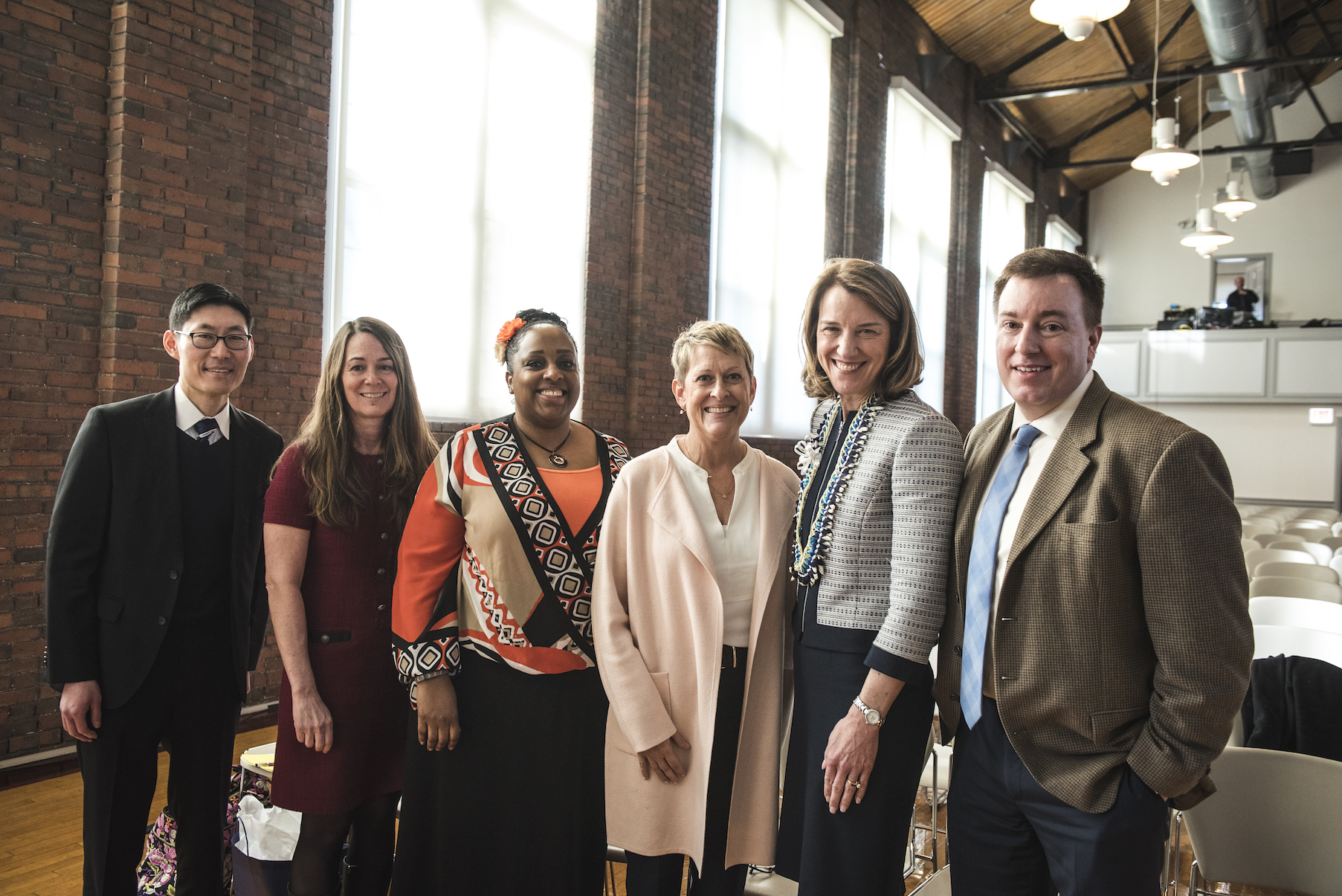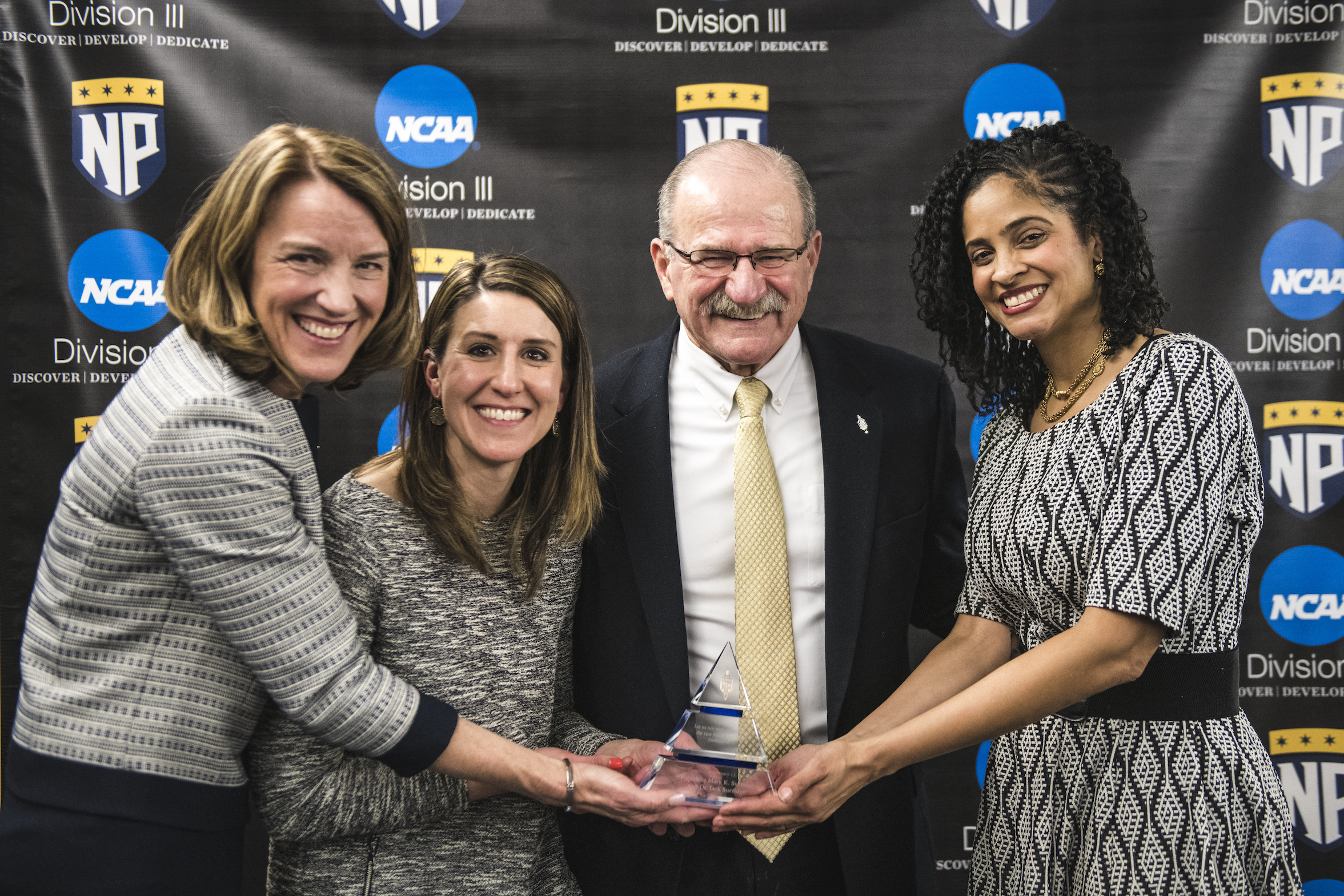 On Thursday, the campus was treated to a Showcase of the Arts, featuring performances by student and alumni vocalists and instrumentalists. Finally, with hundreds of well-wishers in attendance, and many more watching via livestream, President Mary K. Surridge was officially inaugurated on Friday, February 15.
A procession of international students bearing their countries' flags opened the ceremony with a flourish, followed by a parade of 35 delegates from leading universities and colleges across the nation, including Harvard, Yale, Northwestern, Boston University, Boston College, and The University of Michigan, among dozens of others. They were joined by professors from North Park, and together, wearing the multi-colored academic regalia of their various degrees and alma maters, formed a sea of red, peacock blue, purple, and green.
President Surridge then took the stage, flanked by a group that included alumni, trustees, and two previous North Park Presidents.
Greeting the hundreds of assembled faculty, staff, students, and friends of North Park were Chicago Deputy Mayor Robert Rivkin and John Wenrich, President of the Evangelical Covenant Church. Augustana College President Steven C. Bahls also delivered a heartfelt greeting on behalf of all ACI, CIC, and CCIW Schools.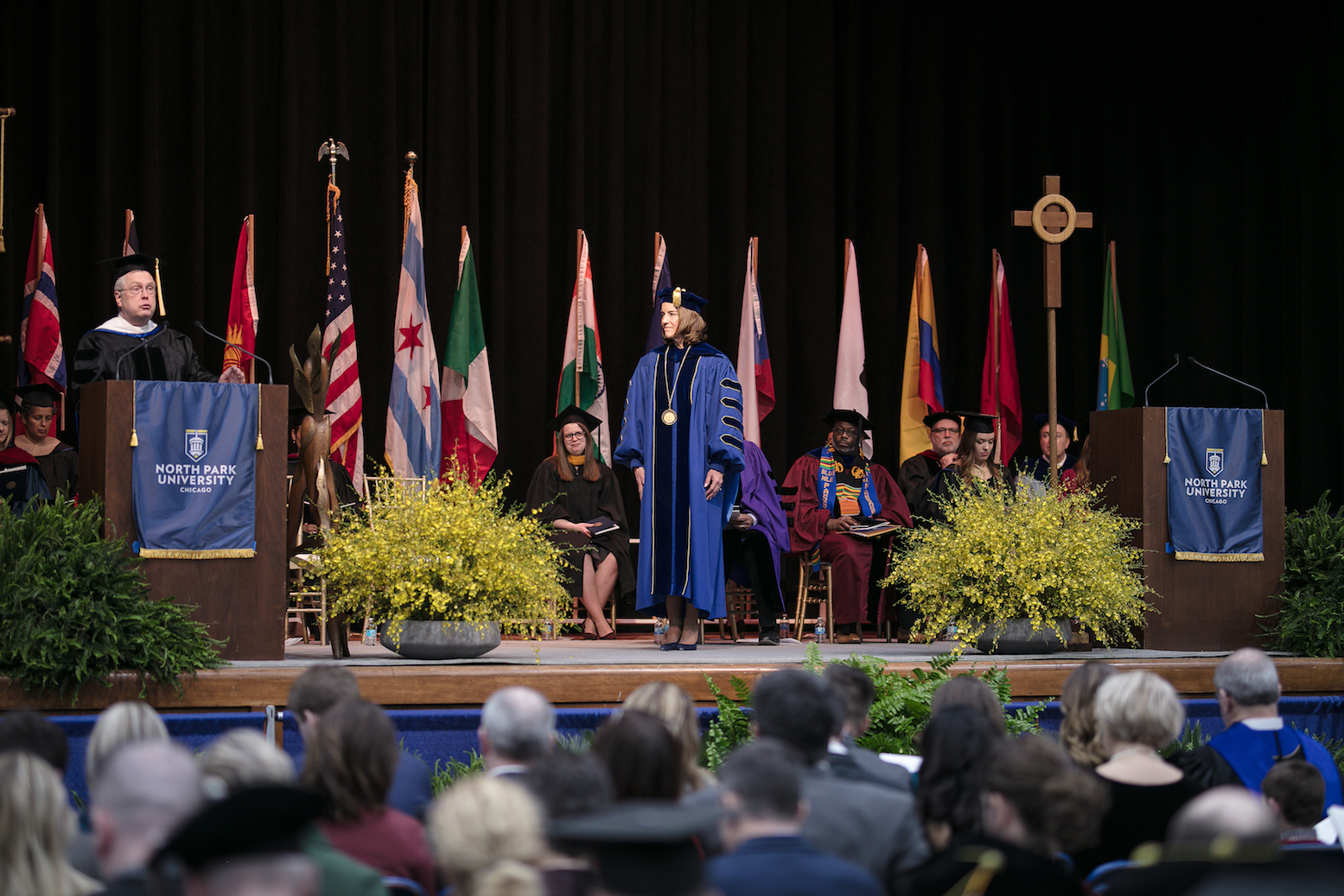 The investiture service featured lively music from North Park's student Gospel and University Choirs, as well as a ceremonial presentation of gifts to President Surridge by students, faculty, and staff.
Following the investiture by Owen R. Youngman, Chair of the Board of Trustees and of the Presidential search committee, President Surridge was introduced by David G. Horner, North Park's President from 1987-2004 and current President of The American College of Greece.
"Presidential leadership makes a difference," Horner said. "I nominated Mary Surridge for the North Park presidency because, in my view, Mary's personal skills, characteristics, and values match exceptionally well with this North Park moment, a moment to build on North Park's historic mission and recent achievements engaging this era's opportunities and challenges."
He went on to call President Surridge a "true believer in the transformative power of a North Park educational experience, as well as the twin pillars of Christian faith and Chicago context that form the foundation of that experience."
In accepting her investiture, President Surridge thanked President Horner and former President David Parkyn, and made a reference to her being the first female President after nine men.
"I am incredibly humbled and inspired by their legacy, and will strive to live up to their example, even as our history has moved us from bow ties, to neck ties, to pearls."
She also stated that the mission of advancing North Park lies with not just one person, but the entire North Park community of students, faculty, staff, and friends. "Together we comprise the faith, strength, mission, and values of North Park," President Surridge said. "Together we will pursue excellence in all we do. This will encourage us, inspire us, and sustain us each day, as we work to advance the mission of North Park University.
"With the intensity of competition amongst liberal arts institutions, the North Park difference will help us grow and thrive. Our Christian, urban, intercultural advantage will increase our visibility so we're no longer the city's 'best-kept secret," President Surridge said. "We must elevate our game. We must design, plan, and execute at a very high level."