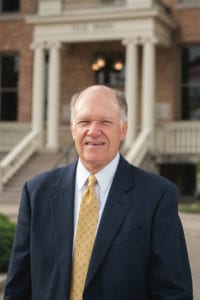 Over the years, I've welcomed the opportunity to report to you in the North Parker about our strategies for financial health along with major campus developments, including our work to design and build new facilities such as the Nancy and G. Timothy Johnson Center for Science and Community Life.
In my new role as interim president, I return to the North Parker on another assignment from the Board of Trustees, which is to ensure a strong framework for our University in preparation for new leadership, beginning next July 1.
The Board is clear about the priorities we all must focus on: Improve institutional enrollment. Balance the budget. Successfully implement Catalyst 606_ _ to promote engagement with Chicago. Develop new net revenue-producing programs, including advancing STEM and the health sciences. Continue selective campus development. Strengthen our relationship with the Evangelical Covenant Church.
This issue shares just some of our outcomes, beginning with the cover story on our School of Nursing & Health Sciences (see page 10). As this School marks its 50th anniversary (see page 18), Dean Linda Duncan looks ahead to new academic programs, including our first doctoral program and expansion into the health sciences, while sustaining its commitment to a vital legacy: ensuring a values-based, Christian worldview for premier learning in our world-class city.
What's exciting for me, as a long-time North Parker, is seeing what so many of you—our cherished alumni—are accomplishing throughout the world. Homecoming (see page 24) brought many of you back to campus. During that weekend, we were pleased to present annual alumni awards (see page 28) and welcome back Dr. Tim Johnson C'56 S'63 to meet with current students to discuss healthcare reform and offer some predictions for the next decade (see page 20).
The coming year will be very significant for us all as we welcome the 10th president of our great University. The 15-member Presidential Search Committee, under the direction of its chair and Board member Owen R. Youngman, continues to lead an open and transparent process that aims to engage you and the entire University community (see page 22).
I have often said that North Park's best days lie ahead, which means that we are always striving to grow even stronger. The reason is to fulfill our mission in the best way: to prepare our students to follow so many of you into lives of significance and service. Thank you for your devotion to our mission, our students, and our University.
Carl E. Balsam
Interim President