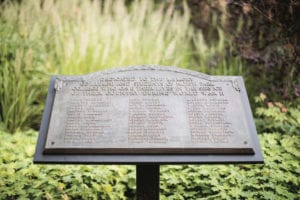 Seventy years ago, a bronze plaque was installed on campus to honor the memory of 45 students and alumni who died serving our country during World War II. The plaque was later removed and placed into storage.
Recently, while doing research on North Park during WW II, Professor John Laukaitis rediscovered the plaque in our F.M. Johnson Archives and Special Collections. Laukaitis wrote about the plaque in his new book, which inspired student Nicholas Canete C'18, a Navy veteran who started at North Park in 2015 after his service in the Persian Gulf.
Canete made it his mission to have the plaque restored. A rededication was held September 15, the 70th anniversary of the plaque's initial installation, and each of the 45 fallen was honored by name. Read more at www.northpark.edu/stories/honoring-service-wwii-north-parkers/.