School of Restorative Arts: Delivering So Much More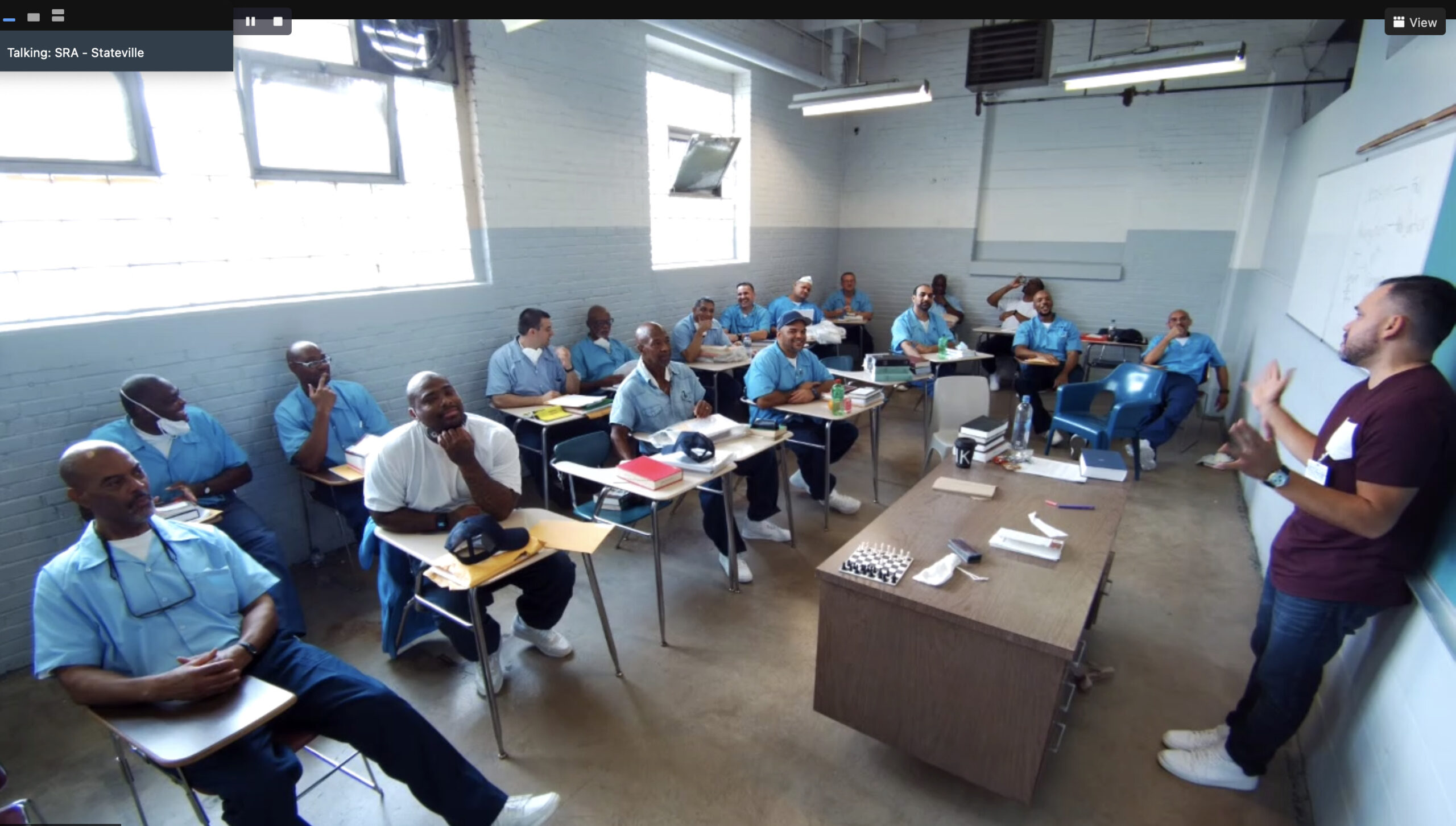 Over many pandemic-challenged months, the Seminary's School of Restorative Arts (SRA) has continued instruction and interaction in novel ways to stay connected with inside students at Stateville Correctional Center.
"We have been meeting with our students over the summer via Zoom, which has been wonderful," reports Vickie Reddy, SRA's assistant director.  "It is our hope that we will be able to return to in-person classes sometime in the fall."  The SRA launched two cohorts at Stateville, but likely will not start a third cohort until Spring Semester 2022.
This past summer, SRA held an intensive class for its first cohort. Dr. Jules Martinez-Olivieri, the Seminary's new Milton B. Engebretson Chair in Evangelism and Justice, was able to go inside Stateville and teach a week-long class entitled, Evangelism and Discipleship.
During the pandemic, Stateville students in SRA's second cohort joined with West Coast Ignite, a Seminary distance-learning cohort, for a total of 70 students who took the correspondence course called Life Together: The Beloved Community, taught by former Seminary Professor Soong-Chan Rah and adjunct instructor Cheryl Lynn Cain.
The two cohorts were able to continue their studies through small group interaction. Reddy made weekly deliveries of course materials to Stateville since students did not have access to computers.  She dropped off packets from instructors and picked up students' completed assignments to scan and send on to instructors for review. In fact, the volume of printing wore out two office copiers!
"Keeping classes going was no small feat, and it was unprecedented around the country," Reddy reflected. SRA was recently featured in the Religion News Service and in the Washington Post for its success in continuing to educate incarcerated students during the pandemic.
Second SRA Site
Logan Correctional Center, a woman's detention center in the Illinois Department of Corrections, is SRA's second site. While the Logan program was approved as the pandemic set in, the first courses are only able to begin this fall.
A total of 19 Logan students will start their studies in the MA in Christian Ministry (MACM) program, beginning with courses in Christian History and the Old Testament.  These students began preparing for coursework by first taking a virtual undergraduate writing class with North Park Writing Center Director Melissa Pavlik.
"It has been our experience that students who take writing classes prior to beginning the MACM degree program are able to form a stronger core for the cohort.  Writing classes also provide excellent preparation for their graduate studies," Reddy explains.
The students at Logan are "exploding with anticipation to get started. It has been a long road for them just to get to the starting line," says Reddy.
Future Opportunities
With the help of the Northwestern Prison Education Program, SRA was able to donate four DTEN Zoom Room devices to Stateville and two to Logan, which allow SRA to conduct classes, study hall, and one-on-one interviews and tutoring sessions.
The devices also enable students to come together to use the devices and reestablish some level of community.  Seeing Seminary faculty, staff, and outside students also "helps the students feel they are seen and not forgotten," says Reddy. The new devices should "allow us to continue classes this fall with some level of contact rather than having to revert back fully to classes by correspondence."
The SRA's first cohort is set to graduate in Spring 2022, and will consist of 30 inside students, two students who have been released and completed their studies on campus, and one outside student from North Park.  One of the soon-to-graduate students who was released from Stateville, Antonio Pizarro, is working as Assistant Director of North Park's Writing Center. "This is very exciting and well worth celebrating," says Dean of Faculty and Director of SRA Michelle Clifton-Soderstrom.
SRA also received welcome financial support from the Evangelical Covenant Church (ECC) community.  Individual Covenant churches were invited to participate in SRA tuition sponsorships, yielding about 30 sponsorships at $3,000 each.
"We are deeply grateful for such generosity and prayerful support," says Clifton-Soderstrom.