University President Addresses Student Recruitment, Planning, New Construction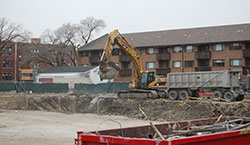 David Parkyn welcomes University community to spring semester
CHICAGO (January 30, 2013) — North Park University faculty and staff returned to the campus for the spring semester amid a strengthened effort to recruit students for future years, a long-range institutional planning process, and sounds of new construction as the foundation is prepared for the Nancy and G. Timothy Johnson Center for Science and Community Life.
Faculty and staff gathered January 25 for worship, and Dr. David Parkyn, University president, provided updates on campus initiatives. "Being together at the beginning of the spring semester reminds us of our common purpose, and I trust renews within each of us our common commitment to this purpose," he said.
The University welcomed 105 new undergraduate students for the spring semester, up from 91 new undergraduate students in 2012. Retention of returning students was also strong for the spring, Parkyn reported. For the upcoming academic year, the number of undergraduate applications is high, and this spring, North Park will host several events for prospective students. Parkyn urged faculty and staff to help in recruiting students and "warmly welcome each one."
The North Park president also addressed other topics:
Strategic planning continues: In January and February, Parkyn said he will meet with 20 groups of faculty and staff to discuss the strategic and long-term direction for the University. Planning documents will be revised and combined with information learned through a planning process underway with Noel-Levitz, a higher education consulting firm.
Continued fundraising: Staff with the Office of Development and Alumni Relations is working on concluding aspects of Campaign North Park, a comprehensive fundraising effort, and developing a robust post-campaign effort, Parkyn said. "Our donors are optimistic about North Park's future, and for this we are deeply thankful," he said.
New construction in full swing: Parkyn noted that center of the campus is noisy and filled with construction activity at the Johnson Center building site. Regular communication will be provided to North Park community with updates on building progress, he said. The building is expected to be ready for use in Fall 2014.
Campus leadership transition: Parkyn announced that Andrea Nevels, vice president of student development and dean of students, will leave the University in mid-February to assume a new role in the Office of Student Affairs at the University of Illinois at Chicago. The president said he has appointed Elizabeth Snezek, assistant dean of student development, as interim dean of students through the end of the academic year.
New faculty and staff who joined the University community for the spring semester were introduced:
Janet Cullen, visiting assistant professor, nursing and biology
Mike Conway, head football coach
John Bear, offensive coordinator, football
Lauren Rosengarden, assistant women's basketball coach
Chris Blankenship, head golf coach
Joanna Wilkinson, technical services and digitization coordinator
Office of Development and Alumni Relations
Keenan Andrews, development services manager
T.J. Cafferty, student athlete recruiter
Danielle Testen, office manager
Student Administrative Services
Amanda Santiago, student services assistant
University Marketing and Communications
Brian Paff, online community manager
---
Use @npunews to follow North Park University News on Twitter. For further information or resources, contact John Brooks, Director of Media Relations and News, via email or at (773) 244-5522. Learn more about North Park University.