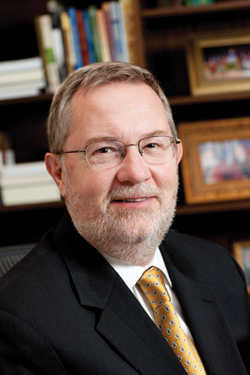 Last month, Professor Jon Peterson offered some background on how the state arrived at this point, as well thoughts on what must happen at the state level to restore these funds. Director of Financial Aid Carolyn Lach also addressed the issue in the Spectrum, North Park's student magazine.
Here, in an open letter to future North Park students and their families, President Parkyn addresses concerns related to MAP Grant funding and other financial aid issues.
By Dr. David L. Parkyn, President of North Park University
Many of us here at North Park University and around the state of Illinois have been carefully monitoring the budget impasse in Springfield. The standoff involving the governor and both sides of the legislative aisle represents a real threat to the way all colleges and universities across the state are able to provide students with a high quality of affordable education. This confrontation has left the Monetary Award Program (MAP) awaiting funding for the current (2015–2016) budget year as well as for the next (2016–2017) budget year. No one in the state knows when funds for MAP may become available. However, as the legislature reconvenes this spring for its next session, we are hopeful for some good news.
I wanted let you know that all of us at North Park University are keenly aware of the sacrifices that students and families make, and the careful considerations that you will be making about where to attend college in the fall. I want to assure you that, despite threats from the state, North Park University is strongly committed to making every effort to support our incoming students and their families to make attending North Park a reality.
Here at North Park, we often think about who we are. Our core values of being Christian, urban, and intercultural are clear to anyone who steps onto our campus. Along with these values, we like to reference something our founders mentioned 125 years ago. They said North Park would be an institution where "hospitality is especially insisted upon." Hospitality offers the sense that everyone is welcomed. In higher education, it means that students feel valued in their learning environment. At North Park, it means that each student is a treasured member of our tight-knit community.
North Park decided over a decade ago to offer a private, high-quality education at a price point well below our competitors. Since that time, we have kept our tuition at a competitive level, and with substantial financial aid from the University, our students graduate with close to the lowest amount of debt for Chicagoland colleges and universities (as reported last month by Crain's Chicago Business). We've remained committed to offering an affordable education to align with the integrity of our Christian identity.
As such, we encourage our incoming students to contact us about the affordability of a North Park education. Please continue the conversation with our admission staff to determine the best way to finance your education with us, including a review of institutional aid opportunities, user-friendly payment plans and ways to ensure appropriate student loan indebtedness upon graduation. Take us up on the offer to learn about the welcoming family that is North Park University.
In doing so, I am confident that, as I have come to experience, you will feel the promise of our hospitality and love of our community.
---
Follow North Park University on Twitter @NPU. Learn more about North Park University.