CHICAGO (January 20, 2016) — As Rev. Dr. Michael C.R. Nabors takes the stage, he begins reciting famous words. "I've seen the promised land," he says in a familiar cadence, while a jazz band performing John Coltrane's "Alabama" starts to fade. "I may not get there with you," Nabors continues, "but I want you to know tonight that we as a people will get to the promised land." The music ends. A shot rings out.
It was one of the more dramatic and powerful moments of North Park University's Martin Luther King Day service, "A Man and a Movement Set to Music: 1960–2016." The University's annual commemoration of the life and legacy of Dr. Martin Luther King Jr., held Monday in Anderson Chapel and presented by the Office of Diversity and Intercultural Programs, took on a different form this year.
"We had been doing the format of a worship and service day for many years, and wanted to try a different model," says Rev. Velda Love, director of justice and intercultural learning. "We thought about how to include as many people as possible. And we wanted to keep a focus on the integrity of Dr. King's life as well as include more of a journey through the African American experience," she says. "We sought to make sure that it was historically correct, and then bring it into more of a contemporary element."
Love decided on a dramatic storytelling presentation that marked Dr. King's place in African American history, looking back to the genesis of the African people and culminating in a focus on a movement that continues today. "A Man and a Movement" explored Dr. King's roles as leader, prophetic preacher, and intellectual giant through poetry, oratory, dance, and gospel and contemporary music.
The service was broken into five acts: "In a Beginning"; "A Movement for Civil Rights"; "Good and Faithful Servants"; "A Change is Gonna Come"; and "From Lament to Hope."
Members of the North Park community, including faculty, staff, and Seminary students, performed readings from important figures throughout African American history, including Harriet Tubman, Diane Nash, and John Lewis, among others, in addition to Dr. King. Friends of the North Park community, including Rev. Cecilia Williams, executive minister of the Evangelical Covenant Church's Love Mercy Do Justice department, also performed.
Nabors, senior pastor of Second Baptist Church, Evanston, Ill., was joined by the Rejoice! Praise Dancers and Voices of Faith and Freedom, also from Second Baptist. Music was performed by the AV Club jazz quartet, featured alumni, and North Park's Gospel Choir, guest-directed by Bryan Johnson, minister of music director at Trinity United Church of Christ, Chicago.
Musical highlights included performances by alumni Leslie Moore, singing Nina Simone's version of "Strange Fruit," and Felicia Patton, singing Thomas Dorsey's "Precious Lord." The service closed with a moving rendition of "Glory" from the film Selma, sung and rapped by alumna Sharon Irving (a contestant on America's Got Talent last season), with backing from the Gospel Choir and the jazz quartet, and featuring the Rejoice! Praise Dancers. The performance earned a standing ovation from the audience.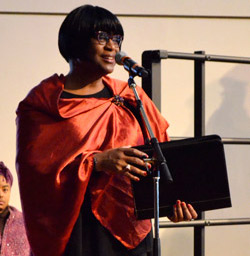 "It was such a wonderful opportunity to see the gifts and talents of the community," says Love, "and to make sure that there was this collaboration between the academy and the church."
One way that the program called out that collaboration was through offering a blessing over North Park's future leaders, including the Seminary students who participated in the event. "The elders are passing the torch," said Love at the event. "They're not stepping aside, they're standing with. They're journeying together. They're listening, they are praying, and they are singing together. They're making space to be a movement together."
The audience, led by the faculty and staff who performed in the service, read a commitment and call to action liturgy for young people. "They don't go alone," said Love before the reading. "This millennial generation, they go with the blessings of the elders. And they go with the blessings of God. But they also need our blessings."
In her closing remarks, Love challenged the gathered group to continue Dr. King's legacy through action. "This is the world that we come to," she said. "This is the place that God has called us. This is what King desired, the 'Beloved Community.' And we acknowledge that God is with us as we remember Dr. King. We want to thank you for coming to be with us, to hear the story, to celebrate the music, and to participate in the journey."
---
Follow North Park University on Twitter @NPU. Learn more about North Park University.