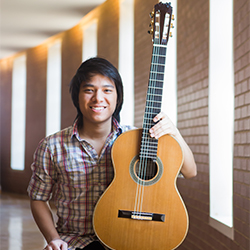 CHICAGO (August 3, 2016) — Class of 2014 North Park University graduate An Tran won first prize at the 2016 Hamilton International Guitar Competition last month in Ontario, Canada, earning a cash prize, a custom handmade guitar, and an appearance at the 2017 Hamilton Guitar Festival.
Tran received first prize in the Vietnam National Guitar Competition at the age of 12; Vietnam's Best Overseas Student Award in 2010; a certificate of merit granted by Vietnam's vice president in 2010; first prize in the 2013 Society of American Musicians Guitar Competition; and first prize in the 2013 North Park University Performance Awards. In 2013, he was honored as a Student Laureate by the Lincoln Academy of Illinois.
After earning a bachelor of arts in music with classical guitar as his major instrument, Tran was accepted into the Yale School of Music, where he earned a master of music this spring. "Yale has an amazing guitar graduate program, one of the best in the world," he told the North Parker. "There were 200 applicants from all over the world, and they chose two. I am very lucky and honored to be one of them."
A native of Hanoi, Vietnam, Tran was invited to perform Rodrigo's Concierto de Aranjuez with the Hanoi Philharmonic Orchestra last year. As a senior at North Park, he toured Vietnam on behalf of the Red Cross Society, performing charity concerts.
While at Yale, Tran served as a teaching artist for the Music in Schools Initiative. He will return to the Chicago area this fall to pursue a doctor of musical arts at Northwestern University. "I want to become a professor to teach music and guitar, and also continue to provide music for people," he said as a North Park student in 2013. "I want to share with others what I am learning from my teachers right now."
---
Follow North Park University on Twitter @NPU. Learn more about North Park University.