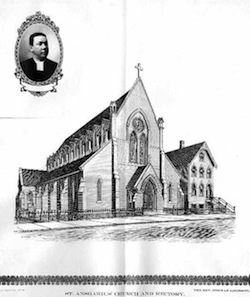 CHICAGO (April 22, 2016) — Artifacts and records from Chicago's first Swedish congregation, St. Ansgarius Episcopal Church, are now freely available online and are on display at St. James Commons in Chicago.
The church, established in 1849 in what is now the River North neighborhood, is significant to both the city of Chicago and Scandinavian American history for the role it played in the fledgling immigrant community. "The church records, which survived the great Chicago fire of 1871 and had lately been restricted from use due to their fragility, are valued by researchers for both the light they shed on the early Swedish population in Chicago and for the missing links they can fill for genealogists seeking their roots," said North Park University Director of Archives Anna-Kajsa Anderson. "We're excited that not only are they no longer restricted, but that they can be accessed by anyone with an internet connection."
Thanks to grants from the Swedish Council of America and the Barbro Osher Pro Suecia Foundation, the paper conservation company Graphic Conservation spent several months conserving and digitizing fragile records from the years 1849–1896, which are held by the archives in North Park University's Brandel Library as part of the Swedish-American Archives of Greater Chicago.
In celebration, the F. M. Johnson Archives and Special Collections, Center for Scandinavian Studies, Barbro Osher Pro Suecia Foundation, and Swedish-American Historical Society are cosponsoring the exhibit St. Ansgarius Artifacts: Under One Roof Again. The gallery features remaining artifacts from the early years of St. Ansgarius, now cared for by several different organizations around the city. It can be viewed free of charge through April 30 in Kyle's Place Gallery at St. James Commons, 65 E. Huron St., Chicago, Ill. 60611.
The gallery will culminate in the event A Celebration of Scandinavian Episcopal Life in Early Chicago, Saturday, April 30, at St. James Cathedral. The day will include an opportunity to peruse the exhibit, worship in a choral Eucharist, and attend a symposium on the St. Ansgarius Episcopal Church. Register online for the lunch and afternoon symposium. There is no charge to view the exhibit or worship at the Eucharist.
North Park University was founded in 1891 by the Evangelical Covenant Church (ECC), a denomination formed by Swedish immigrants. North Park maintains a connection to its Swedish and Scandinavian roots through academic programs and other cultural exchanges.
---
Follow North Park University on Twitter @NPU. Learn more about North Park University.