Future Students, University Supporters Tour Interior of Johnson Center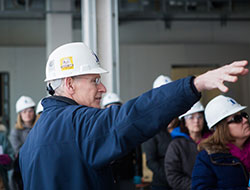 Building set to open this summer
CHICAGO (February 13, 2014) — Future North Park students and dedicated University supporters got a sneak peek inside the Nancy and G. Timothy Johnson Center for Science and Community Life on Friday, February 7. Twenty-four select students and their families, on campus to attend a Trustee Award Event, toured the building's interior in the afternoon. More than 60 President's Club members were given a tour in the evening as part of President's Club Appreciation Events.
Despite Chicago's cold winter, the construction schedule has been kept on track. "Our goal was to have the building enclosed by December," said Dave Olson, co-president of construction firm W.B. Olson, Inc. "We knew if we could get there and get the heat, we'd be just fine."
Crews working to complete the Johnson Center's interior structure have progressed from installing and insulating miles of conduit and plumbing piping to placing drywall and painting classroom and office spaces. With lab equipment arriving later this month, mechanical connections beginning, and floor completion scheduled for March, the building is on pace for a July move-in and to open for classes in August.
Incoming students got a feel for how the Johnson Center will be a University hub, with floor-to-ceiling windows in classrooms, labs, and gathering areas offering impressive views of the campus and city. "We envision that this will be a center of student activity," Olson said as he led the tour through the building's two-story atrium lobby.
Vice President for Student Engagement Dr. Jodi Koslow Martin walked students through her vision of how the Johnson Center, which will house new Center for Student Engagement Offices, will facilitate campus collaboration among many areas of student service, including Career Development and Internships, University Ministries, International Student Services, and Student Engagement. "We're excited to partner with science faculty to be able to serve you inside and outside of class," she said.
Koslow Martin explained that all students will be able to use the Johnson Center as a resource in many different areas of community life, made easier by its physical location in the center of campus. She encouraged them to visit the Center for Student Engagement when they stop by the Johnson Center's café. "Grab a bagel, then come see us."
Professor of Chemistry Dr. Jonathan Rienstra-Kiracofe led students through classrooms and labs, describing the cutting-edge equipment that students will be able to use. "You'll be able to attend lectures together in the classroom, then do your lab work in smaller groups at laboratories in the same building," he said. Labs for the biology, chemistry, physics, and psychology programs were designed in consultation with faculty, Rienstra-Kiracofe said. The mathematics department will also move into the Johnson Center.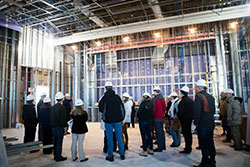 In addition to interactive display screens, HDTVs, and smart display podiums, Rienstra-Kiracofe said, the Johnson Center's labs and classrooms will include lecture capture technology that will allow class lectures to be recorded, then posted online for students' further review. A new advanced anatomy cadaver lab will include a hospital-grade dissection light and camera.
Touring groups were also given a glimpse of the building's energy-efficient design and construction process. The Johnson Center has submitted for LEED Gold-level certification from the U.S. Green Building Council, said Olson, and he expects to exceed those goal standards. The design and construction teams meet monthly on the status of LEED submittals and progress.
The LEED goal is for 10 percent of materials being used in construction of a building to be manufactured from recycled material, with 40 percent of materials mined or manufactured within 500 miles. To date, nearly 23 percent of construction materials for the Johnson Center are made from recycled materials, and nearly 48 percent of materials are mined or manufactured regionally. Eighty-two percent of the construction waste generated by the building has been diverted from landfills; the project goal is 75 percent.
Next, Olson said, he is eager to resume outside activity on the Johnson Center, which should begin again in two months. "The public spaces have to wow users of the building. The lobby area and the café—the places where people are going to hang out are going to be great," he said. "But one area people are going to be thrilled by is the outside area," he continued, looking to spring. "It's pretty elaborate landscaping out there, and it's hard to envision with all of the snow."
---
Use @npunews to follow North Park University News on Twitter. Learn more about North Park University.