70 years ago, Rev. Eric Hawkinson and North Park College students, family, and friends stood over a bronze plaque on the back side of campus, inscribed: "Dedicated to the Memory of Alumni and Students of North Park College Who Gave Their Lives in the Service of Their Country During World War II." After a number of years, the plaque was removed from its stand and placed into storage.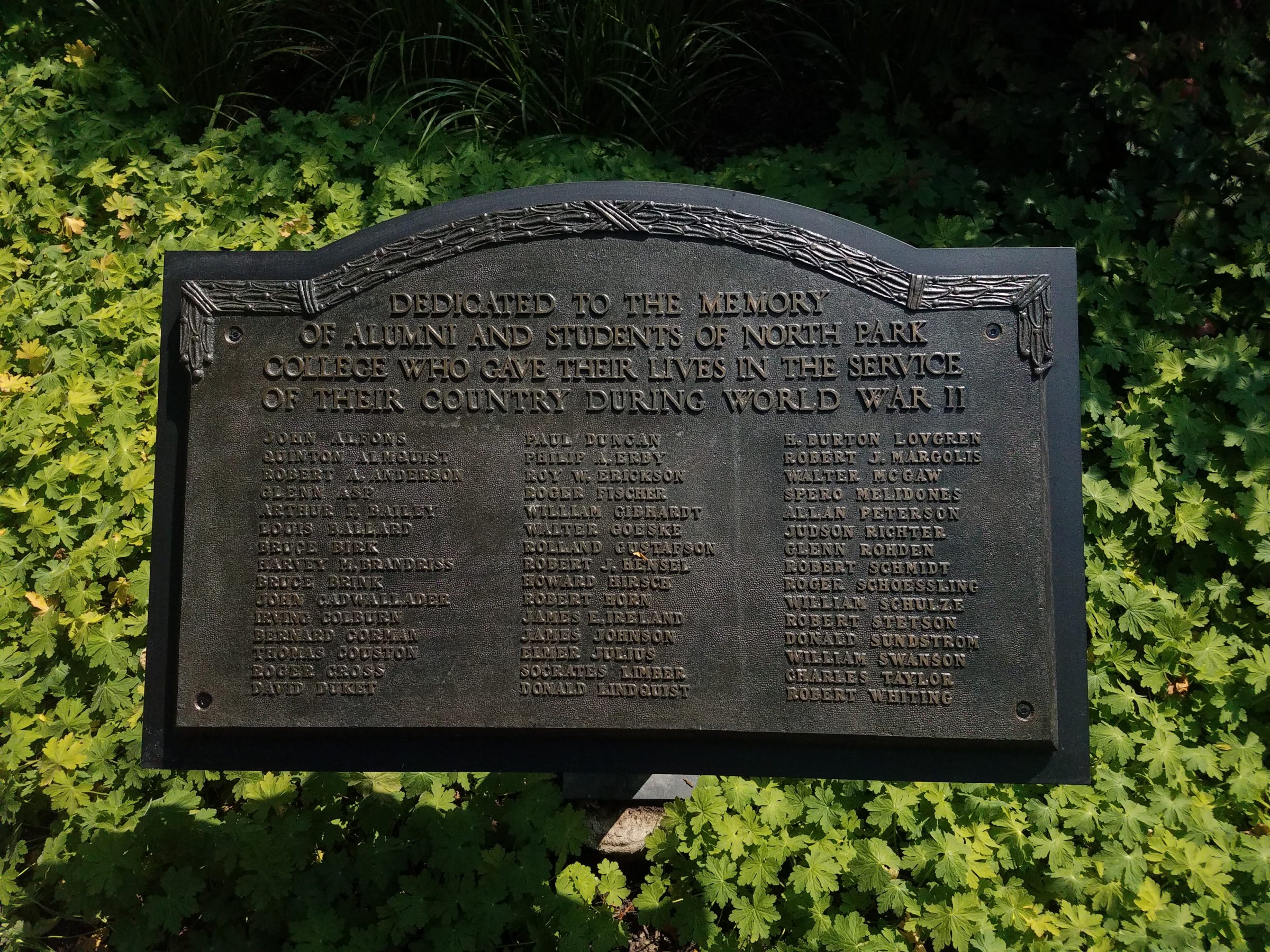 During Dr. John Laukaitis' research on North Park in the Second World War, he stumbled upon this artifact in the school's archives. "I came across the World War II memorial plaque in the F.M. Johnson Archives and Special Collections last summer. Removed at some point and stored, the memorial plaque, heavily tarnished, showed its age," said Dr. Laukaitis in an article he wrote to be published for the Covenant History Newsletter, used by his permission. This research and discovery of the plaque drove Dr. Laukaitis into writing a chapter in a book he is editing, Denominational Higher Education During World War II (Palgrave Macmillan).
"I shared drafts of the chapter with colleagues and students, including student veteran Nico Canete," said Dr. Laukaitis. Nicholas Canete, Class of 2018, is a student veteran, who served in the Navy, beginning his school career in 2015 after his enlistment contract expired. "Nine months before my arrival on campus, I was on an aircraft carrier in the Persian Gulf as we were launching air strikes against ISIS every day. Suddenly, I was sitting in the comfort of a college classroom where the conversation was mostly theoretical," Canete wrote for the same article. When he heard of the plaque, Canete jumped on the opportunity and spoke to interim President Carl Balsam to have the plaque restored and reinstalled.
Canete also wrote about his transition from fighting ISIS on an aircraft carrier to sitting in a lecture hall, "what made that first year easier for me was the people at North Park. North Park's community has welcomed me to the fullest extent of its hospitality. The reinstallation of the World War II memorial plaque is an example of this generosity. For my fellow student veteran friends and me on campus, some of whom have served in Iraq and Afghanistan, the plaque represents the University's commitment to honoring and supporting those who have served."
Dr. John Laukaitis and Nico Canete invite you to join with them and the North Park Community for a rededication on the 70th anniversary of the plaque's initial instillation. The ceremony will be held at Isaacson Chapel at 6 pm on September 15 where each of the 45 fallen will be honored by name and any other information available.