North Park to Host 'On the Table' Conversations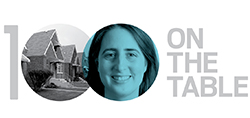 Part of citywide discussion to reimagine philanthropy
CHICAGO (April 24, 2015) — On Tuesday, May 12, thousands of people from around Chicago will gather at various locations to discuss ways to make our region the most compassionate and generous in the nation. This imaginative public square is known as "On the Table 2015," organized for the second consecutive year by the Chicago Community Trust, a 100-year-old organization that looks for innovative ways for concerned citizens to put charitable dollars to work for the benefit of metropolitan Chicago.
Similar to last year, North Park University will host five concurrent "On the Table" conversations. Discussion topics include education, healthcare, peace and justice, nonprofits, and diversity in higher education, and were chosen with local partners Swedish Covenant Hospital and North River Commission. The goal is to bring together North Park faculty and staff with community leaders to further collaboration and benefit the community at large.
Crystal Williams, senior program manager at the Axelson Center for Nonprofit Management at North Park University, was chosen to serve as an official ambassador of "On the Table 2015" by the Chicago Community Trust. A longtime partner of North Park, the Chicago Community Trust has supported the important role the Axelson Center plays as a resource for Chicago's nonprofit sector. The Chicago Community Trust is a major sponsor of the Annual Symposium for Nonprofit Professionals and Volunteers  as well as BootCamp for New Nonprofit CEOs. 
"Philanthropy, the 'On the Table 2015' theme, is an action word at North Park University," Williams says. "Students, faculty, and staff give in a variety of ways throughout the year because of a personal commitment to service. Collectively, we as an institution are a natural hub for divergent intersections. As a convener and connector on May 12, we have the opportunity to help our community discover new ways to extend the measure of its impact throughout Chicago."
The event will take place from 8:30 to 10:30 am in North Park University's Hamming Hall. It is made possible thanks to the support of Whole Foods Market Sauganash. If you have any questions or are interested in attending, please contact Crystal Williams at crwilliams@northpark.edu or (773) 244-5799.
 Travel Information
---
Use @npunews to follow North Park University News on Twitter. Learn more about North Park University.