North Park University Student, Spanish Professor Selected for 2014 Fulbright Awards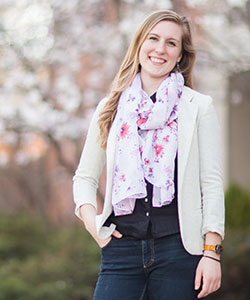 Pearson to teach English in Mexico; Bricault to train English teachers in Guatemala
CHICAGO (May 7, 2014) — The U.S. Fulbright Program awarded overseas teaching opportunities to two members of the North Park University community this spring. Senior Kendra Pearson was awarded an English Teaching Assistantship in Mexico, and Dr. Dennis Bricault, professor of Spanish, was named a U.S. Fulbright Scholar, and will train English teachers at a university in Guatemala.
Combined with previous awards, 12 University students and three University faculty members in the past six years have earned Fulbright grants. The University was among the colleges and universities that yielded the most U.S. Fulbright students in 2013–2014, according to a list announced by the U.S. Department of State. The list of top-producing institutions was published in the October 28 edition of the Chronicle of Higher Education.
Pearson will graduate this week from the University with a bachelor of arts in Spanish and a K–12 teaching license. Beginning this fall, she will serve as an English Teaching Assistant (ETA) for a placement in Mexico of nine months to one year. "I think it's phenomenal that I will be part of a program in which a core idea is that both languages and cultures be exchanged to cultivate a deeper appreciation for each," Pearson says. "I am so grateful for the opportunity to actively participate in this new experience as a teacher, and simultaneously, a learner." She feels she owes that passion for other people and cultures, in part, to North Park.
"In my four years here, I have had the support of so many professors," Pearson says. "They've helped me to foster a love of people, and deepened and challenged my ideas of what it means to learn." Pearson finds herself prepared to teach in Mexico because of the investment her professors have made in her, and the feedback she's received from them. "Not only have they modeled how to do that, but they have given me insights into my strengths and weaknesses," she says. "This better understanding of myself will allow me to be more effective in the ETA position."
Fulbright Program Faculty Associate and Professor of Spanish Dr. Linda Parkyn believes Pearson is "fully prepared" to undertake the role of an ETA in Mexico. "She is student-teaching now, and did so regularly last fall in an intermediate Spanish classroom at North Park for practice," Parkyn says. "Her classroom will flourish with her attention to detail and her gift for making activities interesting. Kendra will thrive living, learning, and sharing knowledge of her native language and culture with Mexican students."
Pearson first came to the University from Portland, Maine, looking for a liberal arts education within a Christian context. As she approaches graduation, Pearson believes she has identified her vocation and grown stronger in her faith. "When I visited North Park, I loved how it was intentionally Christian, but didn't shy away from striving to be a diverse campus in terms of students' beliefs," she says. "To be challenged to see new perspectives while being grounded in my faith was something I saw as being very beneficial."
Pearon's desire to put her faith into action prompted her involvement in several University groups and organizations, including University Ministries' Urban Outreach, as well as the Gospel Choir and its Touring Ensemble. "I am so thankful to have been a part of a group that consistently reminded me that true service is done out of a genuine love for God and others, with humility and dedication," Pearson says of Urban Outreach. Similarly, "Gospel Choir not only provided a means of support and community for me, but it was a place where each week, I could pause and focus on praising God."
As an ETA, Pearson will act as an "authentic addition" to the instruction that takes place in an English classroom in Mexico, she says. "I am very much looking forward to expanding my experiences in teaching, but more important, to serving others within the context of learning or bettering their understanding of the English language and American culture." After her program, Pearson hopes to return to Chicago to teach.
Spanish Professor Dennis Bricault to train English teachers in Guatemala
Dr. Dennis Bricault is one of only three U.S. Fulbright Scholars in the program's Western Hemisphere region to be awarded a position in Guatemala this year. Beginning in late August, he will spend the fall 2014 semester training English teachers at a university in Guatemala.
When Bricault applied for the program, he was fully aware of the region's highly competitive acceptance rate. "There are a lot of countries in the program's Western Hemisphere region, but there are fewer awards to go around," he says. He advanced to the first round last October, and was eventually chosen for one of the handful of Guatemalan placements.
Bricault will conduct teacher training and teach and observe students studying to become English teachers. A member of Teachers of English to Speakers of Other Languages and the American Council on the Teaching of Foreign Languages, Bricault is eager to experience a variety of classroom settings while in Guatemala. "During my time there, I want to visit other schools in the area to exchange ideas and see how they're doing it," he says.
"Dennis is a model department chair, and his organizational skills help all of us teaching languages and cultures here to thrive," says Parkyn. "His classes will prepare his Guatemalan students for further interaction and study with their U.S. neighbors. Our entire department is proud of Dennis, and we look forward to all he will learn as a Fulbright Scholar and bring back to share with us and our students."
For his part, Bricault stresses the importance of what Parkyn has done for the University's involvement with the Fulbright Program. "She's been invaluable in terms of her information and experiences as a Fulbright Scholar and Fulbright Specialist," he says of Parkyn. "It's great to have her on campus as a resource for anyone who wants to do the program."
While this is Bricault's first teaching trip to Guatemala, he has previously worked with two programs training English teachers in Latin America. "Prior to beginning my placement in Guatemala, I'll be returning to co-lead a TEFL (Teaching English as a Foreign Language) teacher-training program with CEDEI, the Centers for Interamerican Studies, in Cuenca, Ecuador, where I taught last summer," he says. Bricault spent the second half of last summer in Santiago, Chile, working with English teachers in the graduate TEFL program at the Universidad Pontífica Católica.
The Fulbright Program was established by the U.S. Congress in 1946, and is sponsored by the U.S. Department of State. It is the largest U.S. international exchange program offering opportunities for students, scholars, and professionals to undertake international graduate study, advanced research, university teaching, and teaching in elementary and secondary schools worldwide.
---
Use @npunews to follow North Park University News on Twitter. Learn more about North Park University.