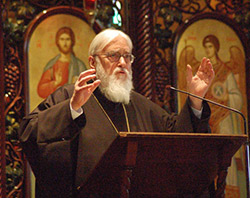 CHICAGO (February 23, 2016) — Metropolitan Kallistos Ware will present the inaugural lecture at North Park University's Engaging Orthodoxy Speakers' Series, a free, single-day conference, Saturday, March 5, 2016, from 10:00 am until 3:30 pm. The author, professor, and bishop, perhaps best known for his book The Orthodox Church, will present a two-part lecture, followed by responses from other theologians.
According to Dr. Bradley Nassif, professor of biblical and theological studies at North Park and organizer of the Speakers' Series, "Orthodoxy is on the cusp of a major theological renaissance in the 21st century. This annual event will help establish Orthodox theology as a vital religious force in American life and thought. Kallistos Ware is the right person for that. Coming from Oxford University, he is one of those rare individuals who come along every hundred years in the history of Christianity who is both brilliant and humble. He is a person of the academy, but also of the church. He's a living legend in our time."
Orthodoxy on an Evangelical Campus
As host of this event focused on Orthodox faith traditions, North Park University is highlighting the unifying elements of world Christianity. Nassif, a pioneer in North American ecumenical dialogue, has devoted much of his career to bridge-building between Orthodoxy and evangelicalism, building on both traditions' roots in historic Christian theology and confession. Though Eastern Orthodoxy in the United States is a minority religion, it is one of the oldest faith traditions in Christianity, growing out of "the cradle of Christianity" in the Middle East, according to Nassif.
"I've worked to bring these two traditions together because I believe in both of them," he said. Nassif teaches courses in Eastern Orthodoxy as well as others that explore faith connections across traditions. Bringing Kallistos Ware to campus is one way to introduce students from all faith traditions to the Orthodox vision of life.
Centered in the Gospel
Nassif organized the Speakers' Series, with funding from the John C. Kulis Foundation, in the hope of providing practical resources for congregations and ministers across Christianity in the work of spreading the gospel. "We're addressing a topic of central importance to Christian identity," he said. "What is the gospel, and what difference does it make in the life of the church?"
Ware's lecture, "The Unchanging Gospel in an Ever-Changing Culture," will reach to the heart of the question for our cultural atmosphere. "We're living in a time when Christianity is constantly being redefined in order to fit the agenda of contemporary culture rather than the gospel of Jesus Christ," Nassif said. "My greatest hope is that Bishop Kallistos will help people understand that the solution to the world's problems is found most comprehensively in the witness of historic Christian faith. As a result, I hope pastors and people alike will learn how to keep the gospel clear and central for each generation—the very thing that is most urgently needed in Christianity today."
The event has received an official endorsement by Demetrios, the Greek Orthodox Archbishop of America. "North Park's efforts combined with the generosity of the Kulis Foundation will provide a new forum for engagement with the essential role and power of the Gospel in our Orthodox faith," Demetrios said.
Respondents to Ware's lecture include Father John Behr, dean at St. Vladimir's Orthodox Seminary; Dr. Hauna Ondrey, teaching fellow in church history at North Park Theological Seminary; and Dr. Marcus Plested, associate professor of theology at Marquette University.
For more information and to register, visit www.northpark.edu/orthodox. For those unable to attend in person, Ware's lectures will be available online through live-stream video at www.northpark.edu/live.
---
Follow North Park University on Twitter @NPU. Learn more about North Park University.