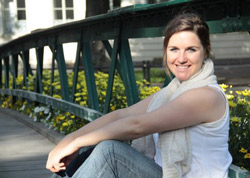 CHICAGO (February 5, 2016) — Amanda Detchman had a decision to make. Having just wrapped up her exchange program semester in Stockholm, Sweden, Detchman was preparing to return to the United States when she received an email asking if she was interested in staying in Sweden to fulfill an internship requirement.
Detchman, a master of divinity student at North Park Theological Seminary, was torn. "I was already in Sweden, immersed in the culture and eager to learn more," she says. "However, signing the contract meant being away from home for another year. There was a lot of prayer and discernment involved."
Detchman's advisor, Professor of Ministry and Director of Field Education Dr. Tim Johnson, had gotten word that Immanuel International Church in Stockholm was seeking an interim youth pastor. "I forwarded that email to Amanda with a little note asking if she'd be interested," he says. "The next thing I know, the match had been solidified. She had interviewed with them and impressed them, and it happened fairly quickly."
"It was evidently God's work," Detchman says, "because I happened to be attending Immanuel for the four months prior, and already felt at home there. With the Spirit's peace and God's courage, I agreed to work as their youth director."
Today, Detchman serves in an internship as youth director for Immanuel's International Congregation. "Immanuel is very unique, because it's made up of three congregations," says Detchman, "Swedish, International, and Korean. The church staff work in the same building and have meetings and events together, but on Sunday, we hold three separate services at the same time." In her position, Detchman helps oversee a summer camp, a conference for international youth across Europe, overnight "lock-ins," and partnerships with homeless and elderly ministries.
As has been the case throughout her time in Sweden, this ministry context gives Detchman a uniquely global learning experience. "The joy I receive working with youth from around the world is challenging, eye-opening, and live-giving," she says.
'A growing experience'
It's the kind of experience that Johnson hopes Seminary students will have through their field education opportunities, whether international or domestic. "We try to have every student have some experience in a cultural context that's different from what they're used to," he says. "That's a key part of the experience at North Park."
Johnson had recommended the internship to Detchman, in part, because of her "evident interest in pastoral care," he says. "On campus, she would often offer to pray for students or faculty members. I had an aunt that died, and I mentioned it in a chapel service. She later asked if she could pray about that with me. It's bold as a student to come up to a faculty member and ask to pray for them, but that's kind of how she's constituted."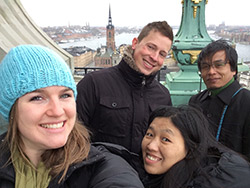 Prior to her internship, Detchman came to Sweden through the Seminary's exchange program partnership with the Stockholm School of Theology (THS). She applied for the program because "the courses sounded insightful, and I have a heart for understanding cultures other than my own," she says. Once there, she found that "THS was a growing experience. I learned so much about myself, my writing, and the world."
Among Detchman's highlights of her time at THS were an Urban Theology course, which required hands-on work with a range of churches throughout Stockholm, and a Christians of the Middle East course, which included a trip to Jerusalem. "We had amazing guides and professors," she says. "We met with a variety of religious leaders, toured the Holy Land, and engaged in field studies of surrounding communities." In addition to Swedish students, Detchman enjoyed getting the opportunity to study alongside classmates from Burma and India.
Director of Seminary Recruitment and Admission Amy Oxendale believes that the exchange program is born out of North Park's "passion for the global church and justice issues," she says. "Many of the classes focus in this area and provide opportunity for our students to have an enriched learning experience—learning about issues of justice from a different part of the world and different cultural perspective."
Oxendale hopes that "students would be able to return here with a different perspective, not just on theology and Scripture, but on who they are and who God is." For her part, Detchman seems well on her way to doing exactly that. "The people I do ministry and work with here accept me and love me so well," Detchman says. "They have taught me what it means to love deeply and engage fully in life's adventures."
---
Follow North Park University on Twitter @NPU. Learn more about North Park University.