Students, Faculty, Staff Recognized at Annual University Honors Convocation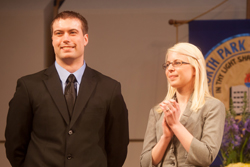 Program recognizes academic excellence, leadership, and service
CHICAGO (April 19, 2012) – North Park University honored outstanding seniors for excellence in academic achievement, service, and leadership at the University's annual Honors Convocation April 16. In addition, one faculty member and one staff member were honored for their outstanding work.
Two students, Hannah Haugen, Milwaukie, Ore., and Joshua Startup, Chesterton, Ind., were named the University's Distinguished Seniors, recognizing extraordinary leadership, service, and academic performance. Haugen will graduate next month with a bachelor of science in economics, and a minor in French. She plans to attend graduate school at the University of Amsterdam, and wants to be a professor of economics. Startup will graduate in May with a bachelor of science in chemistry. He plans to attend medical school and specialize in orthopedics. Startup also wants to work with patients in underserved communities.
Haugen was also named the top senior in the University's School of Business and Nonprofit Management and was named Illinois Student Laureate of the Lincoln Academy of Illinois. She is a member of Milwaukie Covenant Church, a congregation of the Evangelical Covenant Church (ECC). The University is affiliated with the ECC.
Startup was also named the outstanding senior in the Chemistry Department, and was a CCIW (College Conference of Illinois and Wisconsin) all-conference football player at the University. He attends Porter (Ind.) United Methodist Church.
Two University employees were recognized. The C.L.A.S.S. (Campus Life Associations and Student Senate) Service Award was presented to Leah Blanchfield, assistant to the dean of student development. The award is presented to a staff member who actively engages with students and embodies the University's mission. Mary Trujillo, professor of communication arts, was given the Zenos Hawkinson Award for Teaching and Campus Leadership. That award recognizes a faculty member who has made a significant contribution to teaching and leadership at the University.
In addition to the top University awards, top seniors in other departments of the College of Arts and Sciences, and schools in the University were recognized:
Biology: John-Tyler Carlson, Sawyer, Mich.
Exercise & Sport: Matthew Rice, Park Ridge, Ill.
Psychology: Kayla Stevens, Burnsville, Minn.
Mathematics: Michelle Howard, Bloomington, Minn.
Sociology: Maggie Beach, Springfield, Ohio
Art: Timothy Johnson, Plymouth, Minn.
History: Meghan Dowling, Granby, Conn.
Politics and Government (J. Scott Wade Memorial Award): Catherine Fallon, Algonquin, Ill.
English: Philip Landin, Sugar Grove, Pa.
Philosophy (Lindahl Prize for Excellence): Meredith Anderson, Wheaton, Ill.
Communication Arts: Nicholas Jefferson, Eden Prairie, Minn.
Foreign Language: Rachel Hudgens, Evanston, Ill.
Biblical and Theological Studies: Cory Shumate, Chicago
Youth Ministry: Keith Irwin, Muskegon, Minn.
School of Music: Aaron Schultz, Chicago
School of Nursing: (Delores Johnson Award): Kristine Orton, Chicago
School of Education: Sara Salomonsson, Streamwood, Ill.
Awards recognizing service and leadership were presented to outstanding University seniors:
Servant Leadership Award: Emily Bourne, Muskegon, Mich.
Diversity Award: Ericka Rodriguez, Chicago
Music Service Award: Heather Erickson, Chicago
Dr. Nancy Arnesen, North Park University professor of English, addressed the award winners, focusing her remarks on "intellectual humility."
---
Use @npunews to follow North Park University News on Twitter. For further information or resources, contact John Brooks, Director of Media Relations and News, via email or at (773) 244-5522. Learn more about North Park University.