Students Honored as Academic Year Closes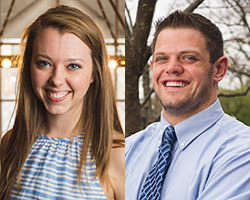 CHICAGO (May 9, 2014) — Students' academic achievement and community involvement were honored at several events as North Park University's 2013–2014 academic year concluded. The school's graduation ceremonies will officially close the year on Saturday, May 10, at 10:00 am, 3:00 pm, and 7:00 pm.
Honors Convocation recognizes outstanding senior achievement
On April 28, the University's undergraduate community gathered for the annual Honors Convocation, recognizing students who demonstrated excellence in the classroom and community.
The 2014 Distinguished Senior Awards were given to Shelby Switzer, Phoenix, Ariz., and Nathan Lawler, Oakley, Ill., at Honors Convocation. This annual honor is bestowed each year to one male and one female from the graduating class, recognizing extraordinary leadership, dedicated service, superior academic performance, and embodiment of the University's mission of living lives of significance and service.
Switzer, who was also recognized as the outstanding senior in the biology major, distinguished herself in the classroom and on the volleyball court. She graduated as "the best athlete to have ever played volleyball at North Park," according to Head Volleyball Coach Tim Walenga, breaking and setting school records and ranking among the top national players in Division III volleyball. Switzer also maintained a 3.9 grade point average, was a member of the TriBeta National Biological Honor Society, served with University Ministries on the chapel planning and Thailand Global Partnerships teams, and volunteered as a tutor. To close out her undergraduate career, along with being named a Distinguished Senior, Switzer she earned a prestigious NCAA Postgraduate Scholarship in recognition of her academic achievement as a student athlete and was named the 2014 Viking Female Athlete of the Year.
Lawler earned honors though his athletic participation, service, and academic achievement while at North Park; the history and secondary education major earned a 3.9 grade point average and played four years on the Viking football team. He was awarded the 2013 Outstanding History Student scholarship by the history department, and also earned CCIW Academic All-Conference honors from 2011 through 2014. Outside the classroom, Lawler volunteered for four years at the University's Service Day and Kids Day. "I'm not sure if I can remember in my 26 years of coaching a more dedicated, motivated, and respected student athlete than Nathan," said Head Football Coach Michael Conway.
In addition to the Distinguished Senior Awards, Honors Convocation noted the top graduating students from each department and school, and service and leadership awards were given to seniors embodying excellence in co- and extracurricular activities.
Education student honored as Golden Apple Pathway Scholar
Richard Barajas, a sophomore Spanish and education major, earned the prestigious honor of becoming North Park University's first Golden Apple Pathway Scholar. The Golden Apple Foundation aims to inspire, develop, and support teaching excellence in Illinois, especially in schools of need. Barajas's strong classroom performance and dedication to serving young students helped him earn this recognition.
Barajas chose to study education in part because of the example of his own high school teachers and coaches. The Aurora, Ill., native attended a school that is classified as a "school of need" by the Golden Apple Foundation, and wants to be a mentor and role model for young people with a similar experience. "My teachers inspired me to become the person that I am today. They are the people that really pushed me forward to do the things I know I can do," he said.
Dr. Ida Maduram, professor of education and North Park's Golden Apple liaison, is sure that Barajas will benefit from the resources the program provides and become an excellent teacher. "I am positive that he will be a teacher we will be very proud of. This is one of those golden opportunities we have for students, and I'm so glad he took it. We are very proud of him."
Swedish Council of America honors students
This May, three University students were honored by the Swedish Council of America (SCA) for their dedication to connecting with their Swedish heritage. Senior Krista Briedis, a chemistry and biology double major from East Troy, Wis., received the Glenn T. Seaborg Science Scholarship, which funds her participation in the Stockholm International Youth Science Seminar and attendance at the 2014 Nobel Prize Ceremonies and Banquet in Stockholm. "I am deeply honored to receive this award, and feel very blessed to have been given this opportunity," Briedis said. "I truly hope it gives me even further incentive to pursue research as a career." She has been accepted into Ohio State University's molecular, cellular, and developmental biology graduate program.
Senior Kellie Carstensen, a communication studies and creative writing double major from San Diego, Calif., received the SCA Humanities Scholarship to support her study of Nordic indigenous literature. Carstensen will attend a conference in Kautokeino, Norway, and then visit Uppsala and Umeå universities in Sweden for further exploration and conversations with professors who study the Sami indigenous people. "It is a great honor to get this award," she said. "I can't wait to explore Sweden and learn about the Nordic culture."
Junior Linnea Anderson is the recipient of the SCA Swedish Language Scholarship to further her study of the language. She will be participating in North Park's annual study abroad exchange program with Södra Vätterbygdens Folkhögskola (SVF) in Jönköping, Sweden, for the fall 2014 semester.
"Along with these student awards, the Gospel Choir Touring Ensemble received a generous grant for their upcoming tour to Sweden," said Dean of the College Dr. Charles Peterson. "We are grateful for the recognition and support of the Swedish Council of America for our deserving students and our excellent Gospel Choir."
---
Use @npunews to follow North Park University News on Twitter. Learn more about North Park University.