University Mourns Loss of Beloved Professor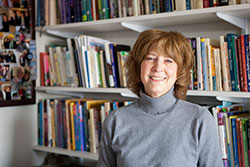 Nancy Berggren served as assistant professor of education and coordinator of clinical experiences
CHICAGO (May 30, 2014) — Nancy Berggren, a longtime faculty member of North Park University's School of Education, died May 21 in Skokie, Ill., after an extended illness. Berggren, 63, began teaching at the University in 1985 as a lecturer in education and became assistant professor of education in 1990.
A North Park alumna, Berggren also served as coordinator of clinical experiences, and enjoyed helping students find a school clinical placement that was right for them. "Every student who graduated from the School of Education was placed by Nancy in clinical experiences, and she supported each one to become an effective teacher," said Dr. Rebecca Nelson, dean of the School of Education. "Nancy Berggren leaves a legacy of significance and service at North Park and in schools throughout the country."
The University celebrated Berggren, who had been scheduled to retire in August, at a gathering of faculty and staff May 13. "Nancy, we often hear you say, 'I love North Park,'" North Park University President Dr. David L. Parkyn said at the event. "We want you to hear today us say to you, 'North Park loves Nancy.'"
As he presented Berggren with a gift, Parkyn continued, "In Nancy's office, there's a large board that's filled with pictures of students, faculty and staff, friends, and family. If you're a friend of Nancy, you're a friend for life."
When the School of Education shared the news of Berggren's death via social media, it received an outpouring of memories from former students whose lives had been touched by her as a professor, mentor, and friend.
"It was a privilege for the faculty and staff of the School of Education to work with Nancy," Nelson said. "As our graduates serve as teachers in schools in Chicagoland and beyond, Nancy's influence will impact students of the twenty-first century for decades."
"Nancy worked with hundreds, perhaps even thousands, of students who were preparing to be teachers," Parkyn agreed. "She had her arms around the world as an outcome of her work at North Park and in the classrooms of students who studied here."
Ruth Tinzmann Armstrong, Berggren's mother, had been a faculty member in North Park College's psychology department for many years, making Berggren a "legacy professor." Berggren's children, Kristofer and Jennifer, are also North Park alumni.
Berggren graduated from North Park College in 1972 with a bachelor of arts in psychology and a certificate in elementary teaching. She received a master's degree and K–12 special education certification from Northeastern Illinois University.
Berggren is survived by her husband, Richard; children Kristofer and Jennifer; brother James Tinzmann (Sue); and two nieces.
A memorial service will be held Saturday, June 21, at 1:00 pm in North Park University's Anderson Chapel. A reception following the service will take place in Hamming Hall from 2:30 to 3:30 pm.
Messages of condolences may be sent to Mr. Richard Berggren, 7444 Kilbourn Ave., Skokie, IL 60076.
The service will be available to watch online at www.northpark.edu/live. 
---
Use @npunews to follow North Park University News on Twitter. Learn more about North Park University.