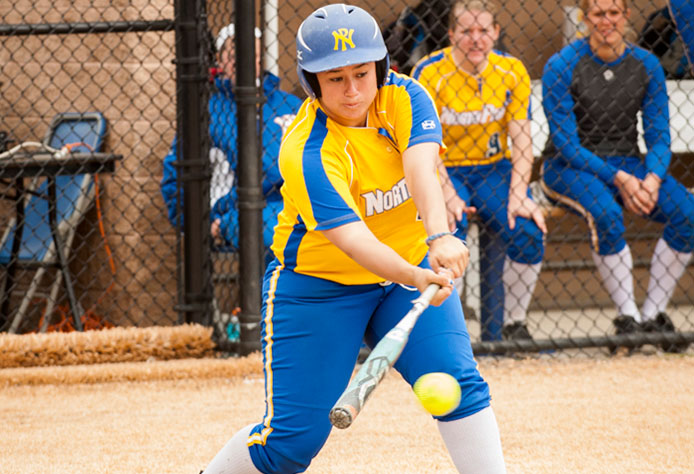 CHICAGO (July 27, 2016) — Fifty-five North Park University student-athletes were named to the College Conference of Illinois and Wisconsin (CCIW) academic all-conference winter and spring teams this month, and four student-athletes earned Jack Swartz Academic All-Conference honors.
The Swartz Award is given to one male and one female athlete from each CCIW school at the end of each season. To be eligible, students must have an overall grade point average of at least 3.50 and must have lettered in their sport that season.
North Park's winter 2015–2016 Swartz Award recipients were track and field athletes Natalie Swanson, a May youth ministry and biblical and theological studies graduate of Manlius, Ill., and rising junior exercise science major Rasmus Elfgaard of Jönköping, Sweden. Spring 2016 Swartz Award-winners were May nursing graduate Nicole Kruckman (softball) of Libertyville, Ill., and rising junior pre-medicine student Josh Smith (baseball) of Lake in the Hills, Ill.
Academic All-Conference selections are chosen based on individual student-athletes maintaining an overall grade point average of at least 3.30 and lettering in their sport that season. See a complete list of winter and spring Academic All-Conference selections.
On the heels of that recognition, the Vikings also received the American Baseball Coaches Association (ABCA) Team Academic Award for the 2015–2016 academic year, one of two CCIW programs to do so. In order to qualify for the award, teams must carry a cumulative GPA of at least 3.0 throughout the academic year.
"This is an especially gratifying recognition for our program," said Head Baseball Coach Luke Johnson. "We are one of only 32 NCAA Division III teams honored—out of 384 with baseball programs—and one of 82 NCAA Division I, II, or III nationally. This puts us in the top 8.5 percent of grade point averages for Division III as well as the NCAA as a whole."
Johnson credits the baseball program with helping to prepare students for life after graduation. "At the end of the day, their academic performance is what sets them up for the next phase of their lives," he said of his student-athletes. "What this says is that the lessons that they learn about competing and producing, the lessons that are reinforced in the discipline of practicing and playing college baseball, clearly become a part of their identity as people."
---
Follow North Park University on Twitter @NPU. Learn more about North Park University.