Core Curriculum
A significant portion of your education at North Park will involve taking courses in the Core Curriculum. North Park has a rich liberal arts tradition and embraces the value of a broad education across many disciplines. Our Core Curriculum addresses the breadth of human engagement with the natural world, the arts, culture, and Christian faith.
This brief guide will help you think beyond the Core Curriculum "checklist." These courses are not something to "get out of the way." Instead, they offer varied, fascinating ways to explore your educational possibilities, discover and pursue your profession and vocation, and make your mind nimble and capable in drawing connections between different facets of your own being.
Your future employers are not simply looking for specialists; they want people who are adaptive, creative, and critical thinkers prepared to transfer their skills to new and unexpected contexts. Studies consistently show that to achieve long-term career success, employers recommend the balance of broad knowledge and specific skills offered by programs such as the Core Curriculum. The future job market and your own life interests are unpredictable. Aim to develop an ambidextrous mind so that you can flourish in any setting.
The Big Picture
We symbolize the Core Curriculum with an arch because the Core, like an arch, serves as a powerful support for your complete education. The arch also symbolizes the portal through which you pass to a future career as well as toward personal and social transformation. Our arch is based on a Chicago landmark designed by the famous architect Louis Sullivan. Sullivan's arch was completed in 1893, the same year as North Park's first graduating class. Once the grand entrance to the Chicago Stock Exchange, the Sullivan arch is now located outside the Art Institute as a freestanding work of art, symbolizing the breadth of human culture from arts to science to commerce. Our Core Curriculum Arch will help you envision the wholeness and integrity of your North Park education.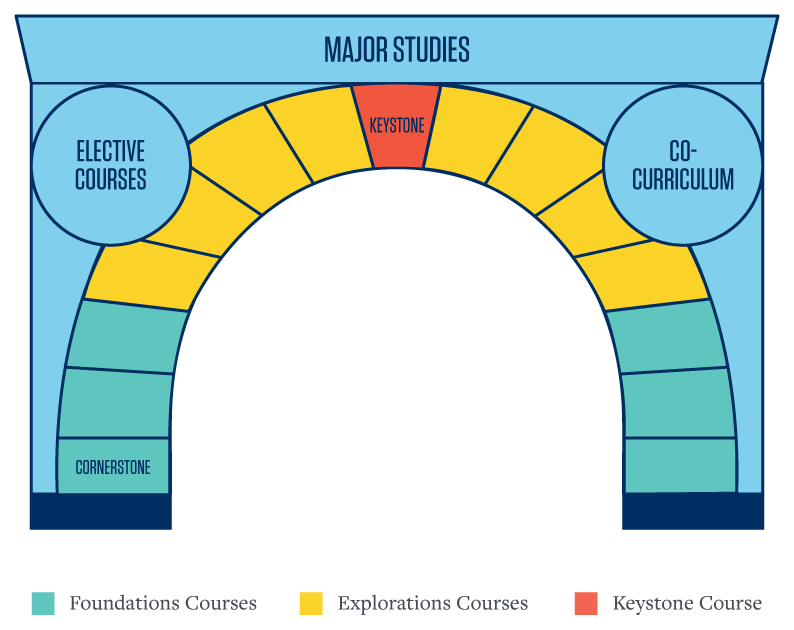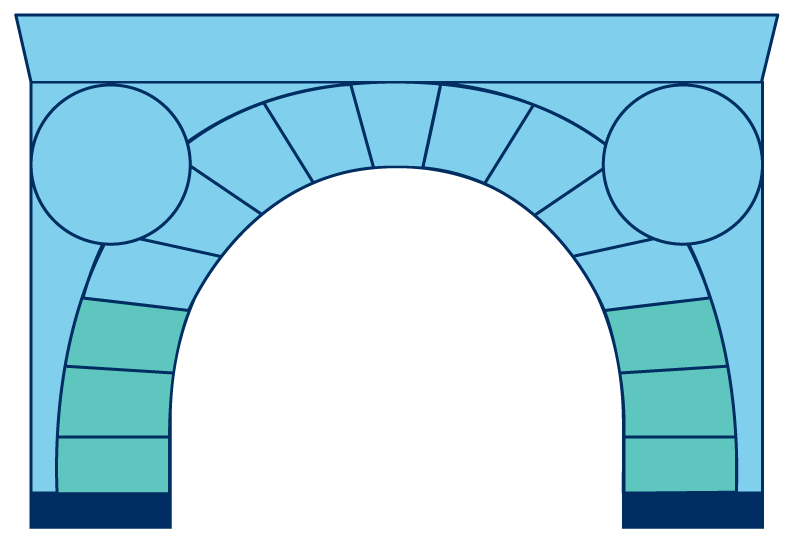 Foundations Courses
The Foundations Curriculum is organized around basic literacies, skills, and values foundational to a Christian Liberal Arts education. At the base of the Foundations Curriculum is the Cornerstone Seminar. This discussion-rich course, which emphasizes critical thinking and written communication, will also establish your first academic community here at North Park. In these classes, you will confront two of life's enduring questions: "Who am I?" and "What does it mean to be Human?"
In addition to the Cornerstone Seminar, you'll complete introductory courses in the Bible, modern language, mathematics, health, and global histories. You will take most or all of these courses in your first 3 semesters to give you a broad academic base for college.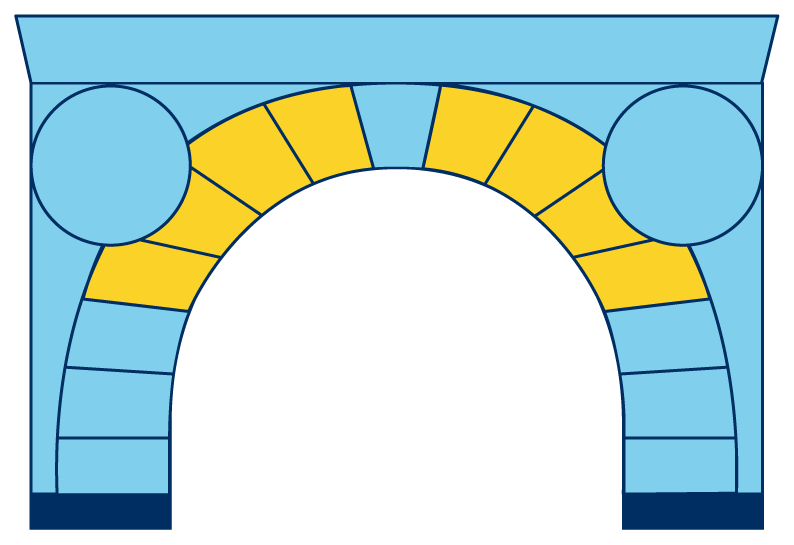 Explorations Courses
During the middle years of your studies, you will explore how to find your passion and advance your knowledge of the world. These courses will help you see the connections across disciplines and within your majors. Think of them as opportunities to explore new areas of knowledge, consider a double major, or simply learn a different angle on a problem that interests you. The subjects covered address the complexity of contemporary life and include courses in the life sciences, physical sciences, culture and society, Christian life and thought, the arts, and ethical reasoning.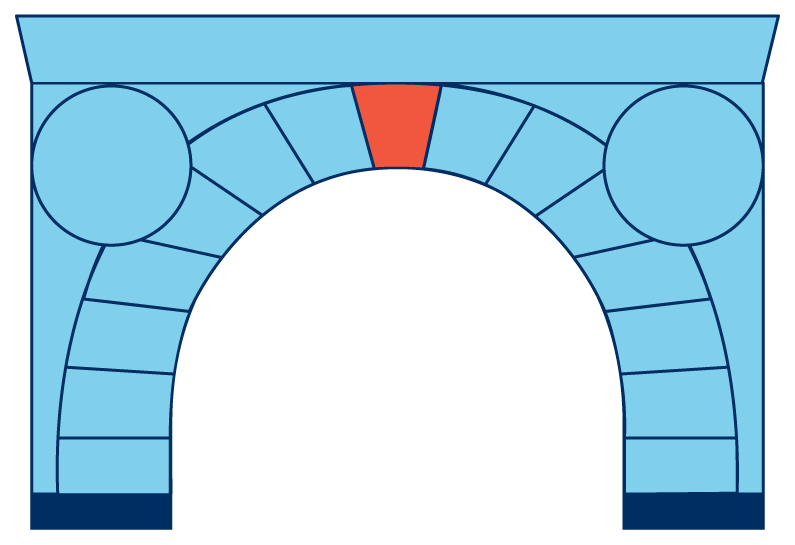 Keystone Courses
As juniors and seniors, you will be thinking about how to apply what you've learned to what comes next: a job, graduate or professional school, or another adventure. The Core Curriculum thus includes the Keystone Seminar [to be taken junior year]. Like the architectural keystone which links parts of an arch together, this course connects with what you've learned in your other core courses and helps you integrate different parts of your education to a life of service. These seminars ask, "How should I live responsibly in the world?" They also utilize community engagement in areas of intercultural dialogue, social justice, environmental stewardship, or human wellness.
Writing Curriculum
North Park's Core Curriculum has a writing and research curriculum built right into it. Regardless of your major, integrating writing and research into your education not only helps you learn the material better but prepares you for your future career. In national surveys, employers consistently rank effective written communication, critical thinking, and problem-solving as the most important skills they want from college graduates. We have embedded writing and research instruction in key places throughout the Core Curriculum. This writing curriculum begins in Cornerstone, continues with 4sh of Writing Intensive (WI) coursework and 4sh of Writing & Research (WR) coursework, and concludes with your Keystone seminar. WI and WR courses can be found among either courses within the Core Curriculum or courses in your major.
Course Requirements
The outline and requirements below are tools to help you understand and plan your Core Curriculum courses and to help faculty guide and assist you in that process. You, as the student, are ultimately responsible for managing your own course selections, registration, and staying on top of the credits needed for graduation. However, faculty and staff advisors are here throughout the year to help you in your planning. Please consider seeing your advisor periodically throughout the school year, but especially in the weeks before Fall and Spring registration. For a complete list of courses and course descriptions, please review the University academic catalog.
Foundations Requirements
| | |
| --- | --- |
| Cornerstone Seminar | 4 sh |
| Biblical Studies | 4 sh |
| Health and Well-Being | 2 sh |
| Analytical and Quantitative Reasoning | 4 sh |
| Global History | 4 sh |
| Modern Languages (to meet proficiency requirement) | 8 sh |
| Total Foundations Credits | 26 sh |
Explorations Requirements
| | |
| --- | --- |
| Aesthetic Interpretation and the Arts | 2 sh |
| Christian Life and Thought | 4 sh |
| Life Science | 2 sh |
| Physical Science | 2 sh |
| Culture and Society | 4 sh |
| Ethical Reasoning (may be a major-specific course) | 2 sh |
| Total Explorations Credits | 16 sh |
Writing Curriculum Requirements
| | |
| --- | --- |
| Writing Intensive Course | 4 sh |
| Research Writing Course | 4 sh |
Frequently Asked Questions