John Swinton Discusses Caring for People With Mental Illness Ahead of Symposium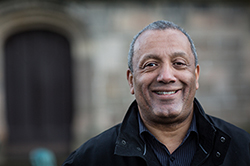 Keynote, plenary address, and two workshops to be live-streamed this Saturday, November 8.
CHICAGO (November 6, 2014) — This Saturday, North Park University will welcome ministers, lay leaders, and healthcare professionals to campus for a symposium on faith and mental health titled "Being Present: A Faithful Response to Mental Illness." The sold-out conference is a collaboration between North Park Theological Seminary, the School of Nursing and Health Sciences, and the School of Adult Learning. Attendees will explore the question of how healthcare professionals and congregations can respond faithfully to the challenge of mental illness, considering what can be done together that neither can do alone.
Selected sessions from the event will be streamed live, free of charge, at www.northpark.edu/live, including the keynote and plenary addresses from Dr. John Swinton:
Dr. John Swinton is a professor in practical theology and pastoral care at the School of Divinity, Religious Studies, and Philosophy at the University of Aberdeen, Scotland. He has a background in mental health nursing and healthcare chaplaincy and also serves as an honorary professor and researcher at Aberdeen's Centre for Advanced Studies in Nursing. Dr. Swinton has researched and published extensively within the areas of practical theology, mental health, spirituality, and human well-being, and the theology of disability.
Before traveling to North Park for the symposium, Dr. Swinton answered a series of questions about caring for people with mental illness and the potential for the church to respond to the challenge.
North Park: In your work, you talk about the importance of person-centered care. What is person-centered care and how is it different from other methods? 
John Swinton: Person-centered care isn't really a method. It's just a way of being with people. Within healthcare systems we can become quite task-oriented and instrumental in our practices. The idea of person-centered care is simply a way of drawing our attention back to the centrality of the person and the role that they have in the process of care. Any tasks that we engage in are for the benefit of the person and not for the efficiency of the system. So to be person-centered is simply to focus on the person before you at all times and not to allow your presuppositions or the pressures of your immediate tasks to determine priorities. Of course there is a deeper dimension to person-centeredness. Within mental health for example, people very easily become their diagnoses. There is a huge difference between "a person living with schizophrenia" and "a schizophrenic." One assumes that the person is central and the illness is something that the person encounters as a person, while the other assumes that the person is the illness. When people become illnesses all sorts of unpleasant things can happen. You don't listen to or respect illnesses, but you do persons.
North Park: You mentioned drawing attention back to the centrality of the person. Is this something an individual can do, or is it possible for an organization (or even society) to move in that direction?
John Swinton: I think it is both. Most healthcare systems—and actually most forms of organizational management—have a tendency to focus on economics and efficiency. There is of course nothing in and of itself wrong with that. However, the problem is that if structural things take priority over the personal things, persons can quickly become commodities. When that happens, care can easily be conceived of as a set of tasks designed for purposes that may include, but are certainly not defined by, the needs of individual persons. People can easily get left behind in our striving for efficiency and economic goals. So I think it has to do with individuals keeping persons as central to their focus, but also looking at ways in which systems can be reoriented from an emphasis on forms of efficiency, but forget about persons.
North Park: You spent a number of years in the field as a nurse and chaplain. How did those experiences shape your academic work?
John Swinton: The way I frame my life is that my nursing and chaplaincy were my place of formation and my theological work is my place of vocation. I was formed in a quite particular way by spending most of my working life with people who experience mental or physical disabilities. Spending one's life with those who are clearly marginalized and rejected forms one's life, one's body, and one's view of the world in quite particular ways. My theological work is the place where I have been able to take that formation and work out what it means within my calling as a Christian.
North Park: It seems like a basic question, but what is the connection between spirituality and mental health?
John Swinton: Well, that depends on what you mean by the question. There is some research that seems to indicate a correlation between spirituality and mental health. For example, involvement in religious communities has been noted as protective for some forms of depression. But much depends on what you mean by "mental health." The bible doesn't have a word for health in the biomedical sense that we use it today, which is the absence of illness. The closest we find is the word shalom, which means to be in right relationship with God, or righteousness or holiness. That being so, mental health defined biblically has not to do with the absence of illness, but rather the presence of God. So you can be deeply psychotic and very healthy, and you can be physically and psychologically well and deeply unhealthy! So the key is in the meaning of the questions.
North Park: As an ordained minister, you describe a strong commitment to supporting the work of the church. Why do you think the church is specifically positioned to respond to issues of mental illness?
John Swinton: At one level the church is well positioned to contribute to mental healthcare. However, in reality, the church forms part of a culture that is highly stigmatizing towards mental health issues. As such it often contains exclusionary attitudes. This is not always deliberate, but it is an aspect of church life. So while I see the church as a valuable asset, its practice often falls short of its ideals. However, I think a primary task of the church is to create spaces of belonging within which all people can discover God and encounter Christlike friendships. If the church cannot do that, in what sense can it really be the church? In a culture that is highly stigmatizing and often rejects people who are different, there is a tremendous need for exemplar communities that can show a different way of being in the world. I think the gospel has the potential to facilitate precisely such communities. So I remain hopeful and indeed excited at the prospects.
North Park: One of the workshops you are leading at the symposium, "Giving People Back Their Names," focuses on dementia. What made you interested in that particular disability?
John Swinton: As a nurse and chaplain, I was always struck by the ways in which the experience of dementia seemed to frighten even hardened health professionals. It seems that people think that somehow we are our memories. But of course that is not the case. Most of our memories are actually held by our communities and ultimately by God. When we forget things, others remember for us. So I guess that my interest came from wrestling with the question of identity and memory in a theory and in practice.
For more information about John Swinton, additional speakers, and the full symposium schedule, please visit the event page.
---
Use @npunews to follow North Park University News on Twitter. Learn more about North Park University.