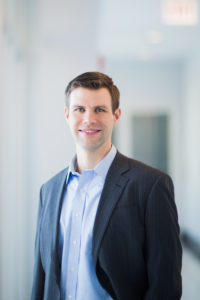 CHICAGO (May 16, 2017) North Park's Assistant Professor of Physics and Engineering and Director of Sustainability Dr. Stephen Ray has been named to the 2017 Consulting-Specifying Engineer 40 Under 40 list. According to their web site http://www.csemag.com/, a Consulting-Specifying Engineering is, "dedicated to encouraging and recognizing the most talented young individuals in the engineering community supporting the building industry."
Nominations were judged by the editors of Consulting-Specifying Engineer and anonymous industry experts seeking to identify accomplished individuals with outstanding academic credentials and in-the-field professional experience. Award recipients met such important criteria as being actively involved with the engineering community and supporting the building industry.
Other qualities the awards committee looked for included community service—Dr. Ray began a mentoring program that has paired 45 students with professional mentors; innovation and inventiveness —Dr. Ray contributed to the design of 28 domestic and international buildings totaling over 38 million ft2 and individually conducted 20 urban climate studies for building campuses and urban districts; and leadership—Dr. Ray spearheaded North Park's BS in Mechanical Engineering degree which began Spring 2017.
With a specialty solving complex problems related to sustainability and airflow, Dr. Ray approaches his field as both an engineering professor and a practitioner. Dr. Ray plans to attend a congratulatory networking dinner this Fall where he'll have the opportunity to meet fellow 40 Under 40 winners.