With Help, North Park University Moms Persevere, Balance School, Home Lives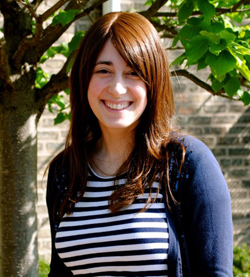 Keys are support systems, focus and organization, they say
CHICAGO (May 11, 2012) – The end of the academic year for two North Park University women means graduation and a degree for one, while the other sets her sights on graduation in May 2013. Adina Kaplan and Felicia Patton are also mothers of young children, experiencing the full-time challenges of balancing family and student responsibilities at the same time. Focusing on their goals has kept them going.
This Mother's Day, May 14, Kaplan said she plans to sleep in, relax and enjoy the day — without studying in the library for the first time in a while. Patton said she plans to spend time with her mother and her mother-in law. Both will be out of school and at home with family for the summer, before resuming busy work and school schedules this fall.
Kaplan will graduate from the University May 12 with a Bachelor of Science in Nursing. She is the mother of three children – a girl, aged six; a three-year-old boy and a boy aged five months, born while she was in school full-time last fall. Some urged her to take the fall semester off, but for Kaplan, that was not an option. "I wanted to be in it 100 percent. I knew I had to go full-time. When I'm in school mode, it helps me to keep going," she said. Meanwhile, Kaplan's daughter started first grade, her older son is in a pre-school program, and a babysitter cared for the youngest at home.
With the help of her husband, Aaron, a commercial real estate broker, her in-laws, and a focus on keeping organized, Kaplan balanced school and family while completing her degree. The family support system was significant, she said.
Earning her nursing degree fulfills a dream Kaplan has had since she was very young. Before she came to North Park to be a full-time student in 2010, she attended Hebrew Theological College, Skokie, Ill., for three years as a part-time student, where she had started work on a bachelor's degree in education.
"I think anybody can do anything they put their mind to – if it's a passion of yours, I think you can do it," Kaplan said. "I'm a big believer in that. It's also a good thing for kids to see their parents in school, working hard and learning just as they are."
Kaplan plans to seek work this fall as a labor and delivery nurse, and said she is thinking about an eventual return to school to be a midwife.
Patton is working toward a Bachelor's Degree in Music in Worship. She is the mother of two 8-year-old daughters, one of whom is adopted. Her husband, Marcus, is an office worker in a downtown Chicago firm. She came to North Park as a full-time student in 2009 after two years at a Chicago-area community college, and a brief stint in the U.S. Army after high school.
"As a musician, I'm always overloaded," she said. Her typical day begins at 5:30 a.m., getting her daughters up and ready for school. After she drops them off, Patton attends University classes, reads and does assignments during breaks in rehearsals or while she's having lunch, and picks up her daughters from school in the afternoon. She takes her daughters to an after-school sitter, cooks dinner for the family when she can, and often returns to school to attend night classes or attend choir practice. Marcus picks up the children from the sitter when he comes home. "By the time I get home the girls are asleep," she said. It's not unusual for Patton to get to bed at 1 a.m.
Beside classes, Patton participates in several music ensembles, including the University's gospel and jazz choirs. She is learning multiple instruments, and is a member of a student worship team. With so much happening in her life, Patton said staying focused is her motivation. "You have to know what the purpose is," she said. "The whole reason for being in school is that you achieve your goals. It's a gift to be a parent, but you have to grow up. It's fun, and it's rough at the same time. You have to focus. If you lean on your family, you'll be fine."
"Nobody in my family has gone to college. My husband is very supportive of me going to school, and he doesn't want me to drop out," she said. Marcus and the children attend Patton's concerts, and the children come to some rehearsals, she said. After college, Patton wants to work in a church setting as a choir director and worship leader. She sings now in various congregations, and substitutes for choir and worship leaders.
In addition to their families, Kaplan and Patton both say that faculty and friends at North Park University have been supportive. "Faculty were so accommodating, Kaplan said. "They worked with me on finding clinical sites, and tried to place me closer to my house so I could pick up my kids up from school. When I had my baby, they were super-accommodating, and so were my classmates."
"The faculty at North Park has been so supportive," Patton said. "They have helped me when I have family emergencies, or if my kids are sick. Most of the (music) faculty know my kids."
---
Use @npunews to follow North Park University News on Twitter. For further information or resources, contact John Brooks, Director of Media Relations and News, via email or at (773) 244-5522. Learn more about North Park University.