This is a student blog post submitted by Emily Smith, C'18. Emily is a Conflict Transformation Studies major with a focus on interfaith dialogue and a concentration in Biblical and Theological Studies.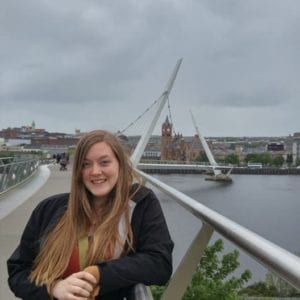 As exciting and life-giving as I find the city of Chicago—with its bustle, towering buildings, restless people, and tangle of smells and sounds—it is a relief to be in Northern Ireland. The rain and the clouds are familiar friends, as are the plethora of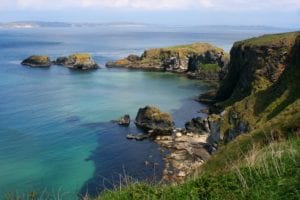 green scenery, what with my upbringing in Oregon. However, the cobblestone sidewalks, beautifully dated buildings, lilting accents, and meadows divided by shrubbery (and dotted with herds of adorable sheep) are somewhat new sites. Northern Ireland's beauty lends itself perfectly to site-seeing, but its history, recent conflicts, and current situation provide a backdrop for something much deeper.
Tourism in Northern Ireland is worth about 4.9% of Northern Ireland's GDP, sustaining over 40,000 jobs, and generating around 764 million GBP, or over 990 million USD (Invest NI & NI Department for the Economy). Many people walk the streets of Londonderry with accents that are foreign to this part of Europe, even this part of the world, and many of these people are here as tourists. There's nothing particularly wrong with tourism, as it does support local economies in many cases; that said, it is worth stating that this trip feels less like tourism and more like what I like to call traveling with purpose.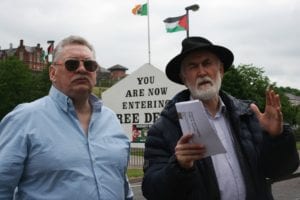 This trip to Northern Ireland is a North Park University Global Partnerships (GP) trip, though it differs from any other trip in the GP department. The participants are all in Dr. Bob Hostetter's International Conflict Transformation spring course, which is a class offered as both a Keystone class and as a part of the Conflict Transformation Studies (CTS) department. We spent four weeks specifically learning about the history of Northern Ireland, with a focus on The Troubles, the conflict that erupted in the late 1960s and lasted until around 1998 when the Good Friday agreement was signed. The kicker with this particular statement, though, is that while the violence of The Troubles ended in the 90s, the effects of the conflict and many of the sentiments are unreconciled.
Acknowledging that conflicts in Ireland and Northern Ireland are far from reconciled, the class is learning about the peace process in a very hands-on way, especially in the city of Londonderry. We are engaging with an organization called The Junction to learn about the value of storytelling and ethical truth-telling in a "post-conflict" context such as this. Additionally, we took tours of Londonderry and Belfast from differing perspectives of the conflict, namely the Republican/Catholic/Nationalist and Loyalist/Protestant/Unionist perspectives.
In my experience, traveling with a purpose has looked like going somewhere with intentions that surpass simply satiating curiosity. Traveling with purpose
means paying attention to the things that may seem insignificant to the average eye, such as how a city is set up and why it might be set up that way;
it means listening instead of telling;
it means knowing my expectations and being prepared to have them demolished;
it means avoiding overgeneralization and stereotyping;
it means self-examination before, during, and after an exploratory experience;
it means trying to understand on a deep level the experiences of the local people without trying to become them or thinking that I can ever truly understand how they feel or are.
North Park University aims to prepare students for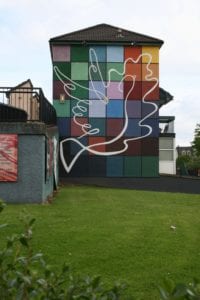 lives of service and significance. The concept of traveling with purpose fits into this idea of living a life of significance. If we treat our everyday lives as though we are tourists, we will not find our own purposes, nor will we do justice to our communities and contexts that we live in. Traveling and living with purpose looks like taking chances, listening to other people's stories rather than deciding them, and constantly performing self-examinations. It means using the resources we're given to make life more than a routine, but it also means understanding that some people need to work really hard in a routine just to survive and that their purpose is going to look very different than our own.
As a Christian, traveling with purpose means not being just another traveler using the resources given to me, in life or in literal travel, but showing gratitude for those resources and using them in a way that benefits the world around me. It also means not abandoning my convictions, while simultaneously refusing to engage in judgement or condescension of others who do not understand Christ's great love and might.