October 20, 2023
North Park University
More information about the event, speakers, and sessions will be announced in the coming months.
Sol Anderson, CEO, Evanston Community Foundation
Sol Anderson is a seasoned nonprofit leader with nearly two decades of experience working in and with BIPOC and marginalized communities, especially in the Chicagoland area. His passions and professional experiences focus on the areas of youth development, supportive programs for families, community development, basic income/income supports, anti-poverty strategies, and anti-violence strategies. As a foundation leader, Anderson's goal is to weave the philosophy of Ubuntu—a Xhosa word that loosely translates to "I am because you are"—into philanthropic work.
He joined the Evanston Community Foundation as CEO in June 2021. Prior to that, he served as executive director for I Grow Chicago, a nonprofit in the Englewood community that works to eradicate the roots of violence. Previously, Anderson served as the executive director of LIFT-Chicago, an organization that works to break the cycle of intergenerational poverty. Earlier in his career, he served in a variety of roles for the Boys & Girls Club in Lansing, Michigan, and Cristo Rey Community Center in both Lansing and Evanston, Illinois. He holds a BA and an MBA from Michigan State University, and is a 2019 Fellow of the University of Chicago's Civic Leadership Academy.
Felicia Davis Blakley, President and CEO, Chicago Foundation for Women
Felicia Davis Blakley is a socially conscious executive leader who leads with radical authenticity, unparalleled passion, and inspirational vision. A self-described South Side of Chicago girl, Blakley is a proven leader in the government, public policy, higher education, and philanthropic sectors, having worked at the intersection of public policy and community equity and inclusion for more than 30 years. She believes in the power to transform individual lives, families, and whole communities through collective efforts and that advancing equality and equity in society are causes worth fighting for. 
As president and CEO of Chicago Foundation for Women (CFW), she leads the foundation's strategic efforts to invest in women and girls, transgender, and gender nonbinary people as catalysts, fighting for gender equity, and building stronger communities for all. Since its founding in 1985, CFW has invested more than $45M in organizations supporting women and girls across Chicagoland. In September 2021, under her leadership, CFW launched the SHEcovery™ initiative, a commitment to raise over $11M to ensure women and their families emerge from the pandemic stronger than before. Prior to joining CFW, Blakley held executive positions in Chicago city government, including inaugural executive director for the Mayor's Office of Public Engagement, commissioner, and deputy mayor for public safety.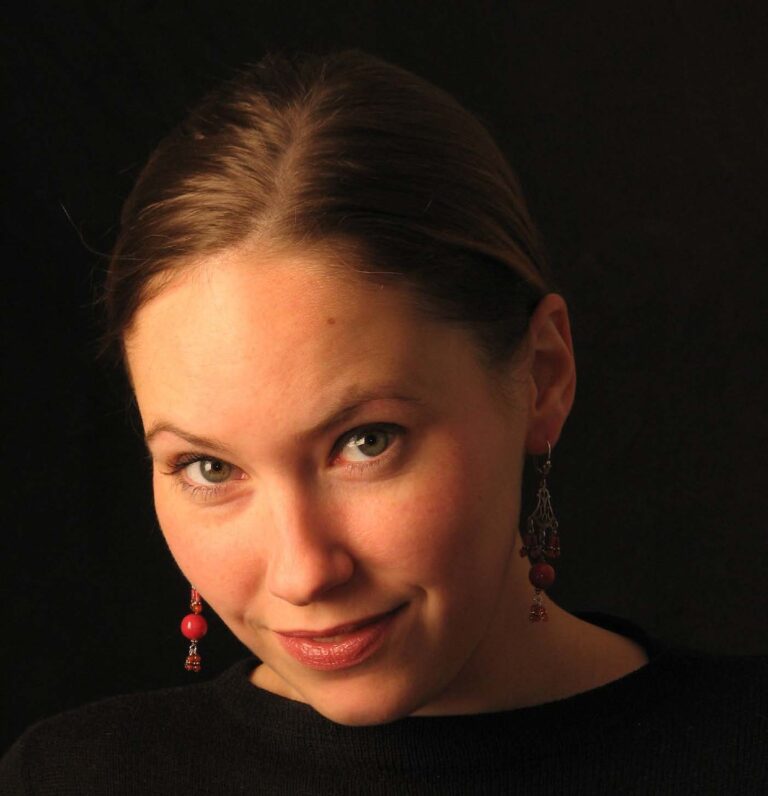 Amanda Delheimer, Artistic Director, 2nd Story
Amanda Delheimer's scholarly and artistic work circles around the intersections of story, psychology, biases, and the body. She was chosen for the inaugural artEquity Diversity, Equity, and Inclusion Facilitator cohort, funded by the Mellon Foundation and hosted by the Oregon Shakespeare Festival in 2015. Since then, she has actively engaged with the Theater Communications Group as a part of their anti-racism work, including presentations for their annual conference on "White Fragility and Social Location Theory" and "Tenets of White Supremacy Culture". As the artistic director of 2nd Story, she has facilitated trainings, workshops, and experiences for partners on local and national levels, including work with Skadden Arps, Hinshaw & Cullbertson LLP, the Gender and Sexuality Center at the University of Illinois at Chicago, the National Able Network, and Leadership Greater Chicago, among others. She was an inaugural recipient of the Leadership U: One-on-One Fellowship, funded by the Andrew W. Mellon Foundation and administered by the Theatre Communications Group, which placed her in residence at Lookingglass Theatre Company from 2012–15 as a strategic planning consultant.
Farah Harris, MA, LCPC, Founder and CEO, WorkingWell Daily

Farah Harris is a Belonging and Workplace Well-being expert and a licensed psychotherapist with over two years of experience. She has certifications in neuroscience, psychological safety, diversity, equity, and inclusion. She is dedicated to disrupting unhealthy work environments. As the founder of WorkingWell Daily®, a company that approaches workplace belonging and well-being from a clinical and emotionally intelligent lens, Farah has helped individuals and Fortune 500 companies develop healthier workplaces where employees want to stay and thrive because their leaders and teams have grown in empathy, self-awareness, social awareness, and cultural awareness.
As a mental health practitioner and consultant, Farah is aware of the intersectionality between well-being, equity, and inclusion. She is a contributing writer for Fast Company. Her work has been featured in media and podcast platforms such as Forbes, Business Insider, Harvard Business Review, Good Morning America, Essence, Huffington Post, Inside Edition, Thrive Global, and Therapy for Black Girls.
Mae Hong, Vice President, Rockefeller Philanthropy Advisors

Mae Hong leads the Chicago office of Rockefeller Philanthropy Advisors (RPA) and is responsible for serving individual donors, families, foundations and corporations throughout the Midwest. In addition to providing high-touch, custom services to help clients manage their charitable giving, develop effective strategies, and discover joy in their philanthropic journey, she is also a frequent speaker and writer about issues, trends, and ideas in philanthropy.
With nearly 25 years of nonprofit and philanthropy experience, she previously served as program director at the Field Foundation of Illinois. Her funding expertise includes children, youth, and families; poverty alleviation; women and girls' issues; and advocacy. She has also been actively involved in RPA's leadership on the issue of diversity in philanthropy. Prior to entering the nonprofit sector, she worked in the publishing industry for several years.
Hong currently serves on the boards of Illinois Humanities and the Council on Foundations. Other leadership affiliations include the Advisory Board of the Lake Institute on Faith and Giving at the Lilly Family School of Philanthropy at Indiana University, and the Leadership Council of the Dorothy A. Johnson Center at Grand Valley State University.
She completed her graduate work in social service administration at the University of Chicago and is a graduate of Northwestern University's Medill School of Journalism.
Mark Ishaug, CEO, Thresholds
Mark Ishaug has dedicated his career to advocating for the rights of stigmatized and vulnerable people. As the CEO of Thresholds, Mark has overseen expansive growth and a culture shift that embraces change, innovation, transparency, and, yes—love. Thresholds has been recognized for eight consecutive years as a Chicago Tribune Top Workplace and a Chicago's 101 Best and Brightest Companies to Work For. In addition, Ishaug serves on the boards of Dominican University, Kennedy Forum Illinois, the Civic Federation of Chicago, and the Alphawood Foundation, as well as on the Membership Committee of the Economic Club of Chicago and the Leadership Fellows Association Board of Leadership Greater Chicago. Before Thresholds, he worked as a leader in the fight against HIV/AIDS as CEO of the AIDS Foundation of Chicago. Ishaug holds a master's degree in political science from Northwestern University and a bachelor's degree in government and international studies from the University of Notre Dame. 
Tina Ramirez Moon, Senior Program Manager, Healing and Resilience, Healthy Communities Foundation
Tina Ramirez Moon seeks to understand how we collectively center relationships, identity, and culture in organizations and communities. As the senior program manager of healing and resilience at the Healthy Communities Foundation—a community-informed grant making foundation that seeks to address social and structural determinants of health—and as descendant of Filipinx and Colombian immigrants in diaspora, Moon honors this work as a bridge to collective healing, joy, and justice.
Grounded in kapwa practice and values (i.e., rooted in interconnection and interdependence), she weaves together the common threads between individual, community, and organizational health, bringing practical insights from prior roles across the nonprofit sector and cultural organizing work. Moon has extensive experience in community engagement, program design and implementation, and workshop facilitation, informed by more than fifteen years of reimagining well-being for youth, families, and communities across Chicagoland. She serves on the board of directors for the Alliance of Filipinos for Immigrant Rights and Empowerment and for AMPT, which supports organizational health and sustainability for Black- and Latinx-led organizations in Chicago. Moon received an MA from the University of Chicago's School of Social Service Administration and a BA in literary studies and creative writing from Beloit College.
Mary Morten, President, Morten Group
Mary Morten is the president of Morten Group, a national consulting firm established in November 2001 to focus on clients in the nonprofit, for-profit, governmental, and foundation fields.
Morten is a bridge-builder and connector guiding disparate voices toward common goals and mutual accountability. She built Morten Group with an intentional focus on assembling a multiracial, cross-generational team of professionals that remains at the heart of the firm's commitment to social justice while centering diversity, racial equity, and inclusion; executive placements; and research in its work. Previous positions include associate director, interim executive director, and board president of Chicago Foundation for Women, and past director of the Office of Violence Prevention for the Chicago Department of Public Health. She was also a director of the Chicago Commission on Human Relations.
Morten has been honored by Women in Film, Equality Illinois, the YWCA of Evanston/Northshore, and About Face Theater. In 2020, the Public Health Institute of Metropolitan Chicago established the Mary F. Morten Justice Award to recognize her long-term work as an activist, advocate, and champion of social justice.
Morten holds a BA in communications with an emphasis in radio and television from Loyola University Chicago.
Dara Munson, President and CEO, Family Focus
Dara Munson is president and CEO at Family Focus. Most recently, she served as CEO of Chicago Child Care Society. Munson is a native of Detroit and past president and CEO of Big Brothers Big Sisters of Metro Detroit, past COO of Girl Scouts of Southeastern Michigan, and past senior director of United Way of Southeastern Michigan. Her early career and education were in criminal justice, and she now serves as chair of the Board of Trustees of the Eastern Michigan University Foundation Board (her alma mater). Munson also serves Chicagoland in several leadership positions including chair of Chicago Alliance for Collaborative Effort, board member and chair of Membership for the International Women's Forum (IWF)-Chicago Chapter. She is also a member of the Chicago Cook Workforce Partnership Youth Committee, Illinois Partners for Human Services Board of Directors, and the Southside Giving Circle for the Chicago Foundation for Women. Munson is a member of Alpha Kappa Alpha Sorority, Inc. and The Links, Incorporated.
Ashley K. Ritter, Practice Director and Career and Leadership Coach, Chicago Career Consulting
Ashley Ritter is the practice director and career and leadership coach at Chicago Career Consulting where she empowers people to develop meaningful lives and careers. She believes the world of work can exist with more creativity, human compassion, and equity. She brings more than 15 years of experience across a variety of sectors including higher education, nonprofit management, healthcare, and human resources. In her roles, she has been responsible for comprehensive leadership development programming, employee recruitment and engagement, career education, and anti-racism and DEI training. She has served as a university instructor for gender studies courses and holds a deep personal commitment to racial, economic, and gender justice.
Ritter earned a master of organizational leadership with concentrations in human resources and conflict management and holds a bachelor of arts in international studies with a focus on cross-cultural communication. She is also a certified master of career services through the National Career Development Association. She specializes in issues of burnout, compassion fatigue, and leadership development.
Deanna Singh, Author and Entrepreneur, Uplifting Impact

Deanna Singh wants to live in a world where marginalized communities have power. As an expert social entrepreneur, she is obsessed with making the world a better place, and she will build or break systems to create positive change. While tackling complex social challenges, Deanna gives audiences the tools and courage to imagine, activate, and impact the world as agents of change. Deanna is described as a trailblazer and dynamic speaker who is at the forefront of social change. She is an award winning author, educator, business leader, podcaster, and social justice champion.
Singh earned her bachelor of arts in urban studies from Fordham University, a juris doctorate from Georgetown University, and a master's in business administration from the University of Wisconsin, Madison. She has been recognized by the Milwaukee Business Journal as one of the community's most influential 40 Under 40 Leaders, the State of Wisconsin as a Women Who Inspires, and by Forbes as an African American Woman Everyone Should Know.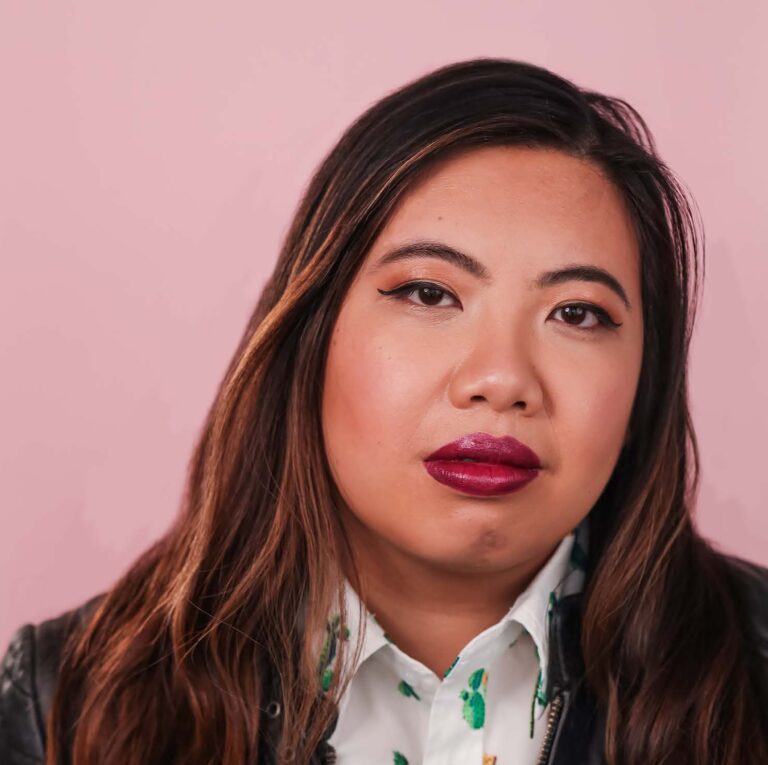 Aimy Tien, Company and Board Member, 2nd Story
Aimy Tien is an award-winning multidisciplinary artist who fell into storytelling due to a combination of an irrational childhood fear of lions, a Val Kilmer film, and an overactive imagination. As an actor, writer, director, and producer, Tien, a queer Vietnamese Chinese American, is driven by narrative plenitude, bringing the stories of people of color and marginalized groups to the page, stage, and screen. She is a company member and board member of 2nd Story and the founder of tinheart productions where they are developing multiple narrative projects centered on the intersections of race, healing, and sexuality. Outside of her film and stage work, Tien facilitates conversations and workshops around the country on storytelling, queer advocacy, and equity, diversity, and inclusion. She is currently at work on a new multimedia collection, The Queer Joy Project, which will comprise essays, poetry, personal narrative, film, and live performance.
Linda Xóchitl Tortolero, President and CEO, Mujeres Latinas en Accion
Linda Xóchitl Tortolero serves as president and CEO of Mujeres Latinas en Accion, the nation's longest standing Latina organization. She has dedicated much of her professional career in fundraising, building strategic relationships, and organizational and program management in the nonprofit sector. Tortolero is responsible for carrying out Mujeres' strategic plan to address the immediate needs facing Latinas and their families. Under her leadership, Mujeres is a fierce advocate on key issues such as gender-based violence, women's health and economic security, immigration, and reproductive justice. In 2019, Mujeres opened its third office in Brighton Park with its partner Esperanza Health Centers, a Federally Qualified Health Center, and expanded its second office in North Riverside.
Tortolero serves on the Action Council of the Illinois Coalition for Immigrant and Refugee Rights, and the Women's Advisory Council and Gender Based Violence Implementation Taskforce of the Mayor's Office for the City of Chicago. She has a Bachelor of Arts from Brown University and a juris doctor from Northwestern Pritzker School of Law. In 2019, Chicago Community Trust presented Tortolero with its inaugural Fellowship Award for the Leadership Greater Chicago Signature Fellows program. She was awarded the 2020 Public Service Award from the National Association of Women Lawyers.