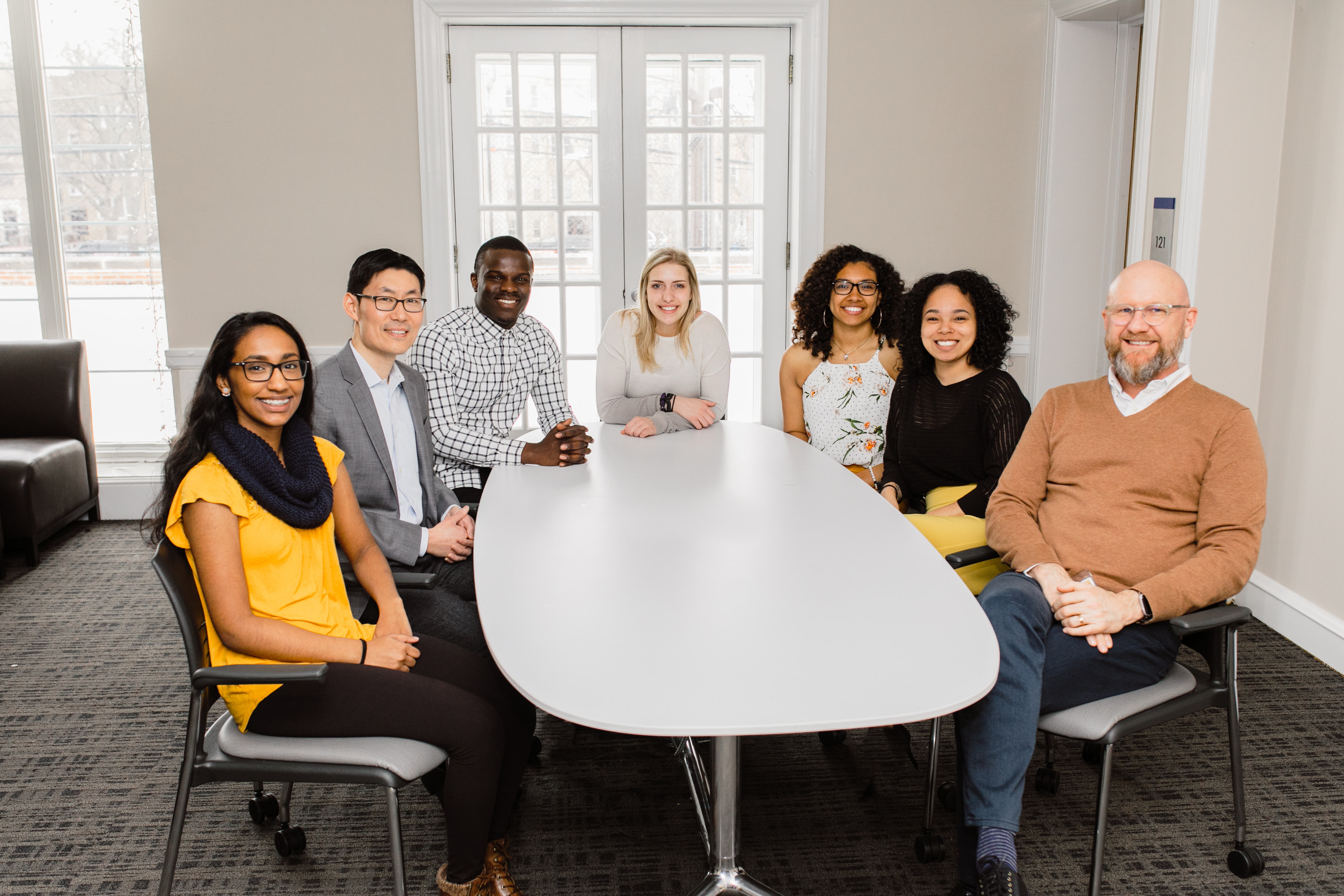 The core distinctives of North Park — Christian, city-centered, and intercultural — have found a physical home together in Sohlberg Hall.
That's where the offices of CRUX, Catalyst 606, and the Office of Diversity have moved into shared space on the first floor of the former residence hall.
"These three distinctives are core to who we are, and now they have a heart and home together," President Mary Karsten Surridge said at the Feb. 25 dedication of the new space. "This is just a beginning … We'll continue to live into this unique advantage, and what I would call our competitive advantage."
CATALYST 606

gives students the opportunity to engage with the city of Chicago every Wednesday afternoon. Within their class groups, students serve and learn within their local community, gaining a closer understanding of the increasingly urban world in which they will live and work.
Pictured: A Spanish class visits murals in the Pilsen neighborhood as part of Catalyst.
The renovated space continues the legacy of living and learning that has seen Sohlberg Hall serve as a residence and dining hall, and then as home to several administrative offices. Catalyst 606, in which students learn outside the classroom, is happy to now call Sohlberg home.
North Park History Professor Susan Rabe said Catalyst has helped her and other professors facilitate their long-held desire to incorporate Chicago into their coursework.
"I've been trying to get students to go into the city in various ways for 20 years, and dealing with the logistics of that makes it difficult," Dr. Rabe said. "Catalyst has enabled me to figure that out so I can focus on the curriculum."
OFFICE OF DIVERSITY

aims to create a campus community that helps students of all backgrounds feel welcome and included. Working with cultural clubs, student success programming, and promoting student advocacy are a few of the ways the OOD engages students in pursuing lives of significance. and service.
Pictured: Miranda Lonzo, intercultural program coordinator, holds a meeting in her office.
Just down the hall is the Office of Diversity, whose goal is to ensure the success of all students, regardless of race, ethnicity, or religious belief. The refreshed space includes a lounge where students can gather, complete with a kitchen, where students are encouraged to snack on free cereal and other treats throughout the day.
Student Ayrriana Longs says the space is perfect for welcoming new students who might not know a soul on campus when they arrive.
"My first semester at North Park, I didn't know anyone, and someone said 'you should come to this office during the week,'" Longs recalled.
"And they were like, yeah, just come chill, do homework, sleep. And I found it really is a place where we all can come together, no matter who you are, or what you look like," said Longs, who is also a member of the Catalyst board. "Everybody comes together and is accepted. This is a place where we can all come tell our stories, talk about who we are, express ourselves freely with no negative energy coming back at us."
CRUX

Designed for first-year students, CRUX is a faith-based, residential living and learning discipleship community, in which students deepen their Christian identities through academic, spiritual, and creative formation.
Pictured: CRUX students lead a weekly worship service at Immanuel Covenant Church.
The former residence hall is also home to CRUX, North Park's living-learning cohort, where students deepen their Christian faith together.
CRUX Director Bret Widman said having the programs under one roof, where they can collaborate and share ideas, makes sense. Being together shows that the distinctives are not siloed programs but work collaboratively with one another to further the University's mission and values, he said.
"To be a follower of Christ means to move across barriers," Widman said.
"My hope is that the students in CRUX will get a Kingdom vision to enable them to hear the voice of the risen Jesus and see Him at work wherever they find themselves," Widman said. "No matter location or people group, they can identify when the Kingdom is advancing and join Jesus in His work."
During the dedication ceremony, President Surridge encouraged those who use the new space to also honor those who used it in years past.
"Remember the legacy of the students who have lived here, or eaten in the dining hall downstairs, and who have learned here," President Surridge said.
RIBBON CUTTING CEREMONY

On Monday, Feb. 25, faculty, staff, and students gathered for a ribbon-cutting ceremony and open house to celebrate the new Sohlberg Hall space.