Janice Phillips C'76
PhD, MS, RN, FAAN North Park University
Distinguished Alumni Award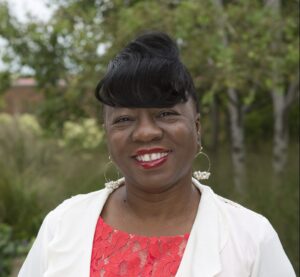 Her first day at North Park is a vivid memory for Dr. Janice Phillips. "I left my foster family with two five-dollar bills and a bag of clothes," she says. "When I got to campus, I didn't see a lot of students who looked like me, an African American. But I knew turning back was not an option."
Phillips hoped to earn a nursing degree, but recalls early struggles, including low grades and "being frightened I didn't fit in." But God "dispatched angels," she says, including a caring roommate (and now lifelong friend, Dr. Kathy Reeves) and nursing professors, including nursing school founder, the late Delores Johnson, who "showed me mercy and helped me get my grades up. She taught me that with perseverance and hard work, you can accomplish anything."
Phillips went on to earn her BSN at North Park, then pursued graduate study, culminating in receiving a doctorate in public health nursing.
"I knew turning back was not an option."—Janice Phillips
Her career accomplishments are noteworthy, including earning one of the nation's most prestigious health policy fellowships at the Robert Wood Johnson Foundation, and receiving the Martin Luther King, Jr., Humanitarian Award from the University of Chicago Medical Center, where she held positions as nurse researcher, research associate, and assistant professor. She also worked at the National Institute of Nursing Research and taught graduate nursing at Rush University College of Nursing.
Today, as director of government and regulatory affairs for CGFNS International in Philadelphia, she oversees issues related to the global nursing workforce.
Phillips looks back with deep gratitude to North Park for a "solid nursing foundation" and for supporting an "inner-city girl with low confidence." She keeps a letter she received more than 40 years ago from former nursing professor Sandy Granstrom, which reads, "I'm confident you'll be as great a nurse as you are a great person." Phillips still reads it as a reminder: "I've been blessed to accomplish things because it was the people at North Park who reached out to me."
Ted Ernst A'51 C'54 North Park Academy
Distinguished Alumni Award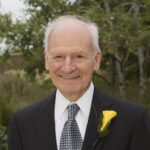 For more than 60 years, Ted Ernst has been cycling, racing, and promoting the merits of a healthy mind and body. His early influences were his father, Ted Ernst Sr., who owned Northwest Cycle on Irving Park Road in Chicago, and his years at North Park Academy and College.
North Park was a positive environment, Ernst recalls. "We all came from various backgrounds, yet we all felt at home and welcomed." He believes that North Park's philosophy and beliefs helped students to "think more about 'the we' instead of 'I' or 'me.' North Park taught us how to be a positive part of society."
North Park College News reported on "North Park's champion bicycle racer" in 1952, praising Ernst for carrying "the name of North Park to many different lands," and asserting that "his fine record has always been a credit to his school."
In 1960, Ernst relocated to California and purchased a shop he named Ted's Manhattan Cycles, which he owned for more than 50 years. He started the South Bay Wheelmen cycling club and organized the Manhattan Grand Prix in 1962, one of the largest and longest-running cycling races in the country.
In 2006, Ernst was inducted into the U.S. Bicycling Hall of Fame. But he's quick to point back to his North Park lessons: "You don't do things to get rewards. Do what you do because you enjoy it, and try to be a decent person and set a good example."
Mary Helwig C'06
North Park University
Distinguished Young Alumni Award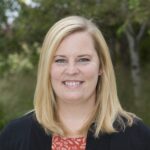 This past March, Mary Helwig became one of only 765 mushers—including just over 115 women—to cross the finish line for the Iditarod Sled Dog Race, covering 1,000 miles across the Alaskan wilderness. The summer before this extraordinary achievement, a devastating wildfire tore through Mary's neighborhood in Alaska, destroying everything she owned.
She puts both in perspective: "Following God has taken me to some breathtaking places, introduced me to a beautiful culture and amazing lifestyle, and prepared me for extreme physical and mental challenges."
Helwig harks from a long line of North Parkers, including her grandparents, parents, brother, aunts, and uncles. "There was no question in my mind that I, too, would attend the beloved University." But finding Chicago "cold and dark" compared to her home in California, she considered transferring. A campus job and a new roommate changed her mind, although another challenge emerged: she was diagnosed with depression. "The people of North Park, students and faculty alike, are such a caring group. Some of my most meaningful friendships are with those who helped me in my struggle."
She went on to participate in SVF, the Swedish exchange program, broadening her worldview and putting her on a path "I never dreamed of for my life." After graduation, she joined the nonprofit organization Covenant Youth of Alaska and "fell in love with everything about Alaska." Today, she feels at peace, knowing that "somehow I am doing God's work and spreading the light."
Joanna (Ericson) Kanakis C'06
North Park University
Distinguished Young Alumni Award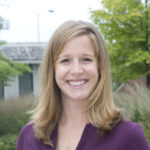 A pivotal moment for Joanna Kanakis came after defending her senior philosophy paper. "I clearly remember the gleam in Professor Greg Clark's eye," she recalls, "telling me in his quiet way how far I had come and how I was ready to start living."
North Park provided Kanakis with a "fostering environment for my determined nature." She learned how to connect with people, she says, as well as how to build meaningful community and start a network that launched her career in the global financial market. A North Park Presidential Scholar, Kanakis was able to grow intellectually through her "rigorous" philosophy major. She credits North Park with teaching her how to easily and successfully connect with people around
the globe.
Following graduation, Kanakis joined Calyon Financial, Inc. as an analyst, and moved on to Newedge USA, LLC where she became vice president and sales trader. Currently, she is a vice president and account executive at Societe Generale Americas Securities LLC, where she leads sales in Latin America, including Brazil, Chile, Peru, Mexico, and Colombia.
Kanakis says she holds her friends from North Park in the highest esteem. "North Park seems to draw in and cultivate compassionate, deeply rooted, good people who live intentionally in the world." Kanakis is grateful for all that North Park provided, and happy to now be "on the giving side of the equation." She serves on the advisory board for North Park's School of Business and Nonprofit Management.