CHICAGO, June 5, 2017 — As North Park University undertakes a presidential search in the 2017–2018 academic year, Executive Vice President Carl Balsam has been appointed by the Board of Trustees and approved by the Executive Board of the Evangelical Covenant Church, to serve as Interim President of the university, with all rights and responsibilities as president.
"The Board is grateful to Carl for agreeing to continue his deep dedication to the University by serving as president, beginning July 1. Because Carl has so generously stepped up to serve, we will benefit from his decades of experience and his steadfast commitment to North Park's mission.  With his leadership, we will continue to move forward with our goals and aspirations during this transition period," said Dr. Kristine Strand, Chair of the North Park Board of Trustees.
Reverend Gary Walter, president of the Evangelical Covenant Church, added, "Carl is a well-respected and trusted leader in the campus community and beyond.  I am grateful for his openness to serve.  This provides important continuity for initiatives underway."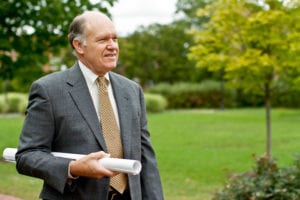 Carl Balsam joined North Park in 1988.  As EVP and Chief Financial Officer, he has managed North Park's annual budget and finances, and has overseen the University's endowment, continuing its strategic growth to a current value of $75 million. Additionally, he directed architectural planning for significant additions to North Park's campus, including Anderson Chapel, Brandel Library, Helwig Recreation Center, the Holmgren Athletic Complex, and most recently the Nancy and G. Timothy Johnson Center for Science and Community Life.
Balsam has committed three-and-a-half decades of professional life to Christian higher education.  Prior to coming to North Park, Carl served for six years at Barrington College, Barrington, R.I.  He holds a BS in Engineering Science, Pennsylvania State University; Master of Divinity, Trinity Evangelical Divinity School; and an MBA from the University of Rhode Island.  Carl also serves on the Board of Directors for Covenant Trust Company.
Carl and his wife Barbara are active members of Winnetka Covenant Church.  They have two children, Aaron and Ashley, both graduates of North Park University, and six grandchildren.
Spring 2018 is the target date for the identification of a permanent president to succeed Dr. David Parkyn, who retires effective June 30.