Chemistry Department Receives $17,000 Grant for Two Instruments with Biomedical and Food Applications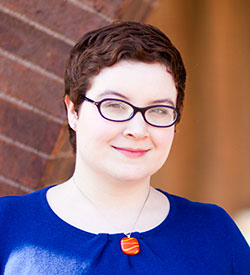 New equipment funded by the Max Goldenberg Foundation will allow students to use advanced analytical techniques in classes and research
CHICAGO (January 3, 2014) — The Max Goldenberg Foundation has awarded a $17,000 grant to the North Park University Chemistry Department for two state-of-the-art instruments that will allow students to use advanced analytical techniques in laboratory work and research, which will better prepare them for future careers in the field.
"We wanted to give our students the most modern experience possible in the lab and give them the hands-on experience they'll need for graduate school and jobs in the industry," said Dr. Anne Vázquez, assistant professor of chemistry. "Students will use the equipment multiple times throughout their college career and will integrate the instruments into their undergraduate research experience because we want to give our students the best opportunities available."
With biomedical applications that include the ability to detect cancer, the Agiltron PeakSeeker Raman Spectrometer is an important instrument in the health sciences. It is used to identify substances, and will enable students to monitor the progress of chemical reactions and observe how these reactions become products. Starting sophomore year, chemistry majors will gain experience with the equipment in a variety of courses, including analytical chemistry, organic chemistry, and physical chemistry, as well as through faculty and student-led research.
The Parr Instruments Combination Calorimeter—which is used to measure changes in energy, including calories in foods—will be incorporated into research and several courses as well, including general chemistry, physical chemistry, and others. This equipment is notable for its ability combine both bomb and solution calorimetry and will help faculty to better connect what students are learning in lectures to what they are doing in the lab, Professor Vázquez said.
The Max Goldenberg Foundation has funded other chemistry equipment, including Lab Quest hand-held data acquisition PDAs, reflectance spectrometer, flash chromatography system, and a compact NMR spectrometer. "They've always been generous and made a difference in our students' education," Professor Vázquez said of the foundation, which supports educational, religious, and medical groups.
The department expects to receive and include the $9,000 raman spectrometer and the $8,000 combination calorimeter into classes and research during the spring semester. The equipment will then move to the new Nancy and G. Timothy Johnson Center for Science and Community Life, which is scheduled to open in Fall 2014. Ultimately the addition of the instruments will help the chemistry department improve the student lab experience and prepare them for work after graduation.
"A benefit of being at a liberal arts college is that our students get hands-on experience and use the instrumentation themselves, so when they get to graduate school and start a job, they won't be intimidated by the equipment," Professor Vázquez said. "That's something we really value."  
---
Use @npunews to follow North Park University News on Twitter. Learn more about North Park University.