University Convocation Honors North Park Faculty and Staff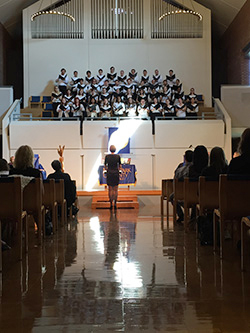 Ceremony includes recognition of scholarly works and installation of interim administrators
CHICAGO (September 23, 2014) — The North Park University community gathered in Anderson Chapel on Monday, September 22, for its University Convocation, an annual ceremony that honors the achievements of faculty and staff.
"I have a handful of favorite days of the year here at North Park, and this day is certainly one of them," said University President Dr. David Parkyn. "Often we think of teaching and learning and it is focused on students. But today we flip the classroom, flip the recognition, and focus on faculty and staff who are committed to pursuing their calling at North Park."
The ceremony announced newly promoted and tenured faculty, and recognized faculty and staff who have recently published books, articles, and other scholarly and creative work, including plays, reviews, recordings, staged exhibitions, art installations, and other performances. A full list of these accomplishments is available online.
Dr. Jodi Koslow Martin, vice president of student engagement, along with Parkyn, led the installation of two interim administrators, Dr. Craig R. Johnson, interim provost, and Neale Murray, interim associate provost. "We need the expertise and skills, the passion, and the commitment you bring to this place," Parkyn said. "We are thankful you have chosen to serve with us and we commit to be your colleagues."
The University Choir and the Chamber Singers each performed during the ceremony, both under the direction of Dr. Julia Davids, director of choral activities, who was also recognized for her promotion to associate professor in the School of Music.
Faculty promotions celebrated include:
---
Use @npunews to follow North Park University News on Twitter. Learn more about North Park University.