A Diversity Milestone for North Park University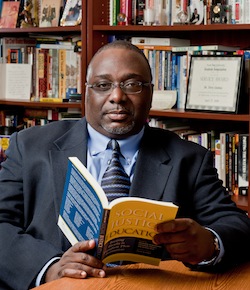 Q&A with Dr. Terry Lindsay ahead of the Seventh Annual Student Diversity Leadership Conference
CHICAGO (October 29, 2015) — For the first time in the history of North Park University there is no racial or ethnic majority in the school's undergraduate population. No group of students, including Caucasian, reaches above fifty percent, highlighting the University's commitment to creating a diverse campus community.
"Our student body reflects Jesus's vision recorded in the Gospel of Luke in which 'people will come from the east and west, north and south, and will eat in the kingdom of God,'" said University President David Parkyn in a recent address. "Our founding President David Nyvall had a vision for 'harmony in the midst of diversity,' and with Christ at the center of North Park we stand with our arms wide open."
Diversity as a theme has been present across campus this academic year. North Park Theological Seminary hosted its annual Symposium for the Theological Interpretation of Scripture September 24 to 26, with a focus on "Race and Racism." The University also hosted the Christian Colleges and Universities (CCCU) 2015 Diversity Conference September 25 to 27, where hundreds of faculty and staff from Christian higher education institutions gathered for a series of workshops aimed at creating inclusive communities. 
This year's Campus Theme program, What Is Truth, has also provided students an opportunity to learn and engage alongside a diverse set of voices. On Friday, October 9, students, faculty, and staff gathered in Anderson Chapel to hear from Gerardo Cárdenas, a Mexico City-born writer and journalist who now lives in Chicago. His book Our Lady of the Viaduct is the University's Common Read selection this year, where incoming freshmen have a shared experience of reading the same book—selected based on the Campus Theme—and then gather throughout the year to discuss its meanings and implications.
The focus on diversity will continue next week as North Park hosts its Seventh Annual Student Diversity Leadership Conference. On November 7, college students and staff from around the country will gather for leadership development training and a series of workshops centered around equipping a generation of leaders who can be change agents for their communities.

Ahead of the conference, we sat down with Dr. Terry Lindsay, North Park's dean of diversity and intercultural programs and associate professor of cultural studies, for a conversion about diversity on campus.
North Park: When you hear the statistics about the changing demographics at North Park, what's your reaction? 
Terry Lindsay: I'm actually not surprised. I knew that the University was heading in that direction for a number of reasons, one of them being that the country as a whole is shifting and changing demographically. There are more Latino students all across the country for a variety of reasons. Europeans are not coming to the country in the same kinds of numbers as they used to in the '50s, '60s, '70s. There's also a recent report that indicated that for the first time in the history of this country there are now more children of color born in the U.S. each year than white children. So the country is changing and I've always thought that North Park would eventually change in demographics as well. And it's exciting for everybody. 
Our new provost gave a speech at our last full faculty meeting and he talked about North Park becoming the next great university as it relates to urban education. And I think that's what we can do with this change in demographics. We are ideally positioned in terms of our demographic makeup to prepare students for the global world that we're graduating them into. And we don't have to take them somewhere else to do that. They can do it right here on campus by virtue of the interactions that they will have in the classroom, in Collegelife, in Chapel, in co-curricular activities, on our athletic fields, and in our leadership opportunities. We are perfectly positioned and ideally situated to prepare students who are interculturally competent. 
NP: What has North Park done in recent years to help facilitate a diverse community? 
Lindsay: First I have to credit our colleagues over in the admissions office. They have made a concentrated effort towards the recruitment of underrepresented students. They've developed relationships with organizations that serve these students, including One Goal, Casa Central, and the Miracle Center, among others. We also have our own programs, like VIVE, which, partnering with the Evangelical Covenant Church, sponsors regional events aimed at creating pathways for underserved students to start imagining college in their futures. So there are a number of organizations that we are deliberately and intentionally developing a partnership with and spreading the word about North Park.
The reality is, a number of underrepresented students don't know a lot about North Park. But when they come beyond those gates and they see the beautiful campus that we have and they interact with some of our own underrepresented students, they can't help but go back and talk about what a terrific experience it was. 
NP: When you think about American higher education in general, there are some schools, I imagine, who are doing this work better than others. Where do you see the gaps and also the potential in higher education moving towards the creating of a more diverse learning community?
Lindsay: I do a lot of traveling to other college campuses for diversity conferences and I am shocked when I get to these campuses to see that they are still majority-white. And when I say "majority-white," I mean eighty to ninety percent white. I'm like, "You won't be sustainable doing this!" Some secular institutions are doing a better job. North Park and a few others are leading the way in terms of Christian schools recruiting underrepresented students. We still have a ways to go in creating a welcoming, inclusive, and accessible environment for the students that we have. We still need to work on that. But in terms of going out and recruiting underrepresented students, we have not mastered it, but we are moving in the right direction.
NP: And there are programs in place here once students come to campus, things like Prepárate, Lighthouse, COMPASS, and others.
Lindsay: After you've recruited these students, you need to make sure that it's an environment that will adjust to the differences in their learning styles, to the differences in the way they access the place, and to the fact that many of these students are the first in their family to go to college. Many underrepresented students don't know how to seamlessly transition to campus. So we need to provide programs that will aid in the acclamation to the institution. We have the Latino student orientation, Prepárate, that brings Latino students to campus before the start of opening week to get them more acclimated to the institution. You have the COMPASS program, which takes academically at-risk students who were admitted provisionally, and provides an enriched experience for them. There are a number of programs that have been developed to help these students ease into the college environment.
I recently met with a group of Latino students who participated in Prepárate. And a young woman said, "The Latino orientation was so helpful for me because it allowed me to experience the college before the pressure of everything else happened. I didn't know if I was good enough, But the Latino orientation program gave me the confidence that I needed and it was just so useful for me." That's what these programs do and I am in support of them all. 
NP: The Student Diversity Leadership Conference is in its seventh year. What are you looking forward to?
Lindsay: I look forward to the fact that every year, the conference is a vehicle that provides nourishment to the participants who are going to be here. People are traveling from far and near to come, including Seattle and Omaha. This conference will help them to develop the intercultural competency skills that they need to go back to their campuses and communities to be agents of change. So we work hard to make sure that happens.
NP: Over the years as conference attendees have gone back to their campuses to do the work of diversity leadership. Have you been able to see some of that change implemented? 
Lindsay: It's always fun to go to a campus that has been to your conference and to see how they're applying what they have learned. Recently I went down to Lee University in Cleveland, Tenn., and one of their faculty members had come to our conference. She met with me and said, "We want to do some of these things that I learned." And so she began the process of pulling together a diversity committee on her campus. She brought me down for an entire day and I met with the provost, academic deans, vice president for student affairs, students, and the university committee. It was really nice to talk with them about the future of Christian higher education as it relates to diversity and the role that they can play and what we've all learned from the diversity conference at North Park. 
The Seventh Annual Student Diversity Leadership Conference takes place at North Park on Saturday, November 7. Registration is still available. For more information, visit www.northpark.edu/sdlc.

---
Use @npunews to follow North Park University News on Twitter. Learn more about North Park University.