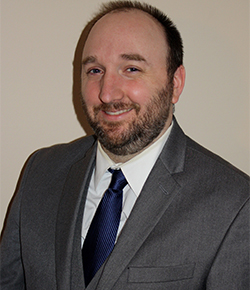 CHICAGO (September 22, 2016)  — When North Park alumnus Joshua Musil Church returns to campus this week for the University's 125th Anniversary Celebration, he'll be doing so as a graduate with a particularly unique career trajectory.
"I never thought that helping run the Chapel service at North Park would lead to working with Pee-wee Herman," Church says, "but that's exactly what happened."
After graduating in 2000, Church moved to Los Angeles and found a job working for writer-director Judd Apatow on the TV series Undeclared. From there, he joined Mosaic Media Group, where he worked as a producer on several of Will Ferrell's films, including Step Brothers and Talladega Nights. He is now head of development and production for Apatow Productions, where he has served as executive producer onPee-wee's Big Holiday and co-producer on Trainwreck, among other movies.
Ahead of North Park's 125th Anniversary Alumni Panels—where Church will speak on his career in the arts—we caught up with him about working in comedy, how his experience at North Park led to his job, and why serving on the Chapel team is like being a Hollywood producer.
North Park: How did your time at North Park prepare you for what you do now?
Joshua Church: One of the main roles of a producer is to work behind the scenes to pull together complicated TV series or movies. North Park afforded me the opportunity to become very involved in many different areas of campus life, from serving on the Chapel team to being Student Government Association vice president. Looking back, it's clear to me that those were my first producing jobs.
NP: Was there a specific moment or experience at North Park that helped kick off the trajectory of your career?
Church: I don't think that there was a specific moment where it all "clicked in" and I knew what I wanted to do, career-wise. It was probably a combination of a bunch of moments. I always had fun performing in comedy sketches, and my advisor, Professor Robert Hostetter, worked with me to ensure that I could spend a semester at the Los Angeles Film Studies Center, which was an important step in me deciding to move to L.A. after college.
NP: Did you know that you wanted to work in comedy, and in production specifically? 
Church: Like many people, I grew up loving comedy. I'd watch episodes of Johnny Carson, David Letterman, Saturday Night Live. To be honest, at the time, growing up in Maine, I never really thought about the fact that there were jobs in comedy. It seemed so far away. But as I learned more about the film industry in college, I realized that there was a world out there of people helping make comedy. I decided, probably sophomore year, that I wanted to eventually move to L.A. and try to get a job in the comedy film or TV industry.
NP: Do you have a favorite North Park memory?
Church: I have so many great memories of being at North Park. My best friends and I lived in an on-campus house called the Arena, and I probably laughed more in that house than on any movie set I've been on, and those friendships have continued to this day.
When I was student body vice president, the student body president and I were invited to a meeting with then-President Dr. David Horner at his home. We were really nervous—we were used to meeting with other students at night while drinking coffee in Java Haus. But this seemed like a big step, a meeting with an adult before 10:00 a.m.
To prepare, we had to set our alarms to make sure we were up by 9:30, which was a big change from our normal schedule. We borrowed an iron for our shirts, and practiced saying things that we imagined adults said, like, "The markets are fluctuating, how's your portfolio doing?" or "I'm not sold on NAFTA, I worry it will do more harm than good."
Confident we had mastered the art of faking adulthood, we showed up at his house, only to find Dr. Horner standing in his bathrobe while he studied up for his fantasy baseball draft, which was in an hour. Dr. Horner was not interested in discussing NAFTA at all. But at least our shirts were ironed.
---
Follow North Park University on Twitter @NPU. Learn more about North Park University.