Substantial Progress Reported to North Park University Trustees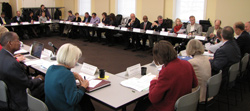 University building project moving ahead, milestones in giving achieved
CHICAGO (February 14, 2013) — With the sounds of new building construction outside, North Park University administrative leaders told the board of trustees about significant financial milestones, plans aimed at increasing enrollment for the next academic year, and positive results from a national student learning survey. The trustees met here at the University's campus February 8-9.
"Certainly there's great excitement on campus with the beginning of construction for the Johnson Center," said Dr. David Parkyn, president of North Park University. The $44 million Nancy and G. Timothy Johnson Center for Science and Community Life, now under construction in the center of the campus, is expected to be completed for the 2014 academic year. Funds to support construction of the Johnson Center have been provided through Campaign North Park, the University's comprehensive fundraising effort.
After the City of Chicago issued the foundation permit late last year, the Johnson Center construction team began excavation and concrete foundation work and installed 78 concrete caissons for the building's foundation, said Carl Balsam, executive vice president and chief financial officer. Next, the construction team expects to complete foundation walls on the east-west wing, and to excavate the lower level of the north-south wing. In March and April, the team plans to pour the slab-on-grade for the lower level. In May, steel erection should begin, and in July, the team expects to start work to enclose the structure, he said.
Two milestones announced, Annual Fund donors grow
To date, commitments to Campaign North Park are now more than $60 million, said Mary Surridge, vice president for development and alumni relations. Thus far, $39.8 million has been committed for the Johnson Center, she said, adding that additional giving was inspired by the groundbreaking in October 2012. The campaign has also secured $12.6 million for endowed scholarships, $2.6 million for academic support, and $5.7 million for the Annual Fund. The number of donors participating in the Annual Fund to date is about 1,600, twice as many as the previous year, Surridge said. She noted that Campaign North Park has helped broaden the University's donor base.
In addition, North Park University's endowment has passed the $70 million mark, Balsam reported. The endowment was $6 million when Balsam joined the University staff nearly 25 years ago, he noted.
Enrollment news shows promise
The University welcomed 93 new undergraduate students for the spring semester, the second largest mid-year new student enrollment in eight years, said Nate Mouttet, vice president for enrollment and marketing. In addition, 1,653 undergraduate students returned for the spring, he said, a 95 percent persistence rate of students eligible to return from the fall semester for the spring semester. Early trends for fall 2013 undergraduate enrollment are positive, similar to the record traditional undergraduate enrollment in 2011, he said. Mouttet emphasized that more work is needed to secure student commitments for fall. The University is also working on a multi-year strategic enrollment planning process with Noel-Levitz, a higher education consulting group, he added. That process is being carried out in concert with a multi-year University strategic planning effort.
Student survey results positive for North Park
The University president reported results of the National Survey of Student Engagement (NSSE), which asks first-year and senior students about their participation in certain student activities, and the activities' relationship to the students' learning and personal development. The 2012 results showed North Park students reported high levels of satisfaction in active and collaborative learning, student-faculty interaction, enriching educational experiences, as well as a supportive campus environment, compared to results from three years earlier, Parkyn told the trustees. "We have long held, and now have research to show, that how students interact with faculty makes a difference. We need to walk alongside our students," Parkyn said, adding the 2012 results provide "lots of encouragement."
Institutional planning, leadership transition
Parkyn said he is in dialogue with University faculty and staff on an initial draft of an overall University strategic planning document, a five-year plan that includes the University's 125th anniversary year in 2016. He also reported that Andrea Nevels will leave the University this month after 10 years as vice president of student development and dean of students, to begin a new role at the University of Illinois at Chicago. Elizabeth Snezek, assistant dean of student development, is interim dean through the remainder of the academic year.
---
Use @npunews to follow North Park University News on Twitter. For further information or resources, contact John Brooks, Director of Media Relations and News, via email or at (773) 244-5522. Learn more about North Park University.
Next Steps
Learn more about North Park University's history, and its mission, vision, and values.