University Awards Degrees to 412 Students at Spring Commencement Ceremonies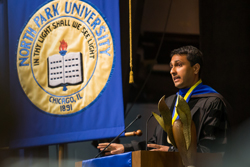 Nyvall Medallion presented to Eboo Patel, outstanding students honored
CHICAGO (May 13, 2013) — North Park University awarded degrees May 11 to 412 graduates at three commencement ceremonies, culminating the 2012-2013 academic year. Events were held for students who earned undergraduate degrees, students who earned graduate degrees and degrees through the School of Adult Learning, and for graduates of North Park Theological Seminary. Combined with the winter commencement held last December, degrees were presented to 657 North Park University graduates this academic year.
Preceding graduation was a baccalaureate service May 10 at Fourth Presbyterian Church, Chicago. In an address, Dr. David L. Parkyn, president of North Park University, drew a comparison between the graduates and the words of Psalm 1. "Once you came to North Park, a sapling asking to be planted by the river, to be tended and nourished, to be pruned and watered," he said. "Tomorrow you will leave North Park. Tomorrow you will be uprooted—for this is why you were planted. Tomorrow is the day of your transplanting."

At its undergraduate commencement May 11, the University presented its David Nyvall Medallion to Eboo Patel, Chicago, founder and president of the Interfaith Youth Core, an organization that promotes interfaith cooperation by motivating young adults through service. Named for the first president of North Park University, the medallion is presented for distinguished service to the people of Chicago.
In response, Patel told stories of his own youth as the son of Indian immigrants, and how he learned to build bridges and form relationships with people, instead of building barriers. "We live in a world with people of all different backgrounds," he told the graduates. "As you are yourself in this world—giving expression to the formation you've received in your homes, in your churches, and at this university—are differences going to be opportunities for barriers or bridges?" In encouraging students to build bridges, Patel drew attention to Jesus's words in the Sermon on the Mount (Matthew 5—7): "Blessed are the peacemakers."
He reminded the students that leaders build bridges and "carve out" common ground for successful relationships—and that a significant part of their North Park education—focused on lives of significance and service, is about leadership. Patel added that one of the most important gifts of a Christian liberal arts education "is the gift of perspective—a warm, loving perspective on a roiling world."
The University presented 262 bachelor's degrees. The Ahnfeldt Medallion, this year presented to two seniors with the highest grade point averages, went to Waseem Sous, Lincolnwood, Ill., bachelor of science in biology, and Miranda VanderMey, Mount Vernon, Wash., bachelor of arts in sociology. North Park's 2013 Fulbright Student Award winners were introduced, Timothy Ahlberg, Perrysburg, Ohio, and Samuel Auger, Chicago.
Several students from the North Park College (now University) class of 1963 were recognized as they celebrated the 50th anniversary of their graduation.
Four graduates addressed the afternoon commencement ceremony for graduate programs and the School of Adult Learning (SAL), sharing the ways in which their University education shaped their lives and careers. Carlina Gonzalez-Allen, Joliet, Ill., an SAL graduate with a bachelor of arts in criminal justice, told the graduates that having "a vision" helped her keep studying, and made the sacrifices worthwhile. "Vision takes ordinary people and leads them to lives of true significance," Gonzalez-Allen said. Other speakers were Sherida Hudak, Chicago, master of management, School of Business and Nonprofit Management; Toni Poteres, Niles, Ill., master of arts in education, School of Education; and Berrie Anderson-Gwinn, Lake Zurich, Ill., master of science in nursing, School of Nursing.
At the Seminary commencement, which honored 37 graduates, Erik Borggren, Chicago, master of divinity, was presented the Ahnfeldt Medallion for the highest grade point average. In addition, academic awards were presented to several students.
Dr. Carol Noren, the Seminary's Wesley W. Nelson Professor of Homeletics, presented the commencement address at the Seminary. She commented on Paul's sermon at Mars Hill in Athens (Acts 17), pointing out that the first few lines of his sermon were especially memorable. She urged the graduates, who want to begin their church careers well, not to forget "to what end you have been called."
"Do not be deceived into thinking that success or faithfulness can be measured only by your relevance to the surrounding culture, your ability to speak the local dialect, or how quickly opportunities come to you … It is our God who will remain unknown unless we dare proclaim Christ crucified and risen, ascended and coming to judge the quick and the dead," Noren said.
Rev. David W. Kersten, dean of North Park Theological Seminary, presided at the Seminary commencement. Graduates were also greeted by the University president.
---
Use @npunews to follow North Park University News on Twitter. For further information or resources, contact John Brooks, Director of Media Relations and News, via email or at (773) 244-5522. Learn more about North Park University.
Next Steps
Interested in a pursuing a degree program North Park University?  Learn more.