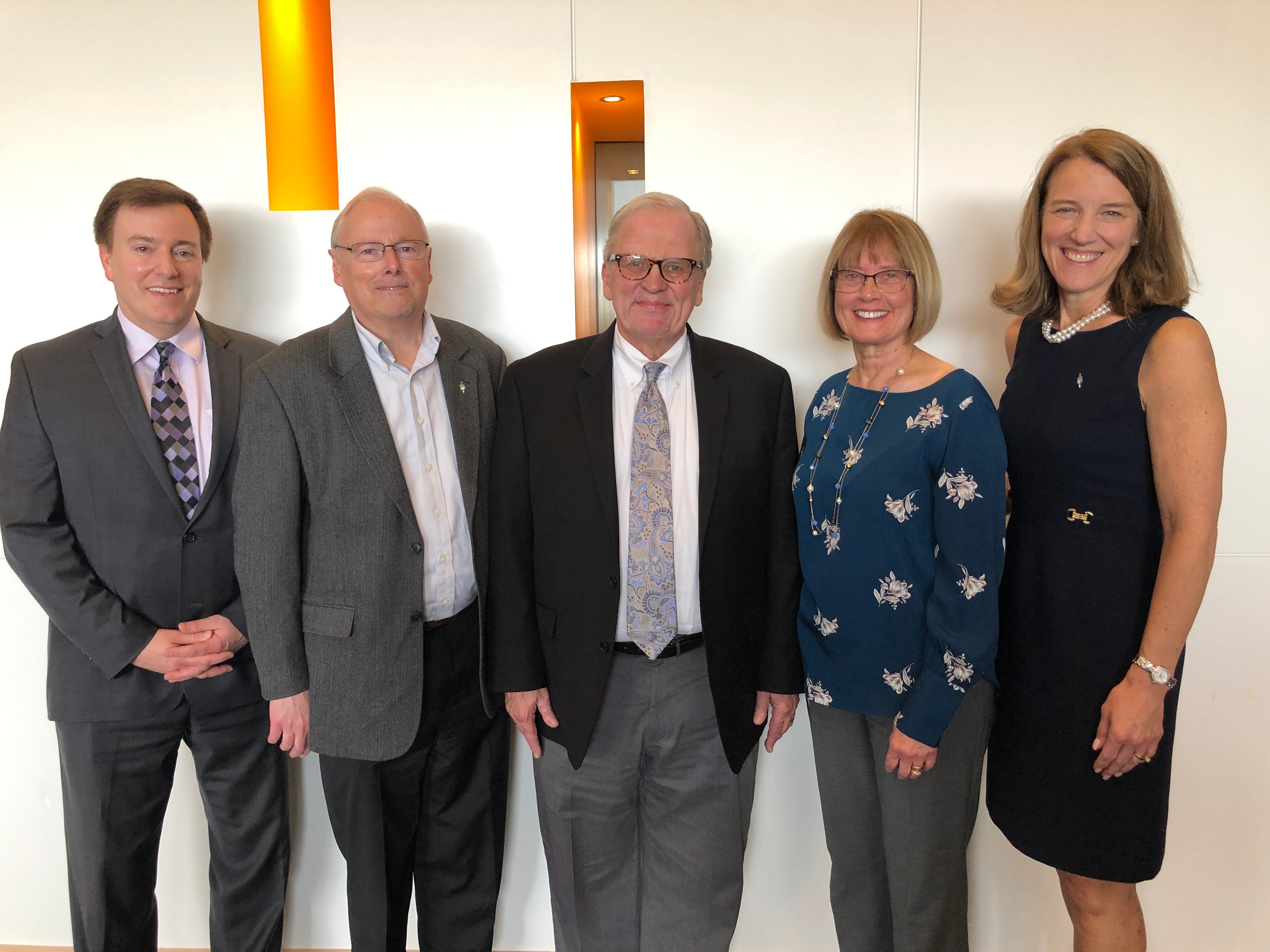 In a joyous reception in the Johnson Center Board Room Wednesday, North Park bid farewell to three beloved, respected deans who will retire at the end of the school year.
Linda Duncan, Craig Johnson, and Wesley Lindahl were honored by their colleagues at the well-attended reception. Together, the three have dedicated more than 70 years of service to North Park.
In her more than 40 years at North Park, and 11 as the Dean of the School of Nursing and Health Sciences, Linda Duncan was a dedicated teacher and mentor. In remarks, Nursing Professor Dr. Jan Zeller noted that Duncan was devoted to her students, often visiting them onsite at hospital practicums in the middle of the night, and then showing up to teach class the next day.
During Duncan's tenure, SNHS saw numerous advances, including the addition of state-of-the-art facilities like the Kathy J. Holmgren Nursing Simulation Lab.
Craig Johnson, Dean of the School of Music, Art, and Theatre, was remembered for his love of puns and his tendency to break into song. During his tenure, Johnson helped lead the renovation of Hanson Hall and oversaw the addition of Art and Theatre to the School of Music, resulting in SMAT as we know it today. In saying goodbye, Johnson, who served as interim Provost for one year, described his last eight years at North Park as the "coda" of his career, as a coda combines the best aspects of a musical piece.
Dean of School of Business and Nonprofit Management Wesley Lindahl joked that he was saying a "North Park goodbye:" While he is retiring from his position as Dean, he will stay on to teach, and thus continue to see his colleagues on campus even after his big celebration. As part of his 17 years at North Park, Lindahl helped secure a $750,000 grant from the Lilly Foundation to help fund the Axelson Center for Nonprofit Management.
Following remarks by Provost Michael O. Emerson, the nearly 100 well-wishers were led by Craig Johnson in singing Happy Birthday in honor of President Mary Surridge on her special day. Chocolate and vanilla cake was served to guests, who mingled while reminiscing.