CHICAGO (February 8, 2016) — Since its founding in 1891, North Park University has been thought of as "a work just beginning." The phrase, made popular by the University's first historian, Leland Carlson, in 1949, described a hopeful community, ready to live into its mission of preparing students for lives of significance and service.
As North Park begins its 125th year, that same hopeful spirit is alive and well across campus, propelling the University community to seek new ways to lead and serve in Chicago and around the world for God's glory and neighbor's good.
Throughout 2016, students, faculty, staff, alumni, and the wider Chicago community will have opportunities to explore North Park's rich past, reflect on its present, and peer into its promising future. Celebrations will culminate on September 23, 2016, when the community gathers for an expansive quasquicentennial homecoming event, featuring art, music, scholarship, and other highlights from North Parkers past and present.
"2016 will be a great opportunity to remember where we have been," said North Park University President David L. Parkyn. "But equally important will be the ways in which we imagine who we can become. North Park University's mission has remained constant throughout its history, and with that as its foundation, we can build a promising future for our students and the communities they serve."
Class of 1972 graduate and widely renowned composer Marvin V. Curtis has been commissioned to craft a piece that will be performed by student musicians at the event in September. Curtis, dean of the Ernestine M. Raclin School of the Arts at Indiana University South Bend, has a history of being commissioned to write prominent works, including one for President Clinton's 1993 Inauguration, "City on a Hill." He is the first African American composer commissioned to write a choral work for a presidential inauguration.
"The School of Music is honored that alumnus Marvin Curtis has accepted our invitation to compose a musical piece for North Park's 125th anniversary celebration," said Dr. Craig Johnson, dean of the School of Music. "The piece will be written for choir and a chamber instrumental ensemble, using a text that will be meaningful for the occasion. We very much anticipate the performance of his music, and we are confident that it will be a highlight of a very memorable celebration."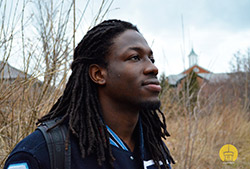 The University's F.M. Johnson Archives and Special Collections, led by Director of Archives Anna-Kajsa Anderson, will host a series of digital and in-person exhibits throughout the year. This includes an online version of the first 40 years of The Cupola, North Park's yearbook, which contains essays, poems, songs, artwork, photographs, and more. Working with historians and former North Park professors Phil Anderson and Kurt Peterson, as well as current North Park Theological Seminary Professor Hauna Ondrey, the archives will also create a series of exhibits to display artifacts from the University's history.
North Park's present and future will also be on display in 2016 through the telling of 125 stories from 125 current students. The project, which will take place over the course of 12 months and two or three stories per week, will highlight the wide array of students who have been drawn to the University, and how they will help shape its next 125 years.
Visit 125npustories.com to follow along and hear our students' stories.
More announcements will be made throughout the year regarding new events and projects surrounding the University's quasquicentennial. Visit www.northpark.edu/125 for more information and to hear how you can be part of the celebration.
---
Follow North Park University on Twitter @NPU. Learn more about North Park University.