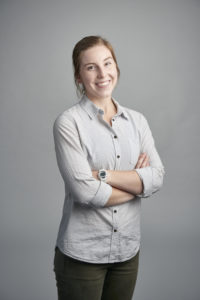 North Park Senior Renee Baker has been nominated for the prestigious Glenn T. Seaborg Science Scholarship, an honor bestowed upon an outstanding natural science major at one of the six colleges recognized by the Swedish Council of America as a Swedish Heritage College. North Park is recognized as such an institution because of its active connection with modern Scandinavia, via its language studies and academic exchange programs.
"I'm so incredibly honored to be nominated for this scholarship," said Baker, an environmental science major, of the award named for the famed Swedish chemist.
She's certainly worthy: while many college kids spend their break on the beach or working a part-time job, Baker was doing test flights with NASA. Last summer, Baker spent two months in California interning with the National Aeronautics and Space Administration, tagging along on plane rides, collecting atmospheric data and learning how various instruments worked.
The Carol Stream, Illinois native actually applied for the NASA internship on something of a whim. "I honestly just got an email from [chemistry professor] Dr. Rienstra-Kiracofe, and I applied because, why not?" Baker says. Rienstra-Kiracofe provided a letter of recommendation, and the next thing Baker knew, she was on her way to Irvine, Ca.
In addition to the flying experience, Baker spent several weeks on campus at the University of California, Irvine, where she learned how to use tools to perform remote sensing and took a trip to the Jet Propulsion Lab. At the end of the internship, she and her group presented to a group of NASA employees and fellow students.
Ultimately, Baker, a physics minor, plans to pursue a career in alternative energy and biomimicry engineering, a field of science that seeks sustainable solutions to human-generated problems by copying patterns in nature. For instance, scientists who specialize in biomimicry are testing new plumbing and electric systems that mimic the branch-like structure of trees and leaves, as they may be more efficient than pipes positioned at right angles.
Baker will find out in March if she has won the coveted Seaborg prize, which includes airfare to Sweden, a living stipend, and participation in December's Stockholm International Youth Science Seminar, a weeklong series of events arranged in connection with Nobel Peace Prize activities.