Student Athletes Build Community and Hope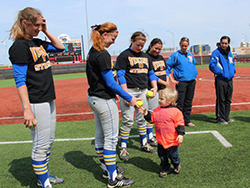 North Park athletes team with Dixon family to support cancer research
CHICAGO (May 5, 2014) — Four games into her senior season, Kristin Gibbs, defender on North Park's women's soccer team and Student Athletic Advisory Council president, tore her ACL. It meant the end of her soccer career, but not the end of her commitment to North Park and its athletics department.
"When you build an athletic program you are not just building athletes," says Gibbs, a biology major completing the pre-professional medicine track. "You are building people and communities. One of the reasons I chose to come to North Park and compete in athletics is that in programs like this, it is about more than the games."
Over the course of the year, Gibbs helped spearhead an initiative that connected different people on campus to support a North Park family. "Of course we care about our record and how we play. But we also learn that there is so much more to life," Gibbs says. "You have to give back to your community and support people who are so full of life and need that extra push."
The project started with a phone call in the fall to women's basketball coach Amanda Crockett from Eric Dixon, a graduate student at North Park Theological Seminary. Dixon's two-year-old son, Zeke, was diagnosed with infant acute lymphoblastic leukemia (ALL) at nine months, a high-risk form of cancer. While Zeke underwent chemotherapy treatment, Eric and his wife, Shelby, pursued opportunities to bring people together in support of cancer research. With the recommendation of a friend, they turned to North Park athletics.
Crockett began coordinating with other North Park coaches on how different teams could contribute. She also turned to Gibbs, whose grandfather passed away from leukemia. The different groups organized a series of fundraisers at sporting events over the course of the year—at women's and men's soccer in the fall, women's basketball in the winter, and most recently, a softball game this spring. Players from each team volunteered for the different events, including selling raffle tickets and apparel. Neighborhood restaurants Golden Crust Pizza and Tap and Chili's contributed gift cards. Overall the project raised several thousand dollars for the Ann & Robert H. Lurie Children's Hospital of Chicago Research Center, the hospital that continues to care for Zeke.
But it wasn't just money raised; it was also the spirits of a young boy and his family. Throughout the year, Zeke was invited to practices, joined teams on the field for the playing of the national anthem, brought out the basketball to center court for tip-off, and was even named honorary captain for a game.
For Dixon, these connections helped his family feel at home at North Park. "I would have loved to spend more time with my classmates, but Zeke's health just didn't allow that," says Dixon, who will graduate in May with a master of arts in Christian formation and a certificate in intercultural studies. "We felt more connected with the University and the fact that they wanted to be there for us. There was real feeling from my wife and I that we are not just flying under the radar here. People have heard our story and they want to contribute to our life, but more important, to our son's life."
Zeke is healthier than he was a year ago, and will be finishing chemotherapy in July. After graduation, Zeke, Eric, and Shelby will head to Oregon to be near family and for some much needed rest. "You take one look at Zeke and you think this is just a normal two-year old kid," Dixon says. "You'd have no idea what he went through the last couple of years."
For Gibbs, who has spent extra time with the family babysitting Zeke, this project has a lasting impact. "It has shown me the importance of who you work with and how you treat people. I want to go into rural family medicine because I want to work with people long-term and build communities," Gibbs says. Her next step towards that future is medical school starting in August. "I want to build programs for kids where they otherwise wouldn't have many opportunities. Each little event like this builds the type of person you are and what you want to do with your life."
---
Use @npunews to follow North Park University News on Twitter. Learn more about North Park University.
Next Steps
Learn more about North Park athletics.