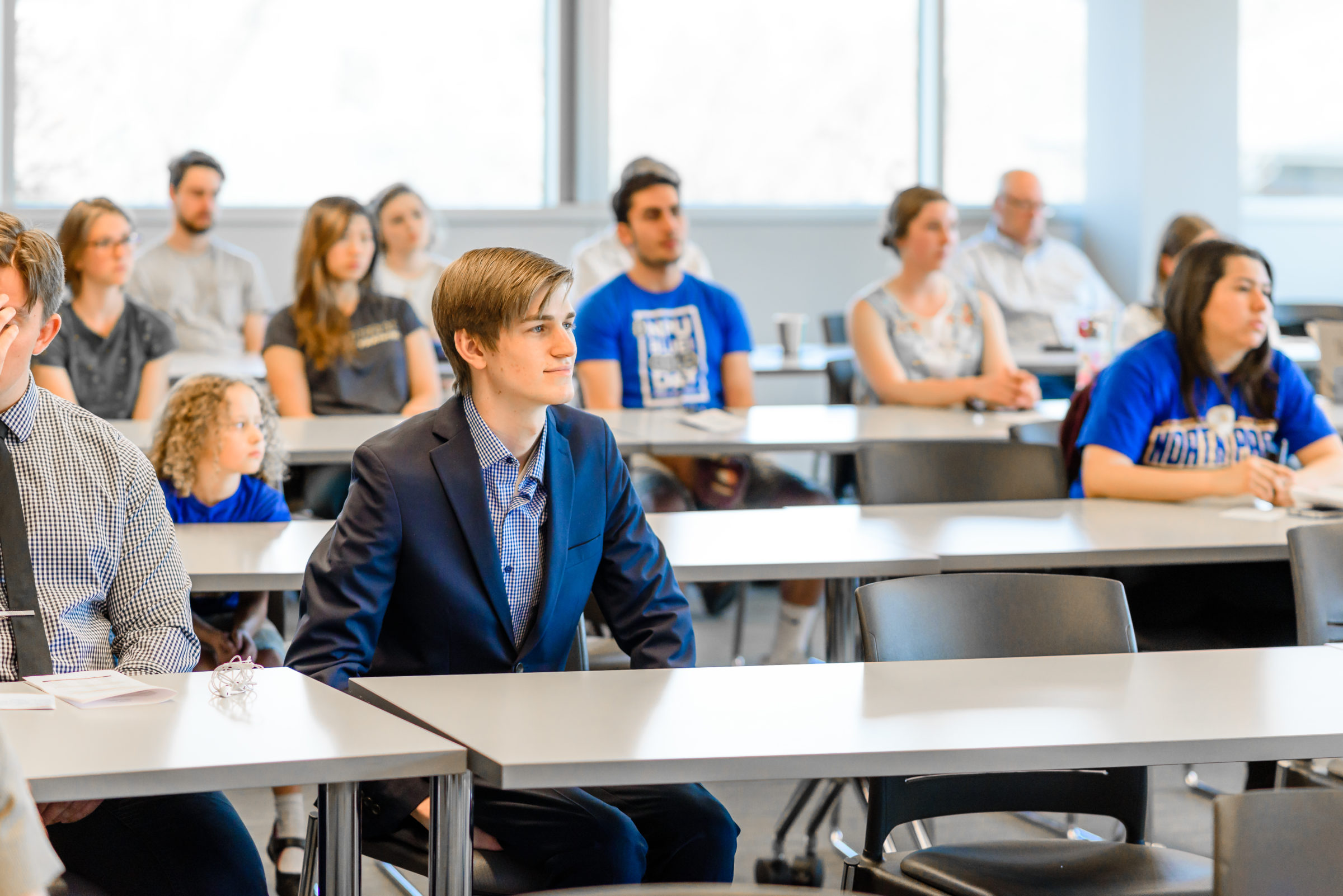 North Park students, faculty, advisors, and family gathered May 2 at the Johnson Center for the 12th annual Undergraduate Research Symposium. Organized by the Undergraduate Research Committee, the 25 student presenters first submitted an abstract to the committee for entrance into the symposium.
"Most of these student scholars conduct their research in their Directed Research course throughout the academic year," said Dr. Yoojin Choi, chair of the committee. "Students really learn best when doing authentic inquiry," added Dr. Choi.
As part of the Directed Research course and/or independent studies coursework, the research topics represented students majoring in biology, psychology, exercise science, physics and engineering, nursing, philosophy, environmental science, English, chemistry, and biochemistry.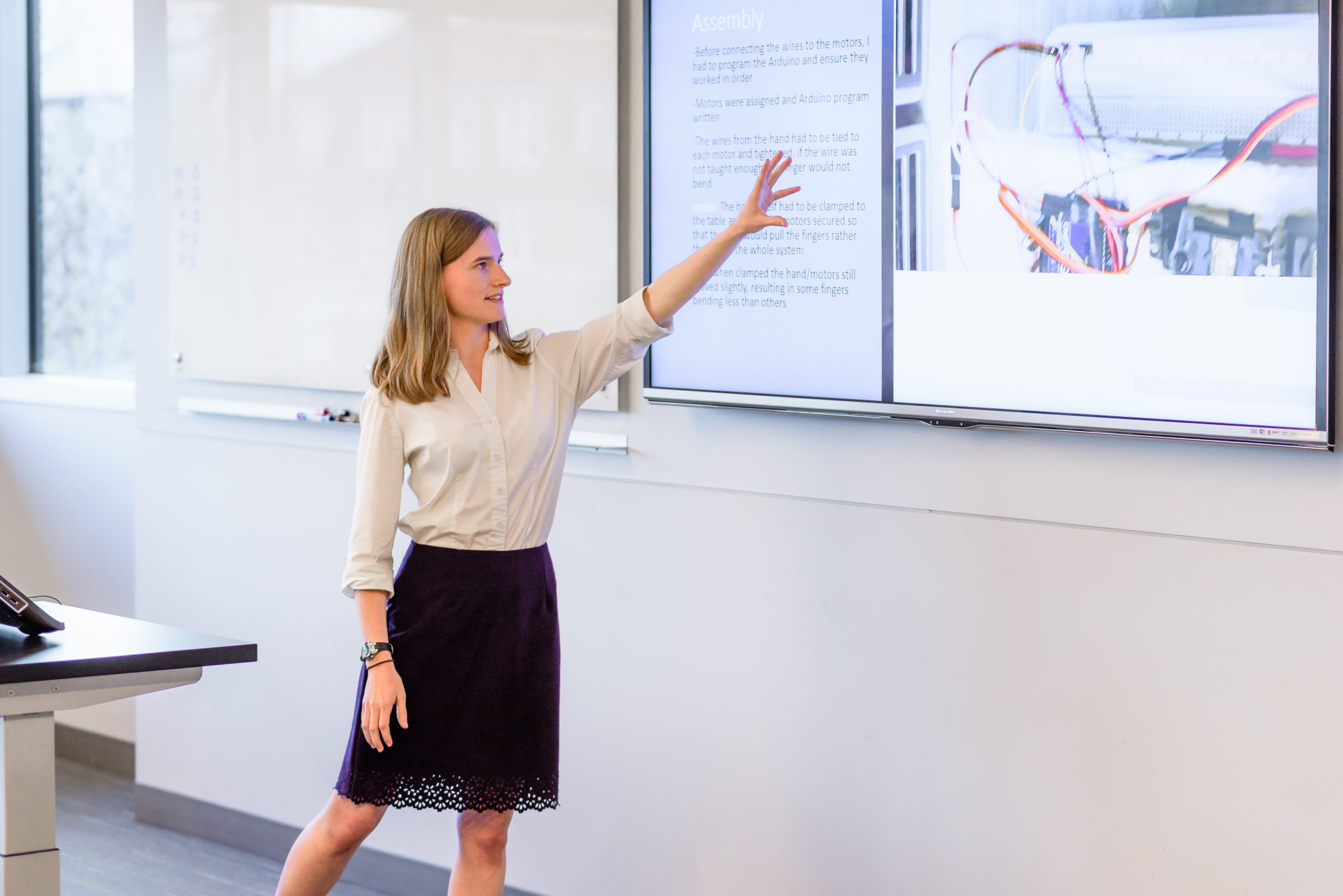 "This is the best learning experience I've had at North Park because we can apply what we've learned," said Eleanor Manning, a physics and engineering major. She credits her understanding of the mechanics of prosthetics to participating in undergraduate Directed Research coursework.
"Conducting research projects is the best way to learn research and it allows our top students to shine," said Provost Michael O. Emerson.
Exercise science major Victoria Pudussery expressed her gratitude for her learning experience.
"I now have perspective on how large research is and am fortunate to learn the research process as an undergrad," said Pudussery. Post-graduation, Pudussery will pursue a degree in physical therapy at Northwestern University.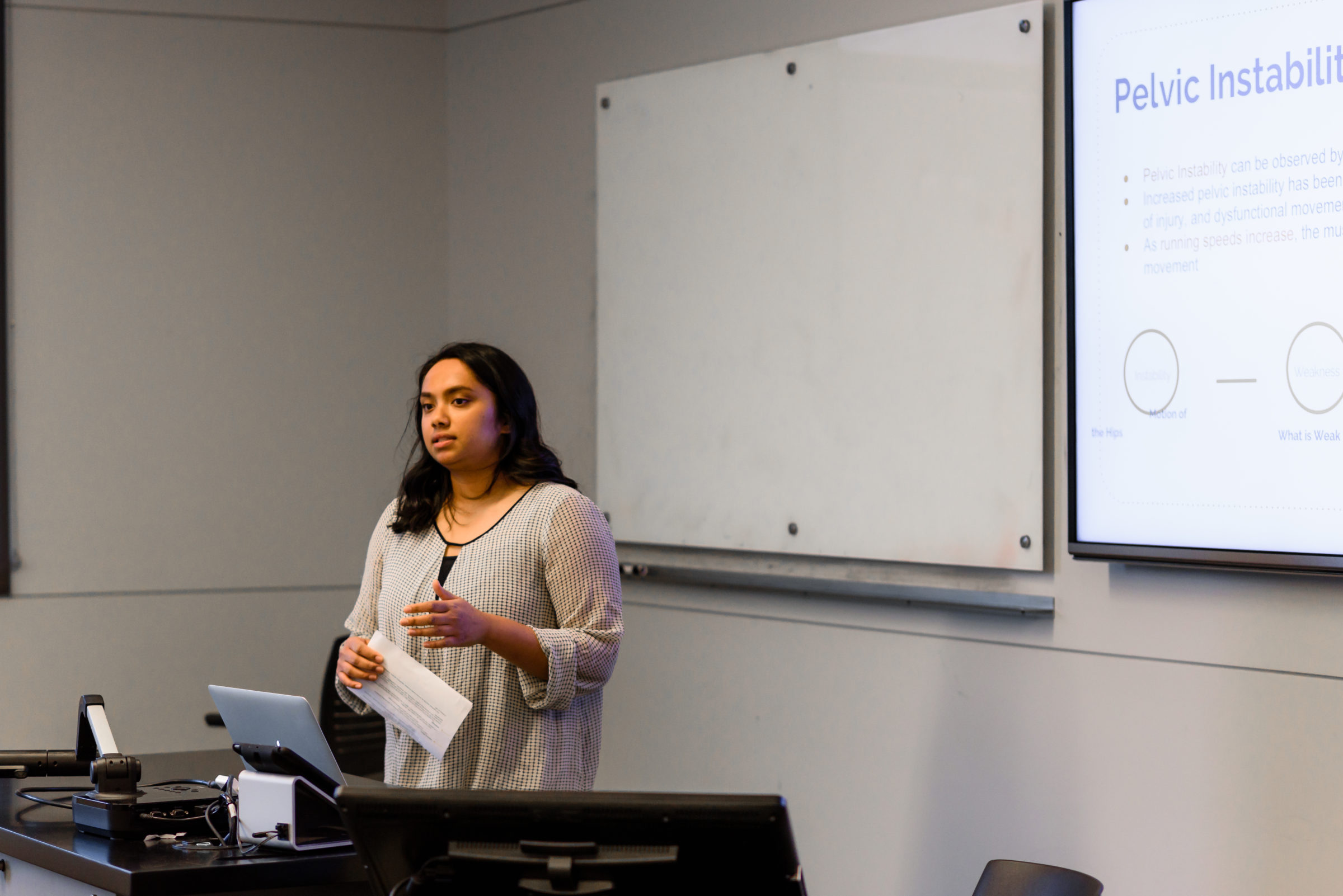 Students displayed the practical, career-building skills they acquired at North Park via media such as charts and graphs. Physics and engineering senior Kristina Lundeen illustrated an analysis of wind in her presentation of Improving a Pedestrian Comfort Model for Arbitrary Geometries. Nursing student Aisha Badla presented statistical reporting and data analysis that answered Does Breastfeeding a Neonate Improve Oxygen Saturation Levels Without Any Other Intervention?
Spending hours in North Park's Brandel Library conducting in-depth research, the participants further developed their critical thinking, case study reading, oral presentation, and confidence in fielding questions from the audience.
"The Undergraduate Research Symposium is a magnificent spotlight on what is great about a North Park education," said Provost Emerson.
"Most grad schools require research experience in the undergrad years and having the Research Symposium on your CV is very good," said Dr. Choi. The CV credential is a bonus—but even more, these students displayed true to North Park form their appreciation for research, gratitude to their mentors, and exceptional work ethic.
Acknowledgments
The Undergraduate Research Symposium wishes to thank the students and faculty mentors for their efforts at creating original works of knowledge. This year's Undergraduate Research Committee consisted of Professors Yoojin Choi, Gianfranco Farruggia, You-Seong Kim, Suzen Moeller, Rachel Schmale, Sarah Thorngate, and Joel Willitts. Special thanks to Brandel Library, Provost Emerson, and Interim President Balsam for their support and for underwriting the cost of the symposium.