Alumna Profile: Darcy Juraska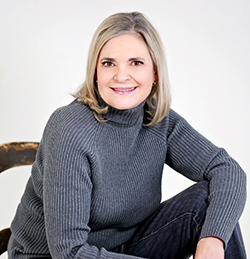 When Darcy Juraska sent her children off to college, she decided to go back too. Darcy, a lifelong learner, author, and gardener, had long worked as a certified school nurse and director of student health services. Wanting more options in the nursing field, she returned to her alma mater to do a master's degree in clinical leadership and nursing education.
A few years later, as she wrapped up her MSN, Darcy realized she wanted to take her education even further. "The work of a clinical nurse specialist, who treats and educates patients in one area, is important," Darcy said. "But I wanted to work on the whole patient—to do the complete medical assessment, diagnosis, and management." Darcy began to explore a post-master's certification as a primary care nurse practitioner. Remembering a colleague who graduated from one of North Park's nurse practitioner programs, Darcy pursued the school's Adult-Gerontology track, which would allow her to work with her favorite population, older adults.
From her first moment on campus, Darcy noticed a distinct and positive difference in North Park. "In my other programs, because of competitiveness rather than collaboration, I felt disheartened. During my first class at North Park I sensed a wonderful coherence among students and faculty," Darcy said. She found in North Park a community that, rooted in its Christian identity, was focused on the success of all its students.
Darcy took advantage of the program's flexibility, enrolling in one or two classes at a time, so she could maintain her job. "Every single one of my classes was great," Darcy said. "There was not a class I didn't like there." The program's emphasis on assessment, diagnosis, and both pharmacological and non-pharmacological management served her well when she graduated in 2014 and started working as nurse practitioner for Optum Clinical Services. "I didn't realize how well prepared I was until I started there," Darcy said. "I was apprehensive in starting that position. But I slipped right in and had all the tools I needed."
In fact, it went so well that she's branched off and started her own business. "Every patient I see is a complex case, but my certification at North Park prepared me well to manage their intricate health issues." It's the patients who keep Darcy going. "I learn so much from them," she said. "Every day they teach me about life."