Student Finance Module
When you log into Self Service, click on Student Finance to view detailed information about your student account in real time.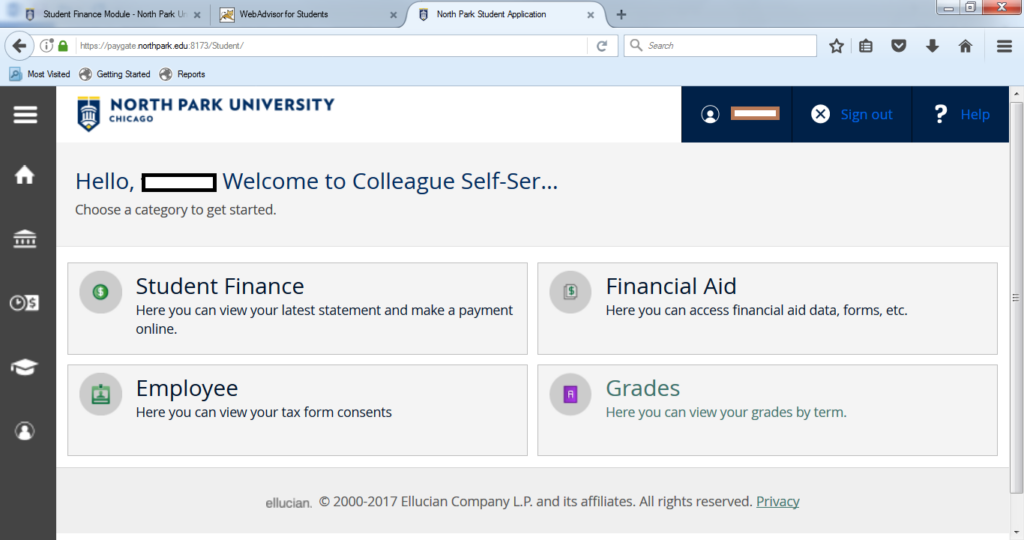 You will be directed to the Account Summary page.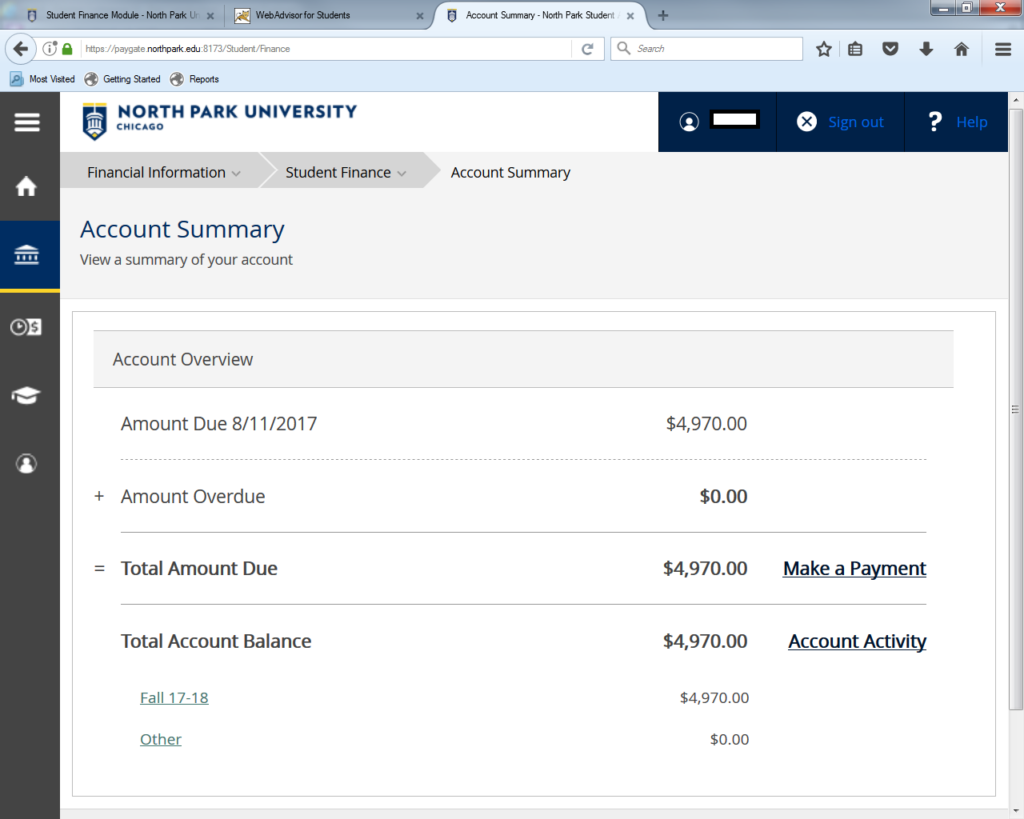 To make a payment, click on Make a Payment next to Total Amount Due, at which time, you will be taken to the Make a Payment screen.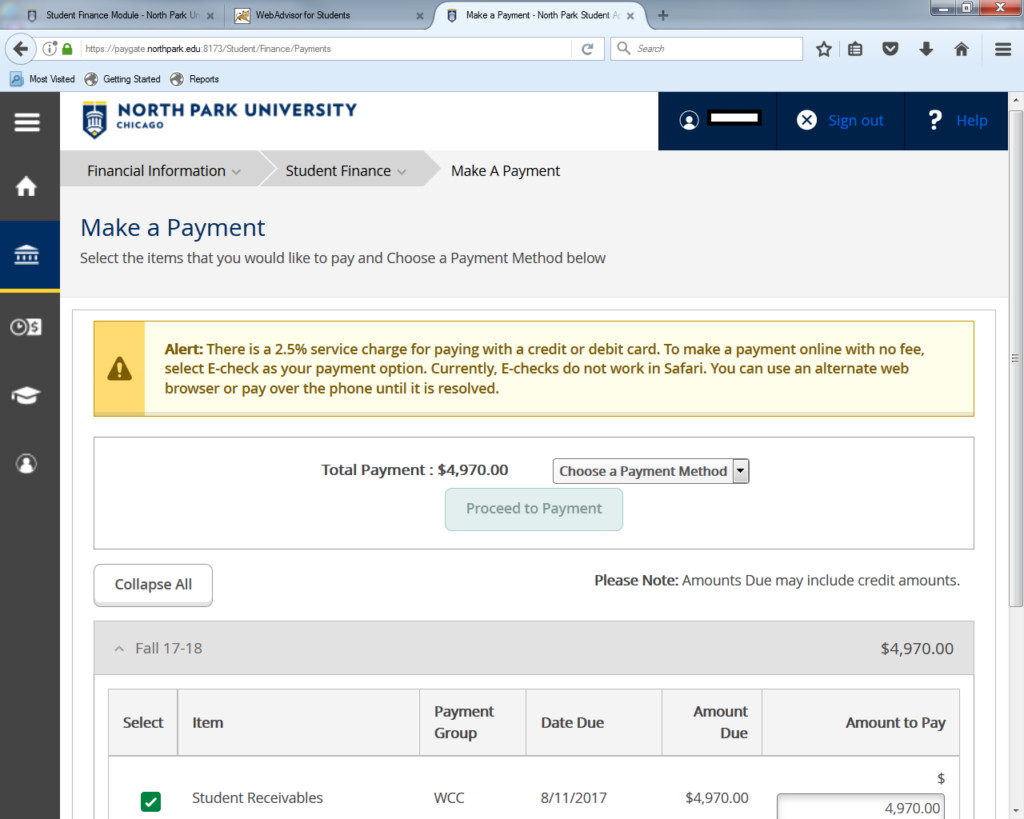 You can pay on your rent account here as well. It will be under "Other."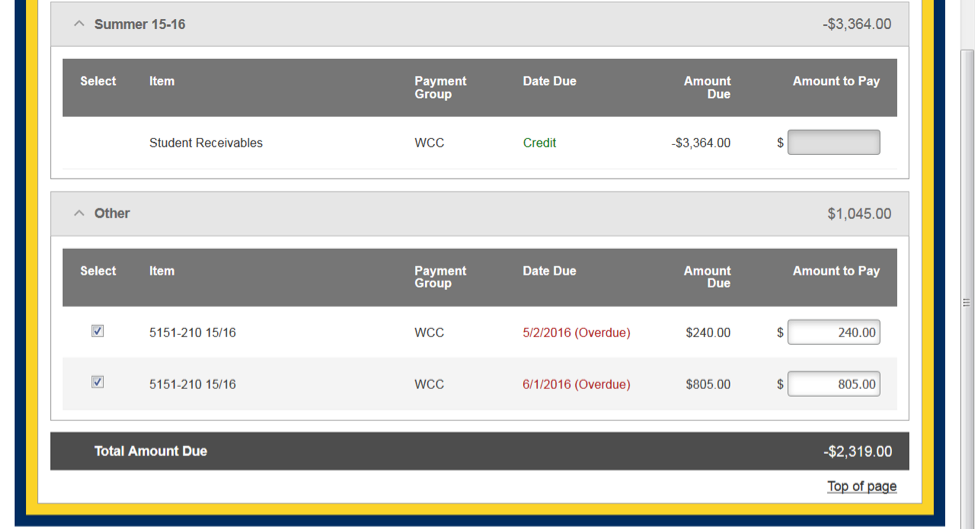 The amount that is shown in the Total Payment box may not be the balance due on your rent account if you have credits on your account. Look at the total on the "Other" line to see what is actually due after charges/payments have been applied to your rent account.
The Account Activity menu item, which will be displayed when you hover over Student Finance on the top navigation menu, will provide you with more details about your student account.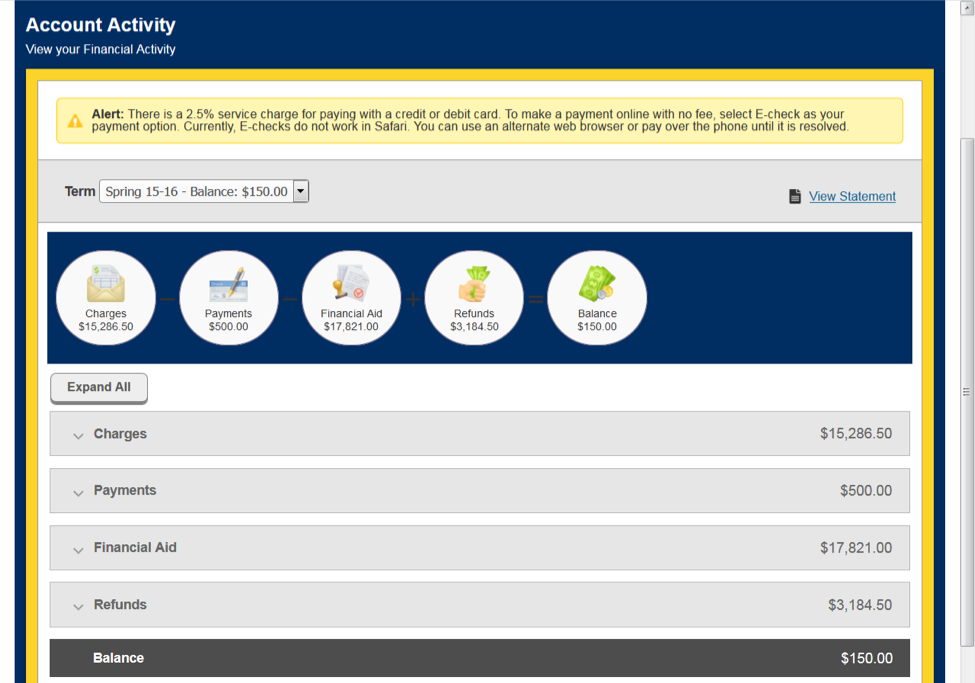 Select the term about which you would like to view more detail about your student account.
Only the icons that apply to you and your account will be displayed on this page. They are:
Charges: This is the amount that you have been billed for this term. Charges could include tuition, housing and food, course fees, etc.
Payments: This is the amount that has been paid on your student account for this term. Payments include cash payments made by you/your parent AND financial aid funds that have been posted to your account.
Refunds: If you have received any refunds for this term, the amount will be listed here. Refunds are given when you have more payments than what you are being charged.
Anticipated Financial Aid: This is the amount of aid that has not yet been posted/paid to your account. It is, however, taken into account when calculating your balance.
Balance: This is the amount that you owe for this term. This amount should equal your charges minus your payments and anticipated aid.
For more detailed information about any of the icons displayed on your record, you can expand the item in the list below them.
Charges: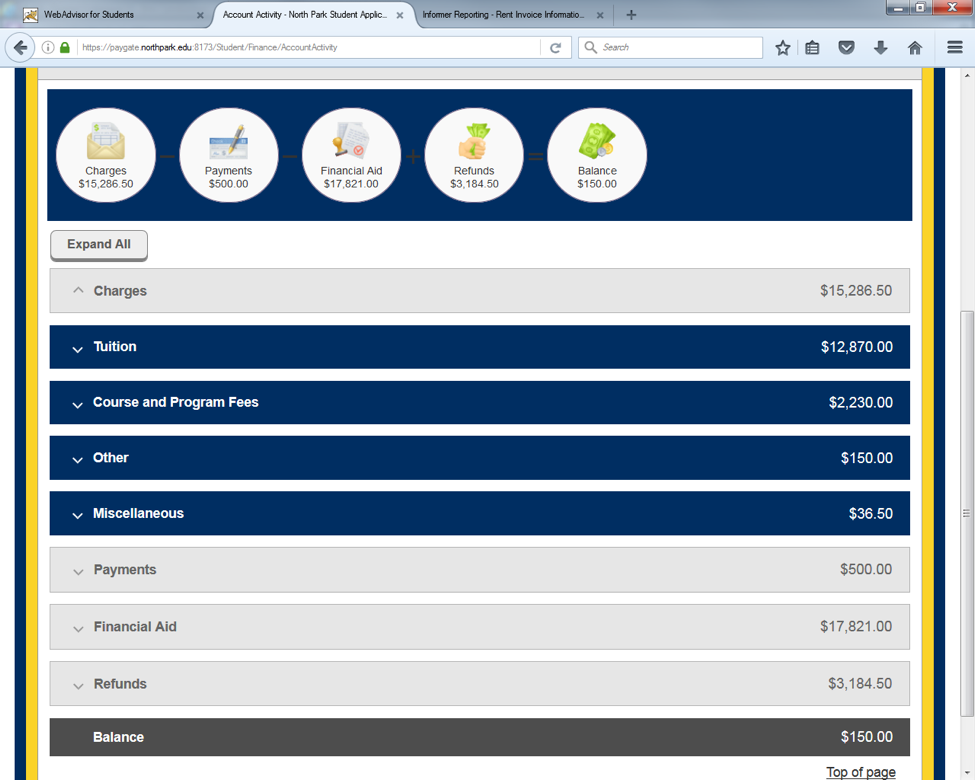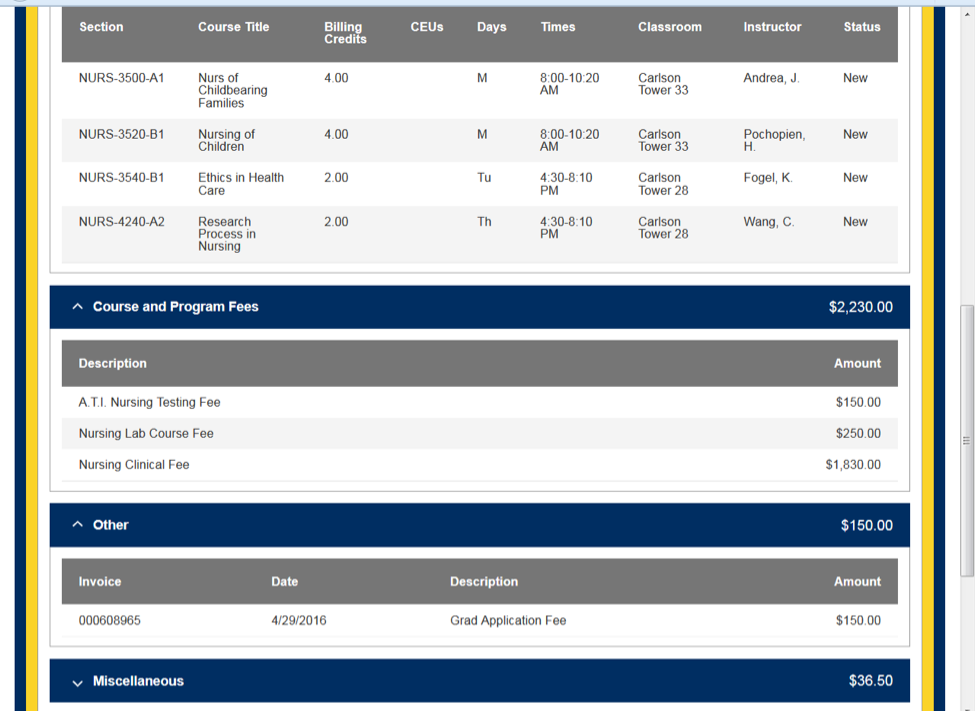 Payments:

If you detail into an old term (before Fall 2012), you may see a cash receipt with a pay method of "Term, Transfers" on your account. If you add up all of the Term Transfers, they will equal zero. In preparation for the launch of this module, we had to adjust the terms associated with past charges/payments. For example, if you prepaid on your account before charges for a term were actually assessed, then that transaction had to be adjusted/transferred.
Refunds:

Payment Plans:

Anticipated Financial Aid:

Institutional aid is disbursed on an almost daily basis. However, we receive grant funds from the State and Federal governments at various, regular intervals. Loan funds can only be disbursed once we have received your loan documents, you've registered at least half time, and you've completed verification (if applicable). Until all of those conditions have been met, your loan will be listed as "ineligible" and WILL NOT be taken into account when calculating your balance due. Check your Financial Aid Checklist to see what documents are still outstanding.
If you have a percentage-based scholarship or grant, you may see the comment "Restricted Award." For these types of awards, we enter an estimated amount on your account, and then the billing system calculates the actual award amount based on your charges and the percentage of the award. For example, a student who is being charged $5,000 in tuition and has a discount of 50% might have an awarded amount of $10,000, but only $2,500 will actually be disbursed based on the terms of the award. The student will not receive the additional $7500 for that term.
Questions?
If you have any questions about the information that is listed here, please contact the Office of the Registrar by phone at (773) 244-5560 or by email.