Site Preparation for North Park University's Johnson Center Underway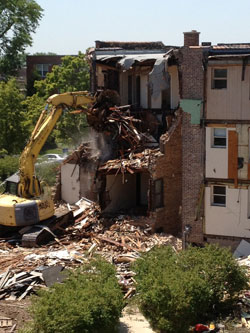 Groundbreaking set for October 26
CHICAGO (June 28, 2012) — Site preparation continues at North Park University this summer for the greatly anticipated Nancy and G. Timothy Johnson Center for Science and Community Life.
Shortly after the conclusion of the 2011–2012 academic year, large trees were relocated from the north berm area of the proposed construction site (an area sometimes referred to as the University's temporary nursery) to other locations on campus, clearing the way for the building site in the center of the campus. "The berm of trees was designed more than a decade ago with the thought of relocation at some point in the future," said Dr. David Parkyn, North Park University president. "It showed considerable forethought on the part of those involved at that time, including our landscape architects. It has served us very well, and it now provides a great bonus to select parts of the campus."
The University also worked with electric supplier ComEd, to relocate a significant electrical conduit, said Carl Balsam, North Park University executive vice president and chief financial officer. This week, work to remove some campus apartments began, and is expected to take several days, Balsam said (see a time-lapse video). "These are among a series of steps necessary for clearing the site in preparation for construction," Balsam said.
A formal groundbreaking ceremony for the 101,000-square-foot Johnson Center is planned for October 26, with construction expected to be completed in time for the 2014 fall semester.
The Johnson Center will support a number of the University's signature academic programs in science and the health professions, as well as offices for University Ministries, international study, career development, and residence life. It resulted from the University's comprehensive fundraising effort, Campaign North Park. The $57 million campaign is raising funds for the new building, the University's Annual Fund, student scholarships, and Chicago-based academic programs and faculty development. Fundraising continues.
---
Use @npunews to follow North Park University News on Twitter. For further information or resources, contact John Brooks, Director of Media Relations and News, via email or at (773) 244-5522. Learn more about North Park University.