Honors Convocation Recognizes Outstanding Senior Achievement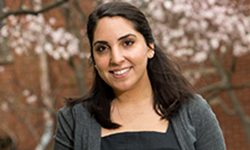 Mary Aldugom and Daniel Raymond honored for embodying University mission of significance and service
CHICAGO (April 30, 2015) — Last week, the North Park University community gathered in Anderson Chapel for the annual Honors Convocation, a celebration recognizing students who demonstrated excellence in the classroom and community.
Director of Alumni Relations Melissa Vélez-Luce presented the 2015 Distinguished Senior Awards to Mary Aldugom, Chicago, and Daniel Raymond, Stillman Valley, Ill. This honor is bestowed each year to one male and one female from the graduating class, recognizing extraordinary leadership, dedicated service, superior academic performance, and embodiment of the University's mission of living lives of significance and service.
Aldugom, a psychology major currently finishing a senior thesis with Dr. David Bennett, earned the distinction because of her strong academic record and the leadership she provided to various campus groups. As a commuter student, she was committed to finding community at North Park. She served as president of both the Psychology Club and Middle Eastern Student Association, and was actively involved in student government and the Office of Diversity and Intercultural Programs. This commitment to the North Park community was in addition to two professional internships at Swedish Covenant Hospital's Neuro-Rehabilitation Center and Children's Research Triangle.
"Mary's experiences as a leader across campus speak to a dedication to her involvement in the community at North Park, a desire to learn and grow intellectually and socially, and her professional attitude," said Dr. Elizabeth Gray, professor of psychology and associate dean for the Division of Sciences. "Mary is well-liked and respected by her peers and the psychology faculty and works well in groups and independently."
A first-generation college student, Aldugom is close to her family, especially her two younger sisters she helps care for. She has continued this care for others at North Park this semester—and paired it with her passion for psychology—by hosting weekly study sessions for her peers as they prepared for their comprehensive exam. Mary has accepted a position at Children's Research Triangle following graduation, and has plans to complete a PhD in cognitive psychology in the future.
"In seven years as a professor at North Park University, I have never met a more talented, hard-working, and bright student," said Dr. Rachel Schmale, associate professor of psychology and Aldugom's internship supervisor.
When asked about the most rewarding part of her time at North Park, Algudom said, "It's the relationships. Anyone can work hard and get a good GPA, but life is about more than what you fill your resume with. The people at North Park are always there for each other. At North Park, you can look back on difficult times or struggles and because of the people you're surrounded by, you don't remember the struggle. You remember the conversations, the support, and the care you received."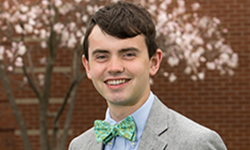 "A humble Christian spirit"
Raymond, a music education major, was honored with a Distinguished Senior Award for his leadership across North Park's music programs and outside communities. He served in various roles at Covenant Harbor Bible Camp throughout the last five years, and is currently a music assistant at First Presbyterian Church of Lake Forest. During his time at the University, Raymond spent two years directing the Vocal Jazz Ensemble, served as bass section leader in the University Choir, was the assistant chorus master for the spring opera in 2014, and was chosen to be the student conductor at the 2014 Festival of Lessons and Carols.
He also played on the Lost Boys, North Park's Ultimate Frisbee team, throughout his four years, which he says is made rewarding because of the travel and friendships it afforded him.
"Beyond Dan's considerable achievements, he is an exemplary human being, who has distinguished himself at North Park and beyond," said Dean Craig Johnson, on behalf of the School of Music faculty. "He embodies a truly humble Christian spirit."
Raymond completed an internship during the summer of 2012 at United Technologies Aerospace Systems "to have the experience of working in a corporate environment." He recently completed a student teaching assignment at Niles North High School, with a goal of teaching choral music at the secondary level. He will return to Covenant Harbor Bible Camp this summer to serve as worship director.
When asked how North Park has shaped him, Raymond said, "Academically, I've learned so much content, but more than anything, I've learned how to learn. At a very small high school, I had a lot of different opportunities to shine as a musician. Coming to North Park was humbling. It showed me how many very talented people there are in so many different areas of study and application."
In addition to the Distinguished Senior Awards, the Honors Convocation ceremony also noted the top graduating students from each department and school, and service and leadership awards were given to seniors embodying excellence in co- and extracurricular activities. View a complete list of students recognized in this year's Honors Convocation program.
The University's graduation ceremonies, including the presentation of the Ahnfeldt Medallion given to the senior with the highest grade point average, will officially close the year on Saturday, May 9, at 10:00 am, 3:00 pm, and 7:00pm.
---
Use @npunews to follow North Park University News on Twitter. Learn more about North Park University.