Two North Park University Students Earn 2015 Fulbright Awards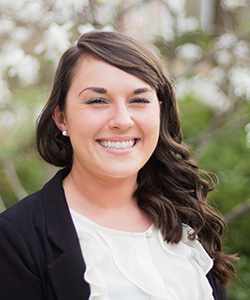 Wilson and Asnicar to teach in Ecuador and Malaysia, respectively
CHICAGO (May 6, 2015) — North Park University continued its record of Fulbright success this spring, when the U.S. Fulbright Program awarded overseas teaching opportunities to two University students. Seniors Natalie Wilson and Kate Asnicar were awarded English Teaching Assistantships (ETA) in Ecuador and Malaysia, respectively.
Combined with previous awards, 14 North Park students and three faculty members in the past seven years have earned Fulbright grants. Last academic year, the University was among the colleges and universities that yielded the most U.S. Fulbright students, according to a list announced by the U.S. Department of State.
A double-major in elementary education and Spanish, Wilson will graduate this week with an endorsement in ESL education. Beginning this September, she will serve as an ETA for a 10-month placement in Ecuador. Although the specifics of her grant haven't yet been announced, Wilson expects to be teaching English and U.S. culture to students at the university level.
"I have had so many opportunities to learn about and experience an array of cultures through coursework, clinical experiences, and activities at North Park," Wilson says. "Both the School of Education and the Spanish department have really prepared me to teach in a foreign country and culture."
A native of Shoreview, Minn., Wilson has combined her love of teaching and engaging other cultures throughout her time at North Park. She served as an Urban Outreach site leader for the tutoring program at nearby Peterson Elementary School, taught adult ESL summer courses through nonprofit organization CLUES, and studied abroad in Ecuador last year. "I was in Cuenca, Ecuador, for eight weeks with a small group of students," Wilson says. "Throughout that experience, I lived with a host family, took Spanish courses at the university, and traveled around Ecuador and Peru."
Dr. Linda Parkyn, professor of Spanish and Fulbright Program associate, attests to Wilson's skills and character. "Natalie will excel in her year as an English Teaching Assistant in Ecuador," says Parkyn. "After studying abroad in the country, she is anxious to share her language and culture with Ecuadorian students. I am confident she is chock-full of ideas to share with students about life as an American."
When Wilson completes her program, she will move back to Chicago, where she hopes to continue teaching. "I have been able to apply what I've learned in my education courses to my clinical teaching experiences at Chicago-area schools," she says. "When I return to the United States, I plan to look for a teaching position in Chicago Public Schools at the elementary level."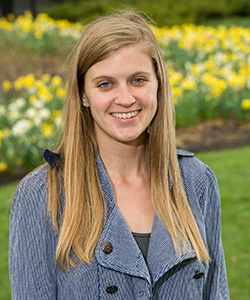 "A thoughtful and engaging ambassador"
Asnicar will graduate this week with a bachelor of arts in history and a minor in global studies. In January 2016, she will travel to Malaysia to serve as an ETA through next November. "Although most of the details are still to come, I know that I will be placed in a primary school, secondary school, or university to help students improve their English skills as well as share cultural experiences and practices," Asnicar says.
Like Wilson, Asnicar's experience studying abroad helped her determine her plans following graduation. "The opportunities provided to me through studying abroad in Turkey last year, as well as the support and guidance from the faculty, have shaped the path I'm about to embark on," says Asnicar. "I'm thrilled and honored to have the opportunity to see the world and cannot wait to get there."
While at North Park, Asnicar, of Olathe, Kan., has worked in the Writing Center, served as a University Ministries worship leader, and sung as a member of the Gospel Choir Touring Ensemble. "There are so many decisions to wonder about, but coming to North Park and fulfilling my degree here is, without a doubt, the best decision I have made in my adult life," she says. "I feel that even after I leave, I'll stay in contact with faculty I've grown close to, and will continue to be supported in all of my future endeavors."
Dr. Susan Rabe, professor of history, agrees. "Kate will be a wonderful mentor for her students in Malaysia. She has a curiosity and sensitivity toward other cultures that will serve her well," Rabe says. "She will be a thoughtful and engaging ambassador of America for her students."
Although she's unsure of what her precise next steps will be following her Fulbright experience, "graduate school is definitely on the horizon," Asnicar says. "But I see myself seeking out more opportunities to work and live abroad before making any decisions."
The Fulbright Program was established by the U.S. Congress in 1946, and is sponsored by the U.S. Department of State. It is the largest U.S. international exchange program offering opportunities for students, scholars, and professionals to undertake international graduate study, advanced research, university teaching, and teaching in elementary and secondary schools worldwide.
---
Use @npunews to follow North Park University News on Twitter. Learn more about North Park University.