North Park University Senior Music Major Named Lincoln Academy Student Laureate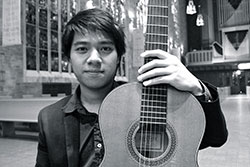 An Tran honored at ceremonies in Springfield
CHICAGO (November 4, 2013) — An Tran, a North Park University senior music major from Vietnam, was honored as a Student Laureate November 2 by the Lincoln Academy of Illinois.
A ceremony was held in the Illinois House of Representatives Chamber in Springfield. Student Laureates also attended a luncheon at the Governor's Executive Mansion following the ceremony.
"The School of Music faculty nominated An for this prestigious honor because we believe he is an outstanding student, both academically and artistically," said Dr. Craig Johnson, dean of the University's School of Music. "He has distinguished himself through the many awards and prizes he has won as an exemplary classical guitarist."
Born and raised in Hanoi, Tran is completing a bachelor of arts in music with classical guitar as his major instrument. "I am honored to be the Student Laureate from North Park University and to represent North Park at the ceremony," said Tran. "North Park has been helping me realize who I am, and pushes me to become a better musician and human being."
When he first visited the University, Tran knew that he wanted to come to North Park after meeting and talking with School of Music faculty. "The professors here were exactly the people who I wanted to study from," Tran said. "They are passionate about music and about changing the world with music. They inspired me to become a better musician right when I first met them."
Tran has excelled academically while pursuing a busy and demanding practice and performance regimen. He received first prize in the Vietnam National Guitar Competition at the age of 12; Vietnam's Best Overseas Student Award in 2010; a certificate of merit granted by Vietnam's vice president in 2010; first prize in the 2013 Society of American Musicians Guitar Competition; and first prize in the 2013 North Park University Performance Awards.
This winter, Tran will tour throughout Vietnam on behalf of the Vietnam Red Cross Society. The Red Cross originally contacted Tran about the possibility of his performing at a benefit concert in Vietnam. Instead, Tran said, they developed the idea of doing a tour. "We will be doing charity concerts and visiting many places, including villages of orphaned children, hospitals devoted to victims of Agent Orange, and humanity centers," he said.
Tran hopes that the Red Cross tour can become an annual event, featuring different artists and visiting other countries with the same charitable intention. "This is an amazing opportunity for me to grow as a musician," he said. "I think the power of music is huge, and it can change and heal many people's lives. Music helped me realize that it is much bigger than just my guitar and me. It brings happiness, joy, and peace to people, and brings people together. I've experienced it myself, so I want to do that for others."
After graduation, Tran plans to pursue graduate school, then hopes to teach. "I want to become a professor to teach music and guitar, and also continue to provide music for people," he said. "I want to share with others what I am learning from my teachers right now."
Student Laureates are honored for their overall excellence in curricular and extracurricular activities. Each student is presented with a medallion, a certificate of achievement, and a $1,000 grant at the award ceremony. This is the 39th year in which the Lincoln Academy has presented the Student Laureate awards.
---
Use @npunews to follow North Park University News on Twitter. Learn more about North Park University.