By Andie Roeder Moody
Note: As web content manager and writer for University Marketing and Communications, I spend the majority of my days holed away in my office on Spaulding Avenue, writing about what's happening across campus. A few weeks ago, I had the rare privilege to join some of our students and faculty for a writing and hiking retreat. I was there to observe, write about the trip, and teach. Below is my account of the weekend.
Read the students' writing from the weekend here.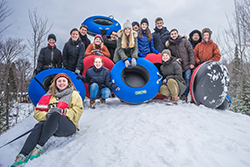 CHICAGO (March 29, 2016) — It's the Friday before midterms, and we're loading up vans in the lot behind Burgh Hall. The students are discussing all the homework they'll be trying to disremember for the next few days. They don't get credit for attending this, and it's not mandatory. Students of all majors are welcome, but there's a strong showing of English and philosophy majors. "They're about to take on the final push before spring break," Karl Clifton-Soderstrom, associate professor of philosophy, tells me. "It's a breaking point in the semester where most of them could really use a rest. The trip is good for that."
On the six-hour drive to the Upper Peninsula of Michigan, students sing, reminisce, and discuss philosophy. A few know each other already; most of them are breaking the ice. When we arrive at Covenant Point Bible Camp, just past the Wisconsin border, it's been snowing all evening. The grounds are coated in a thick layer of powdery snow, and our van struggles to make it up the hill to the cabins. I didn't anticipate having no cell phone service. The faculty make no apologies for that—or for the length of the drive. Though there are closer places we could hold the retreat, Covenant Point is special to them. It's remote and wooded; it feels connected to a tradition of nature writers, whom they harken this weekend: Thoreau, Emerson, Dillard. To get to our sessions, we walk several minutes from where we're staying to the isolated Nature Center, which is surrounded by trails and forest. Once there, we put our chairs into a circle around the fireplace, where one devoted student builds and tends the fire all weekend. For a few days, we get a slower pace of life than Chicago—or even other camps—offer. Before long, no one misses their cell phones much. A student tells me she's really enjoying not knowing what her friends are up to on Facebook.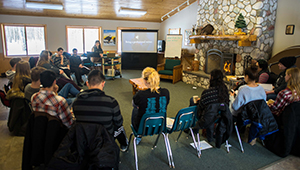 Saturday and Sunday, our full days at the camp, are structured around meals and learning sessions, with time in between to write and two readings to share your work. Professor of Philosophy Greg Clark opens the retreat with a lesson on tracking animals. We walk around a snowy field and follow the tracks of rabbits and deer. Greg—whom the students refer to by first name—sends them off to track animals. He asks them to come back with a story: what the narrative of the animals' movements might be. One group of students tracks the path of a rabbit they imagine to be a Rambo-style secret forest police officer. Another group finds tracks so big that the only imaginable solution is a Yeti. I suggest snowshoes; they are unconvinced—and share a poem they wrote about the Yeti.
The lessons build off each other. A quote from Greg's tracking session becomes a writing prompt for the day: "The tracks tell you the story of what happened." Students read us their stories about tracks of all sorts—scars, train lines, tattoos, a friend's suicide, a carpenter father's hands. Liza Ann Acosta, professor of English, leads an experiential session on walking. (Listen to the students read their responses to her prompt here.) After we eat dinner together, Karl teaches on his two passions—philosophy and photography. We close the day by having students read a piece of published writing they enjoyed. On Sunday, I lead a session about how writing has allowed me to learn to pay attention to the world around me. Kristy Odelius, professor of English, follows me that afternoon with a talk about, essentially, finitude, which she called "the dilemma of the day." Kristy and the authors she referenced offer one answer—play.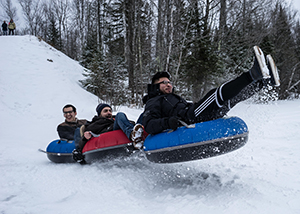 This was perhaps the lesson that we were all learning most acutely that weekend. Though the sessions and the writing time were powerful and thought-provoking, what felt most remarkable was the shared experience. Afternoons spent—faculty and student alike—tubing carelessly down hills and pegging each other with snowballs. An evening when we took on the "polar bear plunge," which consisted of sitting in a sauna to get warm before jumping in the frozen lake. The students, in their invincibility, were so delighted with the feeling of the plunge that they did it two or three more times each. Kristy's seven-year-old son, Caleb, reminding us all of how the world looked from a few feet lower, chiming in with a childlike perspective during heady conversations, and keeping us laughing. On our last day, a pack of us cross-country skiing and snowshoeing across the mile-wide lake to explore its islands, where we discovered yurts and giant swings. "I think when you play together, it's the best way to get to know each other," Markus Tenfält, a Swedish exchange student, told me. "People relax when they have fun—it breaks down the barriers."
Several international students were on the trip, in part to improve their English. Some were self-conscious about sharing writing in their second language, but Kristy commended their work's clarity, beauty, and strength. I agreed. "International students don't have a home to go home to during the breaks, like the Americans have," Axel Rejler, a Swedish exchange student, told me. "So this is our chance to get off campus, calm down, and think." Looking around the snowy terrain, he said, "Really, it looks like home. This could be Sweden."
But the weekend was more than recreation. There were chunks of time devoted to writing on your own, and the students took it seriously, preparing earnestly to share new pieces of writing on Sunday night. What they exhibited throughout the weekend in playfulness, they matched with vulnerability. One shared a poem about the shame he once harbored over his mother's vocation as a home cleaner. Another, a ballad about surviving depression. Another, Bob Dylan-inspired lyrics about Swedish politics. The prompts given in all of our lessons were represented—poetry from a creative writing assignment Kristy gave, essays about walking. I cried as a student read her reflections about the power of paying attention. I'm not sure what I was expecting from the students' writing, but what they shared throughout the weekend far exceeded it. I've collected some of it here, because I think what they wrote is beautiful and worth reading.
Students protested as we packed up our vans to head back to Chicago Monday morning. I wanted to protest too. Kristy calls this trip a "high-impact learning experience." Classroom time, writing, and exams are present at all universities, but this is the kind of thing that sets North Park apart. In exit interviews with seniors, she often hears the writing retreat brought up as a highlight and formative experience.
At the outset of the trip, a student told me he was thinking about transferring; he hasn't been able to make good friends in his first year at North Park. Over the next four days, I see a change in him as he learns and writes with his peers—he's more open, happy, understood. I don't know where he is in his decision now, but he did tell me the retreat was the most meaningful experience he's had at North Park so far.
When asked to describe the weekend in one word, students said "restful," "peace," "emotional," and "rejuvenate." My word would be "connected." This, to me, is the heart of the weekend: connection. A college education is more than the sum of one's syllabi or credit hours. It's the connections of those things with other, memorable, cherished components—conversations, experiences, relationships, intellectual revelations. It's the connections between disciplines: What does it look like to be a writer when you're majoring in government? What does an adult life of balance and connection look like? What we began on the retreat with the students is a start towards what we hope they'll do throughout their time at North Park and beyond: live connected, think deeply, play, pay attention.