Mayor Emanuel Joins River Park Ribbon Cutting Ceremony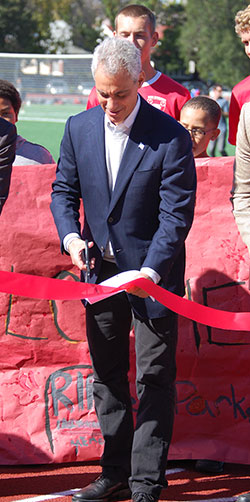 CHICAGO (October 21, 2013) — North Park University joined Mayor Rahm Emanuel, Alderman Deborah Mell (33rd Ward), Chicago Park District Superintendent Michael Kelly, and members of the local community at River Park on Monday, October 14, to celebrate the rehabilitation of the River Park track and soccer facility located two blocks from North Park's campus. Representing the University were Jack Surridge, director of athletics, John Born, head men's soccer coach, Steve Imig, head cross country coach, and Geoffrey Masanet, head track and field coach.
Originally built in 1999–2000, the artificial turf and running track were in need of serious repair; an estimated $1.26 million was invested in the project by the University and the City of Chicago. "The track and field had basically worn out from use, and exceeded its predicted life of eight to 10 years," said Surridge. "The field was resurfaced with the second-generation of FieldTurf synthetic grass, which has more durable fiber. It also has a longer fiber; this improves the resilience of the surface. The drainage system had been an issue since 2001, and that was addressed in the rehab project," he added.
The facility re-opened for use in early August with an 84,240-square-foot artificial turf soccer field and a resurfaced eight-lane running track. The facility is used by University track and soccer teams, as well as programs of the Chicago Park District and Chicago Public Schools.
"This investment will ensure that children, teens, and adults in the neighborhood will have state-of-the-art fields for playing a variety of sports," said Mayor Emanuel at the ceremony. "Community investments in our parks are essential because they promote active and healthy lives for residents."
Superintendent Kelly praised the longstanding community partnership between North Park and the Chicago Park District for this facility, and Mayor Emanuel encouraged the University to continue to nurture this relationship for the good of the whole neighborhood.
"We are excited about all of these improvements, and also to partner with the Albany Park community in this project. River Park Director Vera Onate has been a terrific person to work with over the years and we look forward to sharing the facility with her many programs," Surridge said.
This rehabilitation is part of the Building a New Chicago initiative, a $7.3 billion infrastructure renewal program championed by the mayor. Last year, Mayor Emanuel announced a comprehensive plan to build and improve parks across the city so that every resident is within a short walk of a park facility.
---
Use @npunews to follow North Park University News on Twitter. Learn more about North Park University.
Posted on
Categories
Stories