Fifth Annual Student Diversity Leadership Conference Addresses "Achieving Peace by Embracing Diversity"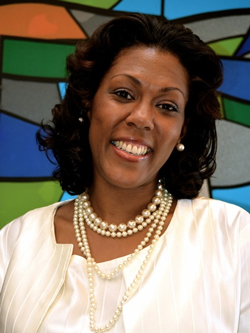 Rev. Kanyere Eaton challenges students to lead in an "edgy time"
CHICAGO (November 14, 2013) — Nearly 600 students, faculty, staff, and organizational leaders from across the country gathered at North Park University Saturday, November 2, for the fifth annual Student Diversity Leadership Conference. North Park's Office of Diversity, under the leadership of Dr. Terry Lindsay, provides this event to equip college students as effective leaders and agents of change on their campuses. The conference goal is that each student would be equipped to return to their college or university and engage their peers in conversations and activities that create multiethnic cooperation and increase intercultural competency.
Dr. Kevin Kruger, the president and CEO of NASPA, brought a message of encouragement for young peoples' roles in inspiring students of color to see college as a realistic option for their futures. NASPA, a national association of student affairs professionals in higher education, sees that the demographics of American students are changing, bringing new challenges for college preparation and success, especially around issues of diversity and intercultural cooperation.
According to Kruger, research reveals that, in about ten years, more than 50 percent of college graduates will be students of color. He called on the students gathered to see themselves as crucial role models and mentors for these future students. "You are tomorrow's leaders and will be part of the solution," he said.
Rev. Kanyere Eaton, pastor of Fellowship Covenant Church in the Bronx, New York, gave Saturday's keynote address. Speaking on the conference theme, "Achieving Peace by Embracing Diversity," Eaton said that "we have inherited all kinds of attributes and attitudes" from previous generations that now must be negotiated. "What are we going to do with what they left us?" she asked. In our current, changing culture and demographics, she said, today's students must transform the reality they've inherited into the future they desire. As geographic and demographic boundaries are being moved, attitudes toward diversity have not yet caught up.
Eaton charged the students in attendance to recognize themselves as leaders chosen to help shape the legacy for future generation. "You could have been someone very different," she said, "but you are who you're supposed to be. And you're supposed to lead."
"You've also been privileged," she added, noting that information, connections, opportunities, and responsibilities are part of the package of a college education. "We live in an edgy time," Eaton concluded, "and consciousness has not caught up with our condition. We've got to work with what we have, and take seriously the responsibility to leave things better than we found them."
The North Park University gospel choir ensemble, step teams from North Park and Bethel University, and two African dance troupes gave inspired performances to round out the plenary activities. Following the session, conference attendees spent the afternoon at more than 30 workshops, with topics ranging from leading conversations on diversity, to developing safe, inclusive communities, to understanding the current national atmosphere of race relations.
The next Student Diversity Leadership Conference at North Park University will take place on Saturday, November 1, 2014.
 
---
Use @npunews to follow North Park University News on Twitter. Learn more about North Park University.
Posted on
Categories
Stories