The Field Education office is located on the lower level of Nyvall Hall on North Park's campus in Chicago. Current students should contact the staff directly with questions about the components of Field Education that are required for your degree program. Churches who are interested in partnering with North Park Theological Seminary to provide internship or other opportunities are also welcome to contact the director or associate director for more information on our Field Education programs.
Timothy Johnson

Director of Field Education and Professor Ministry
Rev. Tim Johnson works to connect students with Field Education experiences that will help them discover their strengths in ministry as well as the areas where they can grow and develop. He co-teaches several of the courses and regularly meets with students to discuss their goals and reflect on their next steps in vocational ministry. You can contact Tim at (773) 244-5251 or at tjohnson2@northpark.edu.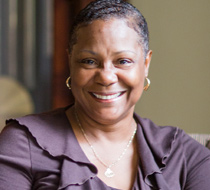 Deborah Penny

Associate Director of Field Education
Rev. Deborah Penny assists students in developing skills and competencies for ministry through assessment, career planning, internships, and clinical pastoral education experiences. She co-leads some of the Field Education courses and regularly meets with students to plan their components and reflect on their experiences. You can contact Deborah at (773) 244-5259 or at dpenny@northpark.edu.