School of Restorative Arts
Housed in Stateville Correctional Center and run through NPTS, the SRA offers an MA in Christian Ministry with a Restorative Arts track allowing free and incarcerated students to study together. The foci of the program include positive race relations and cultural differences,  non-violent communication, deepening of one's faith, servant leadership, and much more.
SRA Productions & Publications
[re]story: An SRA Redemptive Storytelling Cohort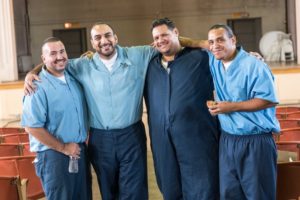 [re]story is a part of North Park's School of Restorative Arts (SRA) that takes place at our Stateville campus. It is a cohort of free and incarcerated students focused on redemptive storytelling. The goal of this cohort is to change the narrative around mass incarceration in a way that leads to God's restorative justice being enacted in our criminal justice system here in Illinois and beyond. We are people of story. Part of understanding God's story is understanding our place in it, both were we have been and where we are going. We want to speak truth into a narrative that has been twisted and used for evil rather than for rehabilitation and restoration. We seek to integrate the narrative of mass incarceration into God's story, to tell a new story that we are all more than the worst thing we have ever done.
In improvisation there is a game called "Yes, and." In this game two people must improvise a scene by beginning each time they speak with "Yes, and…" This forces each scene partner to accept what is given to them without blocking and find a way to continue to build a story. As a part of [re]story our students are learning to say "Yes, and" to their story. Our hope is that we as a society would be able to say the same because isn't that what God has done for us? Our students have taught us about God's "Yes, and" for all of us.
For more information about [re]story please contact Vickie Reddy, Assistant Director of the School of Restorative Arts by email.
Stations of the Cross
Take time to reflect upon each station of the cross. This video was curated by the School of Restorative Arts redemptive storytelling cohort (re)story in collaboration with seminary alumnae Alicia Reese and Cheryl Lynn Cain. You can view the powerful video here. This video was produced for Holy Week 2020, a time when many around the world were isolated, alone, and confined to homes due to the global pandemic.
Feather Bricks
In the fall of 2020 the students in the School of Restorative Arts launched a bimonthly newsletter called "Feather Bricks." Damen Price, SRA Student, proposed the title which comes from Paul's letter to the Galatians, and explains the meaning behind the title in the first issue. The newsletter is a way for the students to stay connected with the Chicago campus, circulate internally as an inspiration to other men incarcerated at Stateville, and to share themselves with the outside world. It also represents the amazing collaborative work of the Writing Center and undergraduate advisors under Melissa Pavlik.
Volume 1, August/September 2020
Volume 2, October/November 2020
Week of Prayer Guide
For over 60 years the Evangelical Covenant Church has produced materials for a week of prayer and the 2020 guide, titled Reconciling Grace, showcases the writings of SRA students. This guide is intended to be used both individually and small groups and can be used at anytime through out the year. Reconciling Grace can be downloaded in English and Spanish.
Student Interviews
SRA students Howard Keller and Mike Simmons have powerful testimonies and sat down in 2018 to give an interview to share their stories.
SRA in the News
The School of Restorative Arts has been the focus of many media stories. Below is a collection of these media stories.
Illinois Lt. Governor, Juliana Stratton, shares with Illinois Governor, J.B. Pritzker, about Howard Keller, SRA student, during a Fireside Chat in January 2020.
Lauren Daigle at Stateville Grammy Award winning artist, performed a concert for and with SRA students inside Stateville Correctional Center. Daigle reflected on the experience and posted a video from the concert on her Facebook page following the concert.
Dehumanization and God's Grace A powerful video which was produced by InterVarsity for Urbana '18. This video shares the story of SRA and the impact it has had for our students, as told through interviews with students and faculty in the program.
Opening Minds Behinds Bars  This NPR Illinois story by Dusty Rhodes tells the story of SRA student Ro'Derek Zavala and the path his life went down and how he came into the SRA program.
TEDx talk given by Dr. Michelle Clifton-Soderstrom about education in prison, specifically outlining SRA's approach and philosophy.